The Invicta Jazz band story 1980 - 2000
The Invicta Jazz Band, a very popular band playing in the east Kent area, was formerly
"The Mo Hovery Jazzmen" are now the resident band at the Smugglers Arms at Herne, Kent,
playing every Sunday evening in the cellar bar 1980 - 1985 8pm - 10.30pm adm £1.00 (very cheap)
and then at the First and Last also in Herne 1985 - 2000 ( approx )
These tracks were taken at a session at the Smugglers on 17th February 1980 with band as below:

Phil Barnes cornet Bruce Roberts clt Séan Maple tmb Dave Bashford bnj/gtr

Ron Woodward bass Nicki Starke voc Bill Ambro drms
now Nicki Walton
Younger Bruce Roberts younger Sean Maple
even younger Bill Ambro
So click on the tune titles below to have some of the atmosphere
at the Smugglers, Herne - on 17th February 1980
Girls go Crazy Jackass Blues Muskrat Ramble Beale Street Blues
Nicki Stark vocal
Dr Jazz Perdido Street Blues Milenburg Joys Stevedore Stomp
Nicki Stark vocal
Black and Blue Tight Like That Georgia on my Mind Undecided
Lots of chat voc Dave Bashford Nicki Stark vocal
I Cant Escape from You Nobody Knows You When Your'e Down and Out
Nicki Stark vocal

The original band members (pictures circa 1981 ) are as follows:

Phil Barnes Séan Maple Bruce Roberts Dave Bashford
cornet trombone clarinet banjo/guitar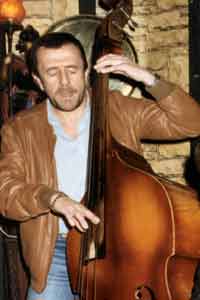 Brian Askew Nicki Stark Bill Ambrose
double bass vocalist drums
sadly no longer with us
June 1939 - May 2008 68yrs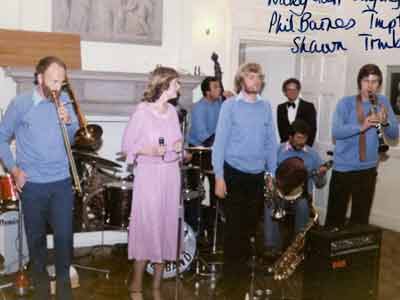 The Invicta Jazz Band 1984 Private gig 1981
The Smugglers Arms, Herne, Kent. ( somewhere in Ashford, Kent.)

Later around the 1982 / 83 onwards the band varied a lot, pictures below of the personnel change :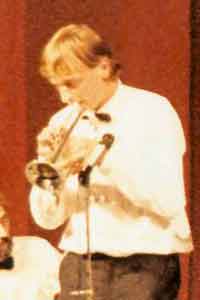 Nigel Pitt Dave Link
cornet trumpet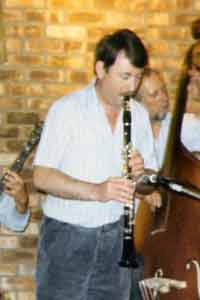 Pete Rose Dave Corsby
clarinet / sax clarinet / sax
Jim Searson Roy Mason
clarinet / sax clarinet / sax






Jim Clarke Tony Cardwell Kenny Pyrke
trombone trombone trombone
Jonathan Vinten Pete Gresham Burtie Butler
Piano Piano banjo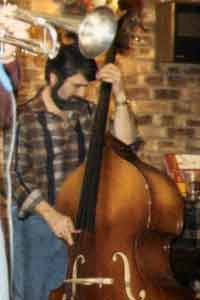 Ron Woodward Roger Link Mike Porter - Ward
double bass double bass double bass


Gerry Birch Les Feast and Brian Askew
Sousaphone drums bass
Robin Beames Laurie Palmer John Cottis
drums drums drums
Lyn Falvey
vocals
______________________________________________________
_____________________Year 1982_________________
These two recordings were taken at the Smugglers on the Sunday 29th August 1982, the
recorder had a sound limiter on it, hence the volume changes, but none the less the atmosphere
is captured well here.
Dave Link tpt, Bruce Roberts clt, Séan Maple tmb, Burt Butler bnj, Brian Askew bass and Bill Ambro drms.
click on the titles to hear: From Monday On Apex Blues


________________________________________________________________
__________________________Year 1983________________________

November 13th 1983, Phil Mason was the first of many guests the Invicta JB had with them,
Listening to these tracks for the first time after 23yrs, one realises what a cracking band it
was under the leadership of Phil Barnes (cornet / leader). Here are eight tracks from that
evening a superb version of Chimes Blues, so click on to the titles to go back to the early 80's
Band Members
Phil Barnes crnt/leader, Bruce Roberts clt, Séan Maple tmb, Burt Butler bnj,
Robin Beames drms, Brian Askew (in the first set) and Ron Woodward (in the second set) on double bass
with special guest Phil Mason cornet
Steamboat Stomp Chimes Blues Sheik of Araby Hindustan
Poor Butterfly Travelling Blues Stevedore Stomp Sarratoga Swing
The write up in the local rag the following week, Kentish Gazette, December 9th, 1983
________________________________________________
__________________Year 1984_____________________
In the Summer months, the Invicta Jazz Band was often seen at country house parties.
This is one the band often played at. It was at Roger's house 'Old Tree House' Hoath, and was
always held to raise money for one charity or another. Here are some video clips of the lads in 1984

The Invicta Jazz Band playing a slow blues 1984 Stevedore Stomp 1984

Ron Woodward bass, Séan Maple tmb,
John Cottis drms, Phil Barnes crnt,leader
Burt Butler bnj and Pete Rose clt. ( how young we were )
so click on the picture to play the video
_________________________________________________________________
_______________surprise party 65th in Stone-in-Oxney from the Bruce Bauer collection____________
Edward Briggnalls 65th suprise birthday party early 80's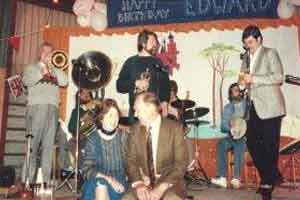 Dave Link tpt, Gerry Birch saus, John Cottis drms , Lyn Falvey voc,
Burt Butler bnj, Kenny Pyrke tmb, Jim Searson and Alan Robinson clt
___________________________________________________
___________________________________________________


Christmas at the Smugglers was great fun, and well supported by the fans, some photos
of what we got up to, this was the last Christmas at the Smugglers. 23rd December 1984

Fancy dress at the Smugglers, Maxine with the Phil Barnes on trombone, Colin Hodges vocalising
ball and chain, Val at the back and Bob as the and Bill Barnacle in the Biggles gear.
Sheik of Araby.

John Cottis Phil Barnes Burtie Butler Lyn and Eileen John and Pete Rose Ron Woodward

Band Members in drag for the Christmas party

Lyn and Barbara with Pete Rose wishing about something
The following tunes with audience participation gives an idea of the fun we had in our
younger days, Spider ( Captain Wellard ) a staunch supporter of the Invicta band, and
Sam supplier of the bottle of wine, with Spider contributing anything from jazz LPs to
windscreen washer fluid, you never knew what was going to be in the raffle. So click on
to the titles to get the flavour of Christmas at the Smuggs.

All of me Old Rugged Cross Five feet two
This is a comical rendition with Phil This is a nice rendition with This is with Lyn vocalising
Barnes vocalising . Band members: Pete Rose taking the lead
Phil Barnes tmb, Pete Rose clt,
Burt Butler bnj, Ron Woodward bass band members same as band members same as
and John Cottis drums. 'All of me' 'All of me '
Hiawatha Rag Sheik of Araby Ace in the Hole
This has the raffle prizes explained, The wonderful singing of Bill Barnacle A bit of banter from the front line and
at the beginning, with Spider showing is shown here and the ad-libbing is just a change of drummer here with Colin
what a generous guy he was, and the Bill. Band members as 'Hiawatha Rag'. Hodges on vocal the band members are
wit of Pete Rose. Band members: the same as 'Hiawatha Rag' but with
Bill Barnacle crnt, Phil Barnes tmb, Spider ( Captain Wellard ) on drums
Pete Rose clt, Burt Butler bnj,
Ron Woodward bass and John Cottis drums.

Ja Da Basin Street Blues Ice Cream
We have a complete change of musicians This with the lovely Lyn on the vocal A great vocal with Pete and Bill and
Roger Ely tpt, Séan Maple tmb Colin I think. Band members are:
Pete Rose clt, Burt Butler bnj, Band members same as 'All of me' Bill Barnacle crnt, Séan Maple tmb
Spider drms and Colin Hodges bass Pete Rose clt, Burt Butler bnj,
Trevor Lewis-Evans drms
Colin Hodges double bass and
Roy Gaston-Williams piano

Doctor Jazz Sarratoga Swing signing off
We have the full complement of musicians We have the full complement with Phil Barnes
here on this no; signing off
Bill Barnacle crnt, Roger Ely tpt,
Phil Barnes tmb,Sean Maple tmb Hope you have all enjoyed our Christmas at the
Pete Rose clt, Lyn Falvey vocal The Smugglers, Herne, Herne Bay, Kent. UK.
Burt Butler bnj, Ron Woodward bass
Roy Gaston-Williams piano
and John Cottis drums.
____________________________________________________________________________
______________________________Year 1985____________________________________

The Invicta band through the 12/14 years of playing had some great British artists guesting
with them. One was an old mate of Pete Rose - Pete Allen with Phil Mason, this was at the Smugglers
9th June 1985 - have a nostalgic trip back in time to the session: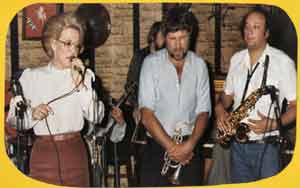 Lyn Falvey,Phil Barnes, Laurie Palmer, Burt Butler, Phil Mason, Lyn Falvey, Phil Mason and Pete Allen
Humphrey Mayes, Pete Rose, Jonathon Vinten, Pete Allen.

Phil Mason and Pete Allen guesting with the Invicta Jazz Band at the Smugglers 9th June 1985




The write up in the local rag the following week
Three great recordings from that evening, Lyn Falvey giving a sensitive performance of Hoagy Carmichael's Georgia on my mind,
Snake Rag and a great two clarinet's in Dippermouth Blues. The recordings also give a great insight to the atmosphere and chat with
our followers and the band themselves.
Band Personnel:
Phil Mason crnt, Pete Allen reeds, Pete Rose clt, Phil Barnes tmb, Burt Butler bnj, Laurie Palmer drms, Humphrey Mayes bass,
Jonathon Vinten piano and Lyn Falvey vocals
Georgia on my mind Snake Rag Dippermouth Blues

click on to the above titles to hear these great tracks of a great evening with Pete Allen and Phil Mason at the Smugs

The last night at the Smugglers 25th August 1985, a very sad occasion, since they have
had jazz from the early 70's, from what I can remember, starting upstairs in the public bar
then progressing to the cellar bar with the Mo Hovery Jazzmen.
click to top
The Invicta Jazz Band had many memorable guest artists, starting with Phil Mason in 1983
than Phil Mason and Pete Allen 1985, later in 1985 they had Humphrey Lyttelton at the
Whitstable Playhouse Theatre, also at the Playhouse in 1988 they had Cy Laurie with Randy
Colville what a stunning night that was.