Bill in his days with the Invicta Jazz Band, Mo Hovary Jazz Men, Tishomingo Jazz Band and the Dave Bone Quartet
Heres Bill playing Girls Go Crazy Jackass Blues click on titles to listen
1980 with the Invicta Jazz band 1980 with the Invicta Jazz band
My interest in jazz started at school with Arthur Robinson, who started the Caves Jazz Club in Ramsgate with Dave Corsby. After leaving school I formed a skiffle group and played in the interval at John Kelk's Jazz Club in Canterbury in the middle fifties. I bought my first drum kit whilst doing National Service at Sandwich. Joined the Tishomingo Jazz Band in 1957 – 1963, then I left the Tish to go commercial with Dave Bone and formed the Dave Bone Quartet with myself, Dave , Kay Nesbitt piano and Doug Inkpen on bass and we had two or three successful seasons at Imperial Hotel in Hythe. After the DBQ I joined Peter Jon Trio when the famous Les Feast left to go fully commercial. We played at Sarre Court Country Club, Marie Celeste Club in Herne Bay St Mildred's Westgate/Miramar Herne Bay. I then left the area, returned and joined Mo Hovery's Band at the Smuggler's. Mo retired from playing and the band became the Invicta Jazz Band under Phil Barnes. Phil died prematurely. I left the area again, over twenty years ago. I now play at home for fun and bit of practice.
back to top Index back to music/video index
_________________________________________________________________________________________
__________________________________________________________________________________________
John Cottis - drums John playing Hindustan, this was recorded live at The Globe in Morning
Lane, Hackney, London. 12th March 2006 Rest of the band are Dave Stradwick tpt,
Don York tmb, Roy Mason reeds, Burtie Butler bnj and Bernie Johnson bass.
Born in the East End of London just after the war, John was hooked on music from the early days of rock and roll. "Anything with a good beat, I loved it. I used to have a pair of wooden knitting needles from my Mum's sewing kit as a child and I would drum along to "Saturday Club" on the arms of the furniture. My first drum kit was one second-hand cymbal and a cardboard box. I eventually became a jazzer in the Trad boom of the early Sixties and was professional for a while with a ragtime banjo band." John moved to Kent in the early Seventies and has played with most of the local bands during the last thirty years on a strictly amateur basis. "I just love the music - a good tune and happy beat - you can't go wrong!" John ran the Invicta Jazz Band for a few years but his love of travel to Australia for months on end intervened and he now just occasionally deps for other drummers. It won't be long before the outback calls and he goes on walkabout again!
Here is John in different bands that he has played in and depped for:


Sheerness Carnival 1986 Hastings Sea Front Expedia Marching Band 1989
band members: band members:
bottom L to R: tmb unkn, tmb Jim Gunton tmb, L to R: Tony Cardwell tmb, unkn bass drum, Alan Sokell sousa
Mick Stansell tpt, Ivan Ganden alto sax, Mike Summers tpt. John Cottis snare drm, Dave Link tpt, Burtie Butler bnj,
Top L to R: Pete Drage tuba, John Cottis snare drm, and Jim Searson clt.
snare drm unkn, Norman Haliday clt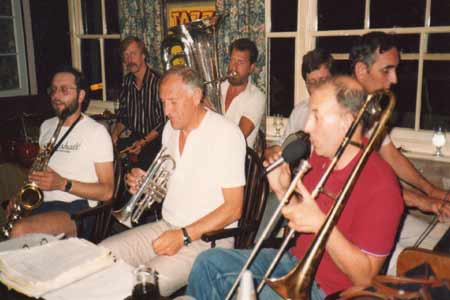 The Chislehurst Ramblers formerly known as "The Annie Street Jazz Band" mid 1980's
Band Members:
John Cottis drms, Ron Goulding tuba, Pete Warren bnj, Ken Atkinson piano,
Bill Boston sax, Trevor Rose cornet and Arthur Gould trombone / vocal


The Invicta Jazz Band The Semi Quavers around the mid 1980's
Band members: Band Members:
Mike Porter-Ward bass, Kenny Pyrke tmb, Roy Mason clt Roger Pitt tmb, unkn banjo, John Cottis drms, Gerry Birch sousa,
John Cottis drms, Dave Bashford bnj, Dave link cornet. Nigel Pitt cornet and unkn clarinet.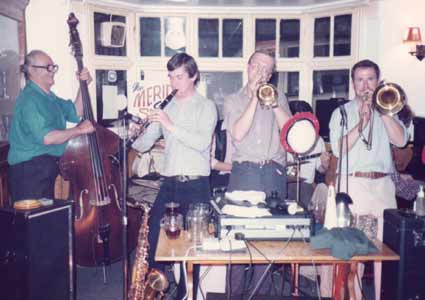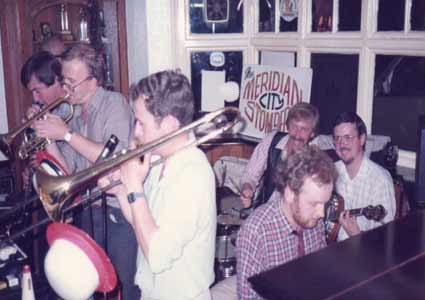 The Meridian City Jazz Band formed from "The Locksbottom Stompers" at The Crown Inn, Seal, Kent.
Band members:
Tubby Spicer bass, Ken Packer clt, Tim Jones tpt, trembling Mickey Mustoe tmb,
John Cottis drms, Eric 'Sailor' Webster bnj and Jonathon Vinten piano.


The Meridian City Jazz Band different line up mid 1980's The New Orleans Echoes 1980's at the Old Pembury Hospital
Band members: Band members:
Fred Hoare bass, Ken Packer clt, Dave Clennell tpt, John Roberts bass, Pete Curtis clt, Bob Jones cornet,
John Cottis drms, Lyn Falvey voc, Eric Webster bnj, John Cottis drms, Sid Bailey tmb and Andy Maynard bnj.
and trembling Mickey Mustoe tmb.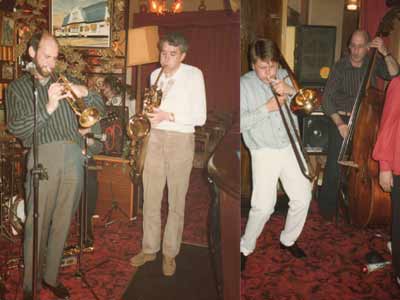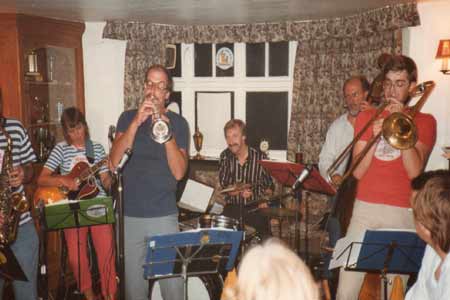 The Premier Jazz Band The Royal Garden Jazz Band at The Crown Inn, Seal, Kent.
Band members: Band members:
Jeff Hatton tpt, Richard Brennan sax, Geoff Williams tmb, Andrew Wyllie sax, Jacqui Atkinson gtr, Dave Hutchins tpt,
and Barney Smith bass. John Cottis drums, unkn bass and Bill Todd tmb.


The Shanghai Syncopated Orchestra
Band members:
Geoff Bonner sax, Martyn Liston sax, Robin Eve tpt, Malcolm Walton tpt,
Stephan Hatfield violin, Steve Botting tmb, Ron Rackley bass,
John Cottis drms and Bob Pluck banjo.

back to top Index back to music/video index
______________________________________________
______________________________________________

Barry Knight - percussion Here is Barry's distinctive style of playing on these three tracks taken from the CD recorded
live at the 'Duke of Cumberland', High Street, Whitstable, Kent on the 21st December 2007
band members are: Mick Stansell tpt, Dennis Lear clt, Séan Maple tmb, Burtie Butler bnj,
Mike Porter-Ward bass and Barry drms. so click on the titles to hear.

Avalon Marching through Georgia Royal garden blues
Barry started playing drums in 1956 when he joined the Army as a cornet player! There was a group in the band who also played modern jazz and they didn't have a drummer at the time so he thought he'd have a go on the drums and was invited to join the jazz group. He then enrolled at the Ivor Merrants School of Dance Music and his first paid job was at the Grand Hotel, Folkestone. Played with 14 piece Glen Miller styleband, which entertained the Yanks at Manston. Became regimental drummer in the Army and moved to Cyprus. Also played with a popular 4 piece in nightclub in Nicosia. When demobbed returned to UK and joined Musicians Union getting gigs from the Vacant Date book all around London and the South East. Did a lot of Ladies Nights, tea dances, some West End work and the usual pubs and clubs. In 1968 and joined a function band which occupied most of the 70's and then joined a traditional jazz band where he stayed for some time. In between times he has played in brass bands, 20's dance bands, German Oompah bands and concert bands.Over the last few years he has concentrated on Traditional /New Orleans Jazz which has been his main love. Highlight has been playing in Bourbon Street, New Orleans with Burt!
back to top Index back to music/video index
_____________________________________________
_____________________________________________

Ashford Jazz Week/End 2009 Bombay Harbour - PO Ship ORSOVA - 1967
Jimmy Tagford – Drummer
Jimmy has been a professional Drummer since 1965, He started with the ship's orchestras of P&O Orient Lines, making regular visits to the USA, Australia, Japan, Hong Kong and circling the globe three times. Subsequently, Jimmy worked with Gerry Rafferty (of Baker Street fame); Billy Connolly; Singer/ impressionist Faith Brown and david Essex before commencing a six year residency at the Latin Quarter night club in London's West End.

Apart from playing with most of the top Kent Jazz Bands, since leaving London and settling in Folkestone, Jimmy has toured with singers Frankie Vaughan and Vince Hill, the Ink Spots, Eartha Kitt; toured and recorded 2 CD's with reedsman John Crocker (from the Chris Barber Band) and played with top British modern jazz artists Pete King, Don Weller, Dick Pearce, Bobby Wellins and Derek Nash. And……played for pantomimes up and down the country as well as various musicals – West Side Story, Annie, Me & My Girl, Kiss Me Kate, Barnim etc.
Jimmy's favourite drummers are Buddy Rich, Jake Hanna, Jo Jones, Oliver Jackson, Grady Tate, Big Sid Catlett, George Wettling, Mel Lewis, Jeff Hamilton, Gene Krupa, Jack Sperling, Alvin Stoler, Joe Morello, Ed Thigpen……..well, all of them realyy !!!!!!!!!! Contact Jimmy 01303 258055
Jimmy Tagford
Here is Jimmy playing with the John Crocker Quartet from the LP 'Easy Living'
Personnel : John Crocker clt / alto / Tenor Roger Munns piano
Viv Pitt bass Jimmy Tagford drms
comments from John on the numbers:
Avalon: One of the numbers I played as a featured solo with the Chris Barber Band is included in response to many requests
Roger and Vic take fine solos and Jimmy shows why his drumming is so much in demand.
Lady Be Good: Roger, Vic and Jimmy swing Gershwins Lady Be Good mightily - glad I was along for the ride

1958 at the Royal Mortar 1985 with Tony King's MLJB 1992 at the Holiday Camp
Eddy Newport - Drums and Washboard Here is Eddie playing THE SHEIK of ARABY with him playing the washboard. It's a bit different
to the usual. In Germany with the Mainline Jazz Band he became a bit of a star playing this as the
Germans have never seen a washboard being played before. Of course they could have been just
taking the piss. Nevertheless he enjoyed it at the time.
The Shiek of Araby click on title to hear
band members : Tony King tpt, Rod Hayes tmb, Mark Southwell clt
Steve Morgans piano/voc, Pete Thomas bass and Eddy wbrd.
I was born December 1940 and got into music at the age of 16 when a few school mates bought a couple of guitars and started to play and sing Lonnie Donegan songs. Being unable to tune a guitar let alone be able to play one, I bought a snare drum and a cymbal and joined in the fun. Another mate made a tea chest bass and the Ramblers Skiffle Group was formed. We rehearsed in my works canteen in Woolwich in the evenings and did our first gig (a cabaret spot) for the company's dinner and dance. The dance band drummer, who was playing at the gig, asked if I would like to use his drum kit. And my love affair with drums started there. Also being paid 10 shilling for the gig was another incentive to get into the music seine. I had some lessons from a pro drummer and he got me on the straight and narrow playing wise. I worked with a lady pianist in a pub, The Royal Mortar in Beresford Square Woolwich, one of the roughest pubs you could imagine. I was 18 she was in her 70's and she told me she used to play for silent films at the local cinemas. I joined the "Hot Club of London" a Jazz Club that was on a Sunday evening in Powis St run by George Webb. I had the privilege of hearing and seeing Chris Barber, Acker Bilk, Cy Laurie, Mike Danels, a very young 14 year old Sammy Rimmington and many more. From then on I wanted to play in a Jazz Band. Later on I worked with a dance band at the Bell Grove Social Club in Welling, a good grounding for tempos and playing different types of rhythms. A new job offer, I then moved to Chatham in 1964 and got into the local music seine and the rest is history. My main influences were Louis Belson, Buddy Rich, Gene Krupa, Jo Morello and Chico Hamilton and of course all the pro trad drummers I saw at the Hot Club. In those days you were either a TRADIE or a MODIE and never the twain shall meet. I loved it all I had friends in both camps and I dare not let on that I liked the "other stuff" as well as their music. After many years of playing in Medway bands and pop groups I finely joined Tony King in the Mainline Jazz Band and after that I gigged with the Thameside Stompers. I "turned pro" in 1992 and did a summer season in a holiday camp at Mundesley in Norfolk with a key board player and worked 7 nights a week for 7 months, with nothing to do all day I was so laid back I was horizontal. My wife hated it I loved it, but I would not do it for a living. I did it because I was on the dole for two years and at the time I had to undergo a major career change, but that's another story. I am retired and now play with the Moonlight Sounds an 18 piece rehearsal band run by Rod Hayes playing big band arrangements and am getting to grips with drum music, this is the last music challenge of my life.
Eddy Newport Sept 2008
back to top Index back to music/video index
_________________________________________________
_________________________________________________