The Band Members: Burtie Butler, Peter Leonard , Pete Rose, John Finch, Laurie Palmer and Chris Thompson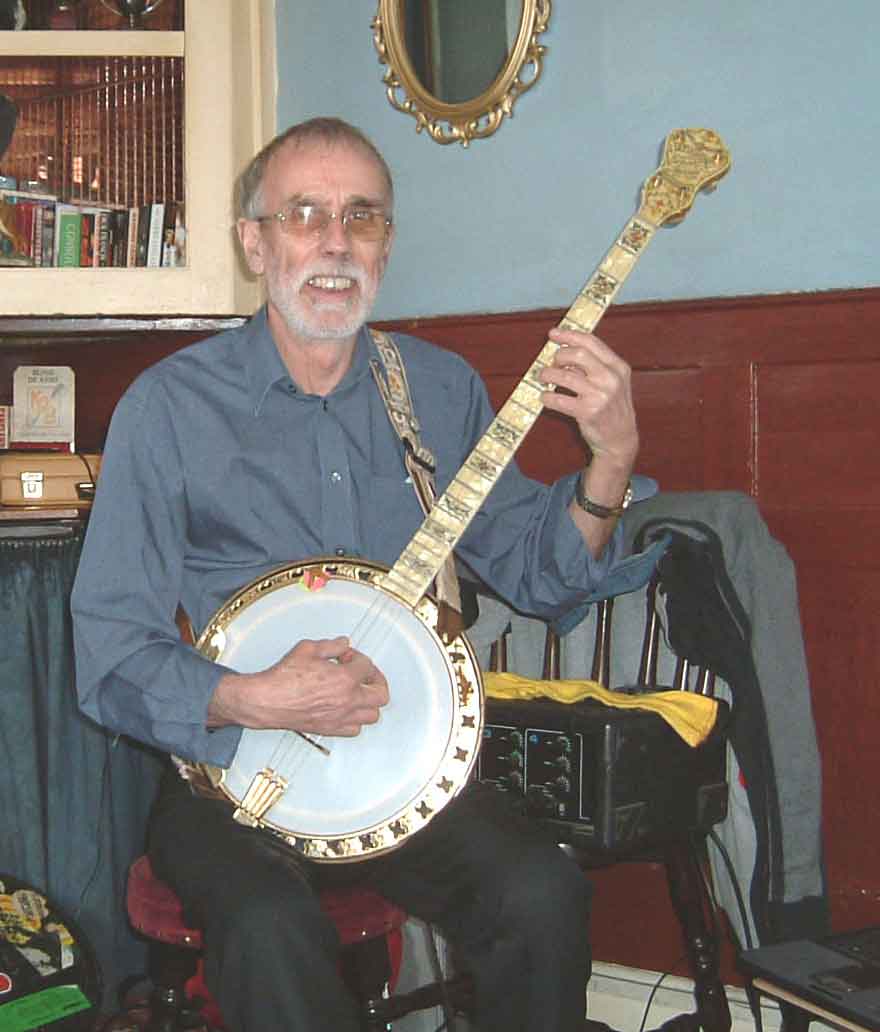 Burtie Butler - banjo/Leader
Born in the war years in 1940, Burtie was weaned on the Light Programme, Radio Luxembourg, and the Archers, until he found jazz in the early Fifties with his mates, Sos Sears, Doug Waring and Mick Rose. He first started playing the washboard with chain-mail gloves, with such enthusiasm that he wore holes in the washboard and his fingers. He decided to move up the ladder and bought a plectrum banjo at the cost of £3. 0s. 0d. Great fun in the early days with the Perdido Street Ramblers, charging 9d on the door, to be pelted with pea-shooters - all part of the fun in the old days of learning! In the late Fifties they joined up with Dave Hill, Dave Jarrett and Gordon Hurley, and the Tuxedo Jazz Band was formed. This band found fame in the early Sixties through Southern Television's "Home Grown" talent programme, winning the grand final. What a night the band had, sharing the first prize of £100! It was with the TJB that Burtie took to removing his shoes, as the stomping of his feet proved to be too much for the rest of the band. In the Sixties he ran a quartet with Ivan Gandon, Curly Mantle and his old mate, Humphrey Mayes, called the Pasadena Four, then played in the Bod Bowles band. In the Eighties, joined the Pete Rose Jazz Band, and later the Invicta Jazz Band. Memorable moments - playing behind Humphrey Lyttelton, Pat Halcox, George Chisholm, Terry Lightfoot, Monty Sunshine, Terry Lightfoot, etc.

Meeting up with Mick Rose 50yrs later at my Harbour Garden gig in Whitstable
Back to top Index back to music/video index
Peter Leonard - trumpet
I started playing the trumpet while at school in the mid 1970's, although after the early stages I was very much into orchestral music – jazz was just a four letter word ! However, in about 1980 somebody phoned up and asked if I was free that evening to play with a jazz band and I agreed to do the job. I made a complete fool of myself ( I couldn't imagine how anyone played without sheet music and I knew no tunes ) but was hooked. More and more jazz and fewer and fewer orchestras, and I have now been eking out a ( sometimes precarious ) living playing jazz trumpet for nearly thirty years. One would think this is long enough to learn better, but I still love what I do, and it sure beats working a living.
Back to top Index back to music/video index
Pete Rose - Clarinet - Alto - Baritone sax. Here is Pete playing and singing, one of my favourites, Doctor Jazz, and I might add a great clarinet
solo, real class, this was recorded at the Whitstable Playhouse, Whitstable, Kent on 14th October
2006 with the Bill Barnacle Jazz Band, band members are Bill Barnacle cornet, Séan Maple tmb,
Ray Perkins piano, Colin Hodges bass and Mike Marsh drms.
Born at an early age in Bournemouth where, as a wee boy, I played tenor horn in the Wessex Brass Band . I joined the Royal Marines at the tender age of 14, 4' 11" tall and 7½ stone, which brought me to the barracks in Deal. On completion of 4 years training I was drafted to Britania Royal Naval College in Dartmouth, then to the Plymouth Group Band stationed at the Royal Marine Commando Training Centre at Lympstone in Devon. From there I was to spend two exciting years on the Ark Royal, sailing around the world, visiting wonderful places that I would have otherwise not had the chance to visit. From there I came back to the Staff Band of the Royal Marines School of Music at Deal, where, for my sins, I was appointed principal clarinet. Nearing the end of my service 1978, ( for those who are counting I did not complete full time) I started my first jazz band playing at the Foresters with fellow Marines. Being Marines, this was a reading band, playing the music of Harry Gold, Norrie Paramor, and Sid Phillips. As players moved on, so the Pete Rose Jazz Band transformed into a "proper" jazz band with the likes of Bill Barnacle, Kenny Pyrke, Dave Corsby, Colin Hodges, Dave Bashford and Graham Lennard. (If you really want to know the whole history, have a look in Trad Mad by Clive Brooks.) Then in the early 1980s, the fish and chip shop took over my life, and Bill took over the band and it became the Bill Barnacle Jazz Band. After a year or two, I joined the Invicta Jazz Band as they only worked on Sundays, and that was my night off. There have been various changes of direction in jobs and music during which time I studied for my Bachelor of Arts (Music) trying to find out what this music stuff is all about, and attained grade 2-1 (very surprising). I am now very busy back playing with the Bill Barnacle Jazz Band and running Unison Music Company www.unisonmusic.co.uk The Pete Rose Jazz band Story


Back to top Index back to music/video index

John Finch - trombone, tuba and vocals 'Move the body' over recorded on CD Reigning Supreme, John is
vocalist on this track, other band members: Bill Phelan tpt,
Jim Searson reeds, Burtie Butler bnj, Alan Kennington bass,
and Robin Beames drms. Recorded Langlei Studios 25th Feb 1999

John has been with professional jazz and dance bands for over forty years. In 1959 he was Number One dep for Terry Pitts in the Cy Laurie band, and also for Mac Duncan in the Ken Colyer band. In the early Sixties he played in the Bill Brunskill band for about two years, and spent a year playing in Keith Smith's Climax Jazz Band, at the same time depping in Monty Sunshine's band and for Avo Avison in the Bob Wallis Storyville Jazz Band. In 1966 John took his music world-wide over a three-year period on the Canberra (P & O Line) with Dick Charlesworth. (Rumour has it that John used to deliver milk on watch for dedicated service but, Roy being Roy ........... John is still waiting! He also teamed up with Nobby Willett and Barney Smith to form String & Bone, and was seen regularly bringing up the rear on tuba with the Happy Wanderers band, busking in the West End. During the Christmas period, he has been known to solo on tuba around the county's shopping malls and High Streets dressed as the Snowman, and has been seen with a dubious character on banjo dressed as a reindeer!horse and cart to the Charlesworth household at Blackheath in his early teenage years.) Later, he played on the cruise ships for the Union Castle line. In 1973 he was a founder member of the Medway Delta Jazz Band, with the infamous "Lord Arsenal" Bradley. John later played with Roy Mason's All Stars, and was promised a gold
Back to top Index back to music/video index

Laurie Palmer - drums Laurie with the Jazz Pilgrims playing 'Oh Baby' this number was recorded live at The
Swingate Inn, Dover, Kent. 15th July 2004, it was a bit of a special evening as the longest
and oldest jazzer, Henry J Bullock OBE was celebrating his 95th birthday.The members of
the band are: Tom Brady tpt, Roy Mason reeds, John Finch tmb, Ian Rodgers bass and
Burtie Butler bnj.

Laurie learned the rudiments of drumming when aged 11, with the school pipe band in his home town of Edinburgh. He developed an interest in all forms of jazz in the early 1960s, while studying engineering at University in Dundee. After buying a complete kit he taught himself jazz drumming and while at college he played in all sorts of groups, from rock to big band, and worked as Kenny Ball's first road manager during the summer of 1962. One University jazz quartet that Laurie played in managed a three-week stint at an Aviemore hotel for the skiers there on h oliday. During seven years in Canada, he played with several jazz groups in Montreal, even appearing on radio and at Expo 1967. Back in the UK in the 1970s he played with Malcolm Walton and others at the Sun at Bredgar. Over intervening thirty years he has played at one time or another with most of the Kent jazz musicians. He is now a regular with Dave Link at the Chapter Arms in Chartham Hatch, as well as with Burt Butler's Jazz Pilgrims at many other jazz venues. While travelling on business, Laurie has managed to guest with groups on Bourbon Street and on a paddle steamer in New Orleans, in Beijing, Shanghai, Hanoi, Manila and Jakarta. He still likes any sort of music that swings.
Back to top Index back to music/video index
Chris Thompson - double bass - Here is Chris playing and singing 'So Do I' with the Burt Butlers Jazz Pilgrims recorded at the Duke of
Cumberland, Whitstable High Street on the 8th April 2011 - band members are: Malcolm Walton tpt,
George Reed sax/clt, Séan Maple tmb, Burtie Butler bnj, Laurie Palmer drms and yours truly Chris on
the vocal and double bass
Music has always been at the forefront of my life. Mum played the piano, dad could knock out a tune on his accordion, my granddad was a whizzer on the spoons, and I started playing the guitar in my very early teens. There was always a good old-fashioned family knees-up at any excuse and occasion. It was whilst working in Kenya during the early 70s that I started playing Traditional Jazz, joining the Askari Stompers as their bass guitarist. The band consisted, primarily, of Dutch expats so the music was played with a lot of feeling and expression. For me, it was a terrific apprenticeship! Upon my return to the UK in the early eighties, I acquired my first double bass. It had been 'knocked about' quite a bit, been repaired with large screws holding it all together and was painted white, but the tone was good and the price – a snip! With new strings, and restored to its original colour, I was ready to go! Whether it has been Rock, Blues or Jazz, I've had the privilege to play with many top class musicians and bands over the last couple of decades.

Back to top Index back to music/video index