Dave Ware - trumpet Dave playing here with his regular band 'The Phoenix Dixieland Jazz Band'
a lovely number 'Blue and Broken Hearted' on their CD - 'Preheated'
band members are:
Robin Coombs clt, Norman Bull tmb, Peter Rampton gtr,
Barney Smith bass and Reg Stead drums (deceased)
- to buy this CD or to book the band contact Robin Coombs on 01959 524794
click here to listen
I lived in a house where there was always music going on, my dad was a cornet player in the Coldstream Guards, and my grandad, who lived with us, was always playing jazz records on his HMV wind up gramophone. Dad sent me for violin lessons, I took a couple of exams at Trinty College, but soon switched to Trumpet. When I heard Wild Man Blues by Louis on Desert Island Discs, I was hooked. Spent some time in the sixties playing soul, and backed a few popsters of the day, including 6 months with Dusty, then got hooked on modern jazz, and didn,t return to Dixie jazz until 1988 when I answered an ad, and the Phoenix Dixieland Jazz Band was formed.Still with them and depping for Burt and anyone else who,ll have me. Favourite trumpeters are therefore varied, and apart from Louis, Clifford Brown, Wild Bill Davison, Ruby Braaf, Roy Eldridge,Clark Terry, Miles Davis.
Back to top Index back to music/video index
John Sheppard - trumpet John playing " Avalon " here with the Jazz Pilgrims at a Jazz Picnic in Chislet
Band members are: Geoff Foster clt, Don York tmn, Mike Marsh drms,
Burtie Butler bnj and Chris Thompson double bass.
John Sheppard - Trumpet.
Born in Bristol December 1939. Moved to Chelsea, London with parents when 18 months old. So no recollection of Bristol at all. Lived in Chelsea with my parents until I got married in 1966 (England won the world cup). In 1956 a crowd of us liked the jazz revival music that we heard in London. So we formed a jazz band. I was told that the only instrument left unfilled was the trumpet. The clarinet player had an old London Taxi so we drove to Mitcham and I bought a Trumpet for £7-10s-0d from a friend. Thus we all started to try and play and it must have been dreadful. Eventually I had lessons from Phil Parker Snr in Dansey Place Piccadilly on Saturday mornings. I played in and around Chelsea and Fulham at pubs and clubs. When I got married we moved to East Molesey, Surrey in 1967. So then I met a whole new crowd of players and I just moved around from band to band. Bands like Colin Kingwell, Brian White, The Georgia JB and many others. But fame eluded me and in 2009 I moved to Bapchild in Kent and the 3rd cycle began all over again, new people and new bands.

Bill Barnacle - Cornet and vocals This is Bill singing and playing ' My old man said follow the van' he has in my opinion one
great voice not to mention his playing. This was recorded with his band at the Whitstable
Playhouse Theatre on the 14th October 2006, the band members are : Pete Rose reeds,
Séan maple tmb, Ray Perkins piano, Colin Hodges bass and Mike Marsh drms.
The Bill Barnacle Jazz Band Story 1979 - onwards

Bill started playing the cornet at the age of eight, in the church band, under the tutelage of his father, former Royal Marine's bandmaster Percy Barnacle. When he was twelve, World War Two interrupted his musical development, as he was evacuated to Ebbw Vale along with the rest of Dover Grammer School. Whilst Bill was not to pick up the cornet again for fourteen years, his musical taste was not halted so much as diverted by the discovery of jazz, the prime influence being Bunny Berrigan. At the age of 26, now a staff sergeant in the Royal Education Corps, Bill started gigging with a combo called The Martinique Saints, an amateur 14 piece big band of REME personnel earning 25 bob each on a Saturday night at the Brownlow Hall in Hants. What riches in 1953 ! On leaving the army in 1963 and moving to Dover, Bill was able to settle into a regular gigging pattern aided by the landlord of the Grapes (now the Louis Armstrong) , Bod Bowles. During this formative period Bill met all the local 'musos', Burt Butler among them, and has happily continued those musical friendships to this day. So far it has been 42 years of fun, thanks 'lads'
Bill had a great 80th Birthday bash at Cullins Yard, Dover, Kent. 17th July 2007 - here are a few pics and a video
of the occasion: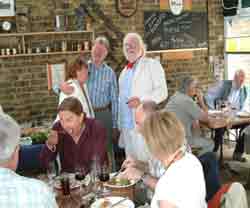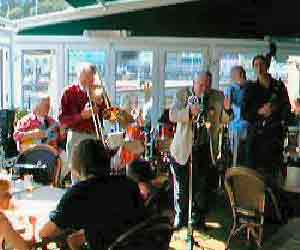 Bill with the lads playing Sweet Sue
click on pic or title to view video
band members: Bill Barnacle crt, Sean maple tnb, Bruce Roberts clt.
Bob Pluck gtr, Ron Woodward bass and Bills son Peter barnacle drms
Sadly Bill passed away on Tuesday 10th October 2017 at the grand old age of 90 years
and will be sadly missed by all who new him a great musician RIP

Back to top Index back to music/video index
Mick Stansell - trumpet Here is Mick's distinctive style of playing on these three tracks taken from the CD recorded
live at the 'Duke of Cumberland', High Street, Whitstable, Kent on the 21st December 2007
band members are: Dennis Lear clt, Séan Maple tmb, Burtie Butler bnj,
Mike Porter-Ward bass, Barry Knight drms and yours truly on trumpet.
so click on the titles below to hear.

Avalon Marching through Georgia Royal garden blues
When I was 14 years old a school friend who was having piano lessons taught me how to read music. After listening to Winifred Attwell records I bought some sheet music and learned to play boogie-woogie and ragtime tunes on the piano. Shortly afterwards I saw a film featuring Pérez Prado playing 'Cherry Blossom Pink' and this inspired me to buy a trumpet. Our local general shop sold Dixieland records, including early American jazz played by the black Chicago and New Orleans musicians. When I heard the George Lewis Band that was the only music I wanted to play. My skills were honed at Bill Brunskill's Sunday Clinic and the 51 Club 'University' where I saw the Ken Colyer Band. During this time I played alongside Sammy Rimington and Eric Webster among others and belonged to a New Orleans Parade Band. Having left London and moved to Rochester I first played with Neil Highley followed by Pete Lay's Phœnix Band and a long spell with Sam Weller's band. For the last 15 years I have been playing with the Syncopators Jazz Band. My tastes are much wider now but the New Orleans approach is at the core of my playing.
Here is a CD with Mick on Tenor Saxophone in the Hot Club idiom recorded at the
'The Eagle Tavern' Rochester, Kent. England in February 2002.
featuring: Michael E. Stansell Tenor Saxophone
Chris Cook Solo Guitar
Barney Smith Rhythm Guitar
Leopold Ferdinand String Bass
Jim Foxwright Drums
click on the titles below to hear 'The Hot Club Five'
Sweet Georgia Brown I'm Confessing Honeysuckle Rose Misty Crazy Rhythm
Back to top Index back to music/video index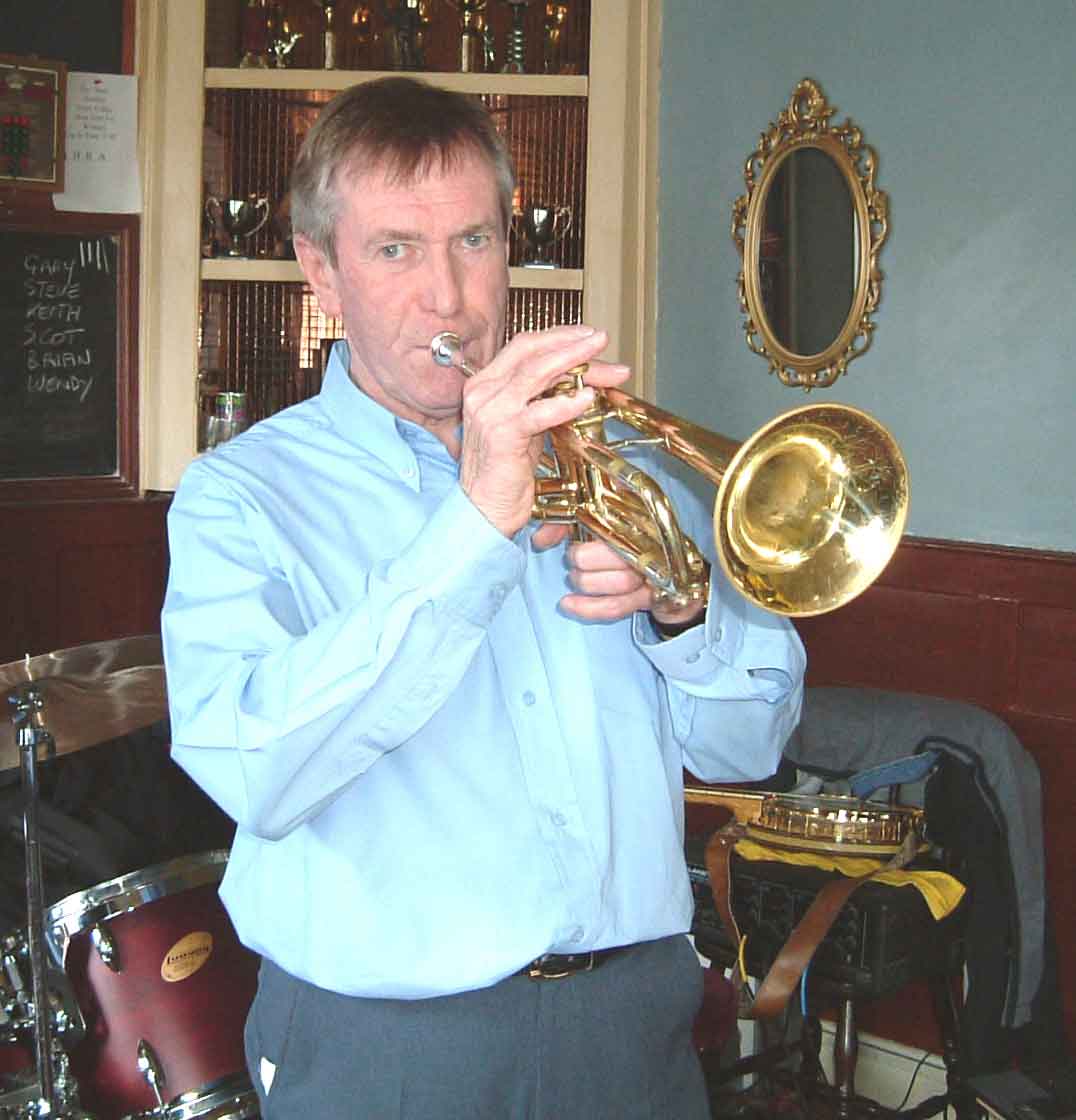 Tom Brady - trumpet and vocals
Self-taught, can't read music, started too late - that sums me up as a musician.
I didn't buy my first trumpet until I was 19 years old (far too late in life!) and couldn't be bothered with the tutor manual that came with it. That was consigned to the bin pretty quickly, and my idea of trumpet practice was to try and play along to records (only when I had the house to myself - I didn't inflict it on the rest of the family). Forty-seven years later, I'm still trying to sound like some of my "heroes" in my record collection. First and foremost amongst these is Louis Armstrong (of course!). Some of my other favourites are (in no special order) Buck Clayton, Roy Eldridge, Harry Edison, Bobby Hackett, Ruby Braff, Warren Vache, Clark Terry - the list could go on and on.................... .. The above-named are all Americans - on this side of the pond some of my favourites are Humphrey Lyttelton, Alan Elsdon, Colin Smith, etc. Some of you may be surprised at a couple of omissions from the above lists - Bix Beiderbecke and Ken Colyer - these guys do nothing for me but, given their reputations, the fault must lie with me! On that controversial note, I'd better finish this little essay and start running!
Back to top Index back to music/video index