The Smugglers Inn at Herne has always been a place for jazz on a Sunday, started upstairs in the public
and finally downstairs in the cellar bar - firstly with the Mo Hovery Jazzmen, Bill Barnacle band and finally
the Invicta Jazzband.

Sean Maple tmb, Ron Woodward bass, Mo Hovery tpt, Bill Ambro drms (hidden)
Bruce Roberts clt and Dave Bashford bjo/gtr
The Mo Hovery Jazzmen played from 1962 - 1983 the original players were Mo Hovery tpt, Frank Packman clt
Sean Maple tmb, Jim Beale Piano, Ben Marshall bnj, Roger Link bass and Pete Hovery drms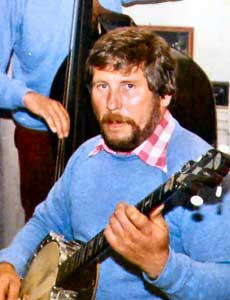 Mo Hovery Bruce Roberts Séan Maple Dave Bashford Ron Woodward Bill Ambro Mike Oliver
trumpet clarinet trombone banjo / guitar double bass drums piano

and Patti Clarke vocals

So click on the tracks below and hear what is was like with the above line-up
of the Mo Hovery Jazzmen in the Smugglers, Herne 23rd July 1978
As Long as I Live The Riverboat Shuffle Sleepy Time Gal Hindustan
Down for the Count Clarinet Marmalade Davenport Blues Bill Bailey voc Patti Clarke
Basin Street Blues vocal Patti Clarke Empty Bed Blues voc Patti Clarke
Sweet Georgia Brown voc Patti Clarke Georgia on my Mind voc Patti Clarke
and lads signing off with credits Monochrome
Mo's Band played at the Thomas A'Beckett Pub, Canterbury, Kent, for BBC Radio Kent in 1972
here are three of numbers from the session.
Band members are:
Mo Hovery tpt, Frank Packman clt, Charlie Banyard tmb, Jim Beale piano,
Les Biggs gtr, Roger Link bass and Ted Backhouse drms.
I cant give you anything but love St Louis Blues Muskrat Ramble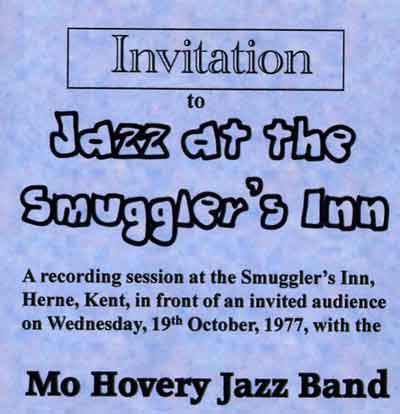 A great session here are some tracks from this session not above recordigs
Royal Garden Blues Oh Baby Monochrome Wolverine Blues
Savoy Blues Indiana Rosetta New Orleans


Left to Right:
Ron Woodward bass, Séan Maple tmb, Mo Hovery tpt, Frank Packman clt and Peter Darby harmonica, A bit of history of Thanet Jazz in the early 50's
out of site Roy Williams - Gaston piano and Ted Backhouse drums relating to the photo on left


Carting a piano to gigs - Sean Maple, Bill Ambro and Dave Bashford this was taken at the
Herne Bay Hockey Club, Beacon Road, Herne Bay, Kent - how keen the lads were in days gone by - no digitals then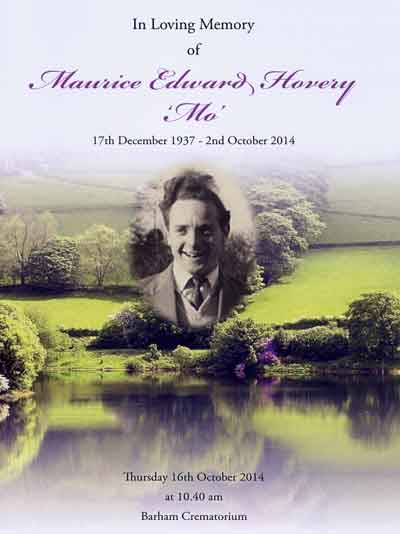 Sadly Mo passed away on Thursday 2nd October 2014


Here are some great photo's from the 'Ron Woodward collection' of Mo Hovery's Jazzmen
with their twinning trip of Hernebay with Waltrop (Germany) 1977/78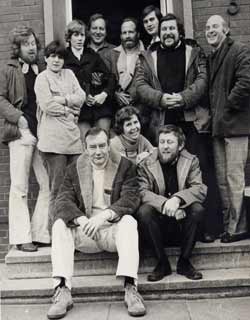 The group Photo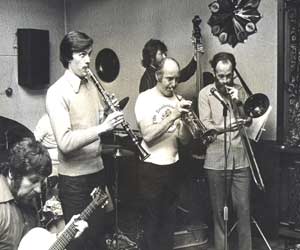 Dave Bashford gtr/bnj , Bill Ambro drms , Bruce Roberts clt,
Mo Hovery tpt, Sean Maple tmb, Ron Woodward bass and Mike Oliver piano

here are the lads on a recording session at the Smugglers Inn in 1977 and what cracking stuff !!!
so click on the titles to listen to the quality of the band
Recording engineer Ray Chapman
Fidgety Feet Creole Love Call Riverboat Shuffle Chimes Blues
Sidewalk Blues Ghost Of A Chance Weary Blues Mood Indigo
Dippermouth Blues Liza Mahogany Hall Stomp Idaho Stans Dance
These recordings below were recorded at Ray Chapman house in Westgate - On - Sea circa 1977
Sidewalk Blues The Preacher (Mo Hovery vocal) Ice Cream (Mo Hovery vocal)
What Can I Say Now That Ive Said That I Am Sorry (Mo Hovery vocal)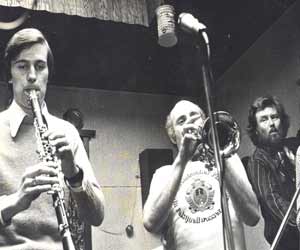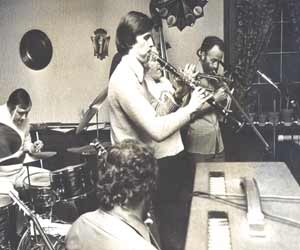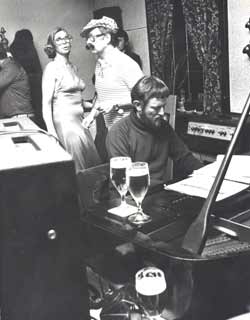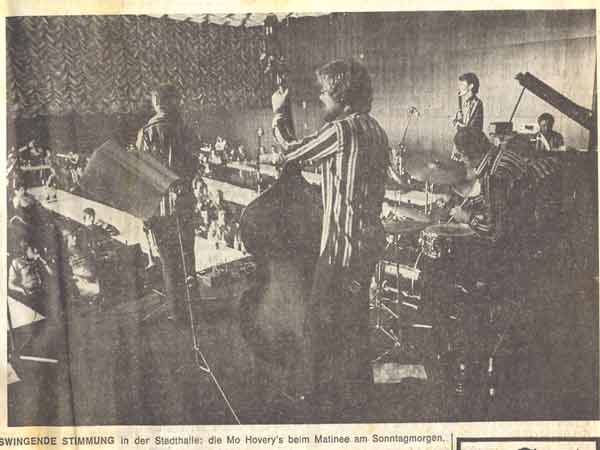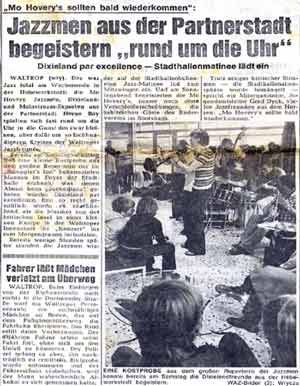 Cutting's from the 'Westdeutsch Allgemeine' paper September 1977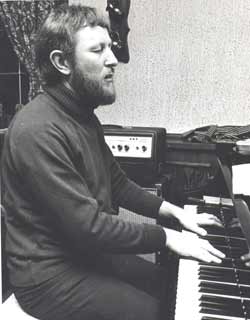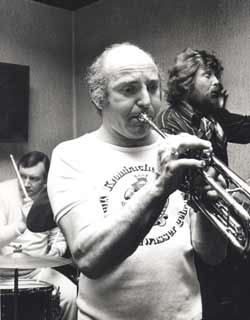 Mike Oliver Mo Hovery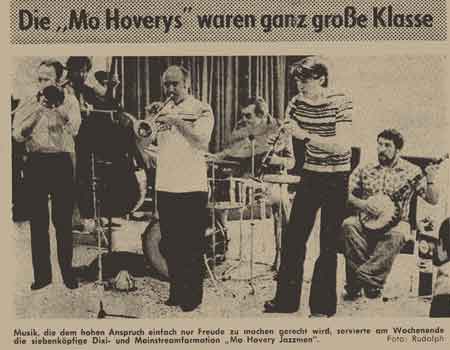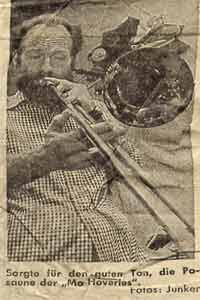 cutting from 'Stadt Waltrop und Umgebung' September1977 same paper January 1988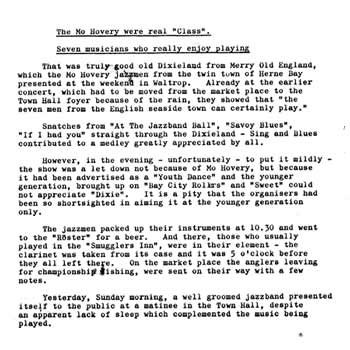 I love this translation after finishing playing at 10.30pm to the bar for a beer - came out
at 5am - despite an apparent lack of sleep which complemented the music being played
burtie b




top of page Index Page