Bude's Twentieth Jazz Festival 2007
What a cracking festival held in the NW corner of Cornwall from Sat 25th Aug - Sat 1st
Sept - a great thank you to the Festival organiser Rachel Hayward and the Festival
administrators Jean Manual and Diana Ohison, and not forgetting the countless venue
stewards in making the whole thing possible. For the ones who could not make the venue
here are a few video clips and pics of different bands and, of course, not forgetting the
Bude Buskers outside the Falcon Inn - or as one of the locals was heard to say - I see
the Orchestra are playing again this morning.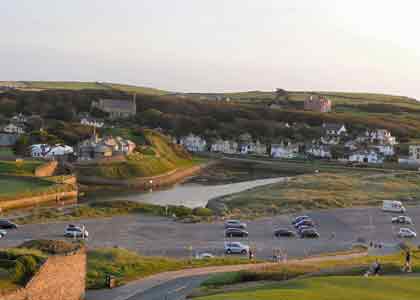 Overlooking Bude from Summerlease Crescent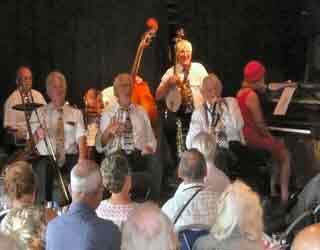 playing I Love her playing Just a little while to stay
Bullers Arms, Marhamchurch,Bude. Tuesday 28th August 2007 Waterfront Centre, Bude. Tuesday 28th August 2007
Mike Owen and his Woodland Jazz Band (Denmark/UK) Brian Carrick's Algiers Stompers
Mike Owen tmb/ldr, Ole"Don"Kirk tpt, Laar Dalsgaard clt, Brian Carrick reeds/ldr, Peter Wright tpt,
Sven Topgaard piano, Bjarne"Stub"Juul gtr, Finn Faaborg bass, Chas Hudson tmb. Malc Hurrell bnj, Bill Cole bass,
and Uffe Hansen drums John Baker drms and Gabriele Gad piano
What a cracking band , Mike's playing is unsurpassed A great New Orleans sound from this band
in my opinion - just wonderful - click on to the picture or so click the title/picture to watch video
title to here the lads playing ' I Love her'
to book this band and more info click on to Mikes website:

playing Playing
Meet me somewhere in your dreams Sit right down and write myself a letter
Waterfront Centre, Bude. Wednesday 29th August 2007 Falcon Hotel, Bude. Wednesday 29th August 2007
Martin Bennett's Old Green River Band Keith Stephen's Hot Club Trio with George Huxley
Martin Bennett piano/ldr, Dave Copperwaite tpt, and John Hallam, also Caroline Irwin on vocals.
Howard Murray reeds, John Finch tmb, Stuart Smith drs,
Mac' MacDonald bnj and Jim Swinnerton bass. Keith Stephen gtr/ldr, Roly Veitch gtr, Bruce Rollo bass,
with Caroline Irwin vocals
George Huxley and John Hallam reeds
One superb band not to be missed so click on to What a great sound with two of the finest reed players
the title/picture to hear. and not forgetting the lovely voice of Caroline Irwin
so click on to the title/picture to hear.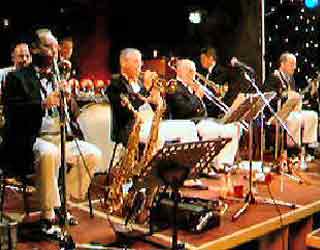 playing - two tracks joined together playing - (I dont know the title)
Falcon Hotel, Bude. Sunday 26th August 2007 Budehaven Leisure Centre, Bude.
Sunday 26th August 2007

Black Snake Jazz Band Keith Nichols Collegians
Mike Cox bnj/ldr, Richard Bennett tpt, James Evans clt, Keith Nichols tmb/ldr, Andy Woon tpt, Norman Fields clt,
Dave Donohoe tmb, Bill Cole bass, Des Bacon piano Nick Gill piano, Nick Ward drms, Frans Sjöström bass sax
and Colin Bowden drms. and Tom Langham bnj
Two two minute tracks joined together so click on Two and a half minutes of this fine band listen to the
picture to activate video superb solos of Norman Fields, Tom Langham and
Andy Woon, Nick Gill on this classic Rag (I dont know the title)
so click on picture to activate video
And not forgetting the musicians who formed the orchestra that started from the Brendon Arms
and finished up outside the Falcon Inn - must add we had some great artists sitting in with the lads
Peter Tamplin and Geoff Barnhart (USA) - so click on the pictures to watch the lads and lassies in action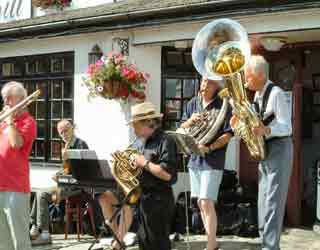 Big Butter and Egg Man Lady be Good
with special guest Bill Cole

Dinah Washington and Lee Swing
featuring Gurd Preu

Big Butter and Egg Man with Geoff Barnhart I Cant Escape from you
with Peter Tamplin and Marcel Eydoux
Not forgetting all the Musicians who gave up their morning to entertain:
trumpets/ cornet: Roger Wimpenny instigator and leader, Ian Hutchinson, Jim Reid, Dave Kedge.
clarinets/reeds: Don Walker, Gerd Preu, Stan Davies, Anne Hunt, Judy Lodge, Stan Acaster,
Paul Bridgewater, Norman Grodentz.
trombones: Don York, Brian White.
pianos: Marcel Eydoux, Peter Tamplin, Geoff Barnhart, Cliff Davis.
banjos: Polly Hobbs, John Bryant, Burtie Butler.
sousa/Ebbass: Stan Tofield, David Joules, Bill Cole.
drums: Barry Knight, Roy Swift, Cees Hoogkamen.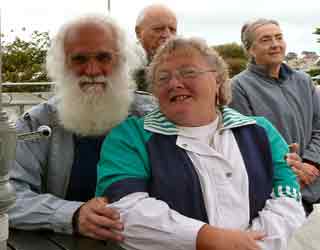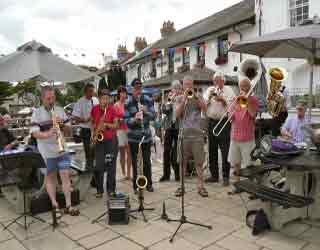 our most loyal fans Bill and Avril the en-masse line up outside the Falcon Hotel
See you all next year
Burtie Butler
_____________________________________________________
_________________________//___________________________
Jazz at 'Challock Lees Goose Fair' with Burt Butlers Jazz pilgrims
Every year Challock Lees have a Goose Fair which is great fun for the children and adults
alike, this year The Pilgrims were invited to play for the crowds - this was held on Sunday 9th
September 2007 - here are the lads playing My Blue Heaven - so click on either picture to
watch them or title.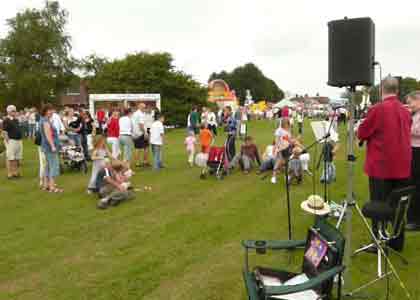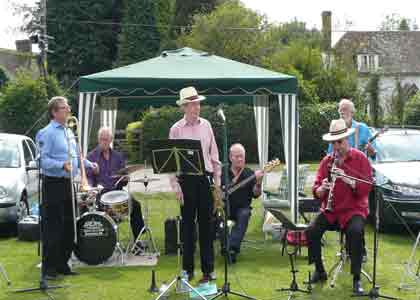 the crowds that we were playing to The lads - My Blue Heaven

Band members:
John Finch tmb, Barry Knight drs, Tom Brady tpt/voc
Mick Durrell bass, Roy Mason reeds and Burtie Butler bnj.