<![if !vml]><![endif]>

<![if !vml]><![endif]>


Burtie has played with many musicians and different bands. Here is his

Hall of Fame of bass players
Bernie Johnson - double bass Memphis Blues recorded live at The Globe in Morning Lane, Hackney,London, 10th Jan 2005, band members
Tom Brady tpt, Roy Mason clt, John Finch tmb, Burtie Butler bnj and John Cottis drms

I started my playing days in the late 1950s with a skiffle group called "The Cheques" with old friends of mine, Don Hurley and Ted Hope. After a few years, I joined a small dance band called "The Viscounts" run by John Pollard, with Roger Letley on accordion and Maurice Coveney on drums, up to the early 1970s. Then I met up with Geoff Hatton and joined his band, the "Trad Fad". At this time, the local jazz really took off for me and I played with various guys like Sam Weller, and Dave Link, and played with Lyn Falvey's "Touch of Class", and various other bands - The Invicta Jazz Band, Robin Beames's Imperial Jazz Band, and also the Pilgrims.
It is with great sadness that we announce that Bernie passed away on the Thursday 15th March 2007. It happened very suddenly with Bernie collapsing at work on the Monday and passing away in hospital on the Thursday with a massive heart attack. He leaves behind his wife Jill and two daughters, Penny and Julia, and one granddaughter Jennifer.
The funeral was held on the 2nd April at the Bluebell Hill Crematorium, Chatham, Kent, and then afterwards at the Bridgewood Manor Hotel. The lads gave him
a wonderful send-off. The first video clip is from the house to the end of the road and the second video is from the Crematorium gates.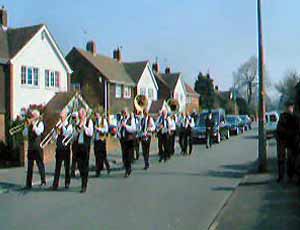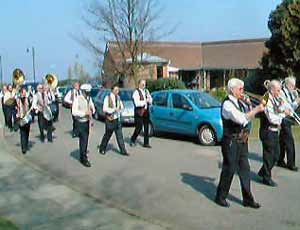 Closer Walk with thee The Saints go Marching In
click on picture or title to watch video clips
trombones: clarinets:
Sam Wellar, Don York and Sean Maple Ivan Gandon, Dennis Lear and Roy Mason
drums banjos
Mick Brooks, Robin Beames (bass drum) Burtie Butler and Nobby Willett
and John Cottis
sousaphones trumpets
John Finch and Gerry Birch Dennis Jenkins, Malcolm Walton, Dave Hill
Tony Pink and Roger Ely

Mike Durell - double bass and piano Here is Mike playing Out of the Blue with the Alan Littlejohn Band, which was used by the
BBC as the signature tune for 'Sports Report', this was recorded on Oriole in 1962,with band
members: Alan Littlejohn tpt/voc, Len Doughty v/tmb, Harry Lock clt, Keith Ingham piano
Bob Mack gtr and Bernie Godfrey drums. Click on to Mikes name to listen

I started playing piano with the George Wooding Band in 1955, then changed to bass in 1956 playing with the Fred Cogger band and then the Owen Bryce on and off for the
next few years and also doing whatever came along. With Bernie Godfrey (drums) I joined the Alan Littlejohn's band in 1960; we made a EP45 for Oriole which was used as
the signature tune for BBC "Sports Report" at that period. I then joined the Dave Shepherd Quintet in 1966 doing regular BBC's morning "John Dunn" show and evening
"Through to two", also BBC's "Jazz 625" from Ronnie Scott's with Stéphane Grappelli and Teddy Wilson (final gig of UK tour with Teddy Wilson and the Quintet). I also
played with the Freddy Randall Band. From then on I played all kinds of gigs including the West End show " Three Men on a Horse" at the Vaudeville theatre, Strand and the
odd matinees at the National Theatre for one and a half years and played gigs with various bands including Alex Welsh's final tour. I was a member of the John Birch / Dick
Morrissey Octet for the rest of the 80's until John's recent death. Also 1979 - 1984 I was in "The Eddie Thompson Trio" at the "Playboy Club" Park Lane six nights a week and
accompanying various American artists at the "Pizza Express" and the "Pizza on the Park". Also I worked with Dick Laurie's Elastic Band and the Dick Charlesworth Quartet
.........................and still here just about!!!!............serves me right!!!!!! Mike Durell
click here or picture to watch video
Video taken at Ronnie Scotts for the BBC TV Mike with the Benny Waters Freddy Randall
Jazz 625 rec Nov 1969 Jazz Band rec 11th Dec 1982, London, England
Stéphane Grappelli and Teddy Wilson piano Jim Shepard tmb, Mike Durell bass, Laurie Chescoe drs
Mike Durell bass and John Richardson drms Benny Waters clt, Stan Greig piano, Paul Sealey gtr
playing Tangerine and Freddy Randall tpt.
The World is Waiting for the Sunrise St James Infirmary

When you're are Smiling The Blues my Naughty Sweety gives to me
A side of ORIOLE 45
There ain't no Sweet man worth the salt of my tears
Alan Littlejohn tpt/voc, Len Doughty v/tmb,
Harry Lock clt, Keith Ingham piano
Bob Mack gtr, Mike Durell and Bernie Godfrey drums.
So click on to the titles to hear the tracks on the jazzology cd and the A side of EP45 Oriole
Back to top Index back to music/video index


Dr.Colin Hodges - Double bass, guitar and vocals This is one of my favourites with Colin singing One Meat Ball
this was recorded at the Theatre Royal, Margate, Kent on the
11th Feb 2006, with The Bill Barnacle Band, the other members
of the band are, Bill Barnacle cornet, Sean Maple tmb, Chris
Rumsey reeds, Dave Bashford gtr and Mike Marsh drms.

Born 1942 in Speldhurst, but grew up in Ramsgate. Started playing (guitar ) in 1957 in a skiffle group. Played trombone for a couple of years but switched back to guitar in a university band. Played guitar in various bands on the London circuit in 1960's. Took up the bass in 1969. On return to Kent played bass ( and did vocals ) successively with Bod Bowles, Pete Rose, Bill Barnacle and the Imperial Jazz Bands, recording with the last three. Has also played in Hot Club style groups, dance bands, barn-dance outfits etc. Wrote arrangements for Latin American Street Band "Busker Du" in which he played tuba. Currently arranging for and accompanying a choral group. Formerly a science lecturer, he still teaches part-time for the Open University. Plays cricket occasionally and has just retired from the role of rugby coach.

Click on picture or here for video on You Tube by his daughter Kate

Colins 70th birthday party - celebrated round his house a full band of musicians
in his front room - left to right:
Tony O'Sullivan tpt, Jimmy Tagford drms, Sean maple tmb, Trevor Williams bass,
Malcolm Walton tpt, and the boy himself gtr, Bill Barnacle crnet, Geoff Foster clt,
Pete Rose clt and other muso's hiding are Mike Marsh drms, Burtie Butler bnj and
Colins son Tom Hodges on baritone - 18th February 2012


A great photo of Colin on trombone at a show in West Cliff Hall Ramsgate 1960
Les Mighall drms, Peter Ditton gtr, Derek Moore bnj, Peter Machin clt,
Dave Bearne bass, Colin tmb and Mike Thompson alto sax


Another great photo from Colin - This snap was taken on Ramsgate Sands in 1961. There was a torchlight
procession of young people. We went to the start expecting to tag along at the end but proved to be the
only band and fronted it.
Band left to right:-
Rhys Jones - clarinet - very good in Johnny Dodds style - Tony O'Suliivan trumpet - Ed Yorath gtr - Damian Knight banjo -
Martyn Stocks banjo - John Simmonds snare drum - Paul Jury snare drum. Brilltant modern jazz pianist MD for London
shows eg "Buddy" and "Jolson" - died about 10 years ago.- Colin Hodges trombone - Pete Machin soprano sax.
Derek Moore bass drum. Knew him since he was 5 Played banjo in my first skiffle group. Last saw him in 1970's

After we finished I remember going up in lift . We played "When I leave the world behind" and "My Journey to the Sky" . What wits


another great group photo from the Hodges collection, circa early 60's band members:
Tony O'Sullivan tpt, Rhys Jones clt, Mike Thomson alto, Colin H tmb, Pete Ditton bnj,
Martyn Stocks bjo, Derek Moore bass and Les Mignall drums


Another great photo from Colin - This snap was taken at Broadstairs Carnival in 1961.
Band members Left to Right
Paul "Mouse" Barratt trumpet - Tony O'Suliivan trumpet - Godfrey Wood trumpet - Rhys Jones clarinet -
Pete Maddox soprano sax - Ed Yorath banjo - Colin Hodges trombone - Bob Cooper trombone - Paul Jury snare drum -
Dave Benson bass drum and two that should be there, out of the picture: Paul Silverthorne banjo and John Simmonds snare drum


A grim August Night at Ramsgate Carnival 1963
Dave Hughes tpt, Pete Machin clt, Pete Spencely tmb, Colin valve tmb, Martyn Stocks bnj,
Grahame Stewart bass drm and John Field washboard.




Back to top Index back to music/video index



Mike Porter- Ward Double Bass Mike in this recording of 'Blue turning grey over you' . This was recorded
with the Invicta Jazz Band at Chatham Studio's in 1990. Members of the
band are: Dave Link tpt (sadly no longer with us), Kenny Pyrke tmb ( sadly
no longer with us) Roy Mason reeds, Burtie Butler bnj and John Cottis drms

I started my musical career playing guitar in a quartet whilst in the forces, I then switched from guitar to double bass. Came out of the forces and studied bass with the Principle bassist of the Midland Light Orchestra. Then I went to Guildhall School of Music in London and studied bass with the Principle bassist of the Philharmonic Orchestra. I then worked in many of the shows in the West End from Hans Christian Anderson with Tommy Steel, Canterbury Tales and Godspel with David Essex, Julie Covington and Jeremy Irons. I have made many recordings with musicians such as Bobby Scott ( A Taste of Honey ), David Essex, Tommy Steele. Also I worked with all the pop stars from Matt Monroe, Anita Harris, P J Proby to Sandy Shaw to name a few. I have played in some wonderful venues - the Olympic Stadium Athens, Windsor Castle, P&O Ships, the Ruinart Champagne cellars in Rheims, Cork Jazz Festival and the Isle of Man Jazz Festival. I have played with some wonderful musicians including Harry Connick Jnr., Scott Hamilton, Bobby Scott, Jim Mullen, Acker Bilk to name but a few. Later I bought a house-boat in Conyer, Kent and I was getting fed up with all the travelling, so I started playing locally with my musician friends and lived happily ever after. To book Mike his website : http://www.mikeporterward.co.uk/

Back to top Index back to music/video index

Roger Hooper - Brass String and Woodind This is Roger playing in the Blue Rhythm Kings 'From Monday On'
this was recorded at the Louis Armstrong, Maison Dieu Road, Dover. The year 2000.

Born into an RAF family in the late 1940s was sent to a private school where he learned brass, string and woodwind, at 15 years old
he joined a brass band and then started in jazz, in the late 1980s he payed with roland hopkins band then with brian crage, in 1993
he joined Brighton based band The Vintage hot five staying with them for ten years, 2003 he and geoff collins started creole jazz a
band that is still going and respected .Roger has a great love for 1920s dance bands and never turns down a chance to play in one.

Back to top Index back to music/video index



Trefor Williams - Double Bass Here is Trefor playing 'Baby Face' with the Phil Mason's New Orleans Allstars recorded
27th February 2007. Band personnel: Phil Mason cornet, Roger Myerscough clarinet,
Micky Cooke trombone, Jim Mc Intosh banjo, Laurie Chescoe drums and yours truly, with
a great vocal and a fine solo - Trefor double bass.
This track is on their latest CD, 'Cotton Fields back Home', due to come out in the late
summer - to get your copy contact Phil Mason on +44 (0) 1700 500635
I fell in love with the bass at the age of three. Every Sunday afternoon, in the early fifties, my parents used to take me to visit my Grandparents. My Grandfather had a beautiful polished wood radiogram in the lounge and he would play records from his collection of orchestral music and I would stand in front and conduct. It was the bass frequencies that vibrated through the floor and up into my little body that excited me, and later, when I had my own record-player, I would have the tone controls on "full bass". It was inevitable that I would eventually get my hands on a bass, after hearing the muses of Charles Mingus and Richard Davis.Originally I was an Essex lad, studied double bass with one of London's top session musicians and, subsequently, have worked with many top-line artists, from "Kid" Thomas Valentine, "Wild" Bill Davison and Sammy Rimmington to the "Midnite Follies Orchestra", the "Inkspots" and Eartha Kitt. I was a founder member of "Phil Mason's New Orleans Allstars" from 1992, worked for more than twenty-one years with the "Max Collie Rhythm Aces",and I have toured all over Europe, Scandinavia, the USA, Canada, Japan, the cities and outback of Australia and even the Jungles of Borneo. I continue to gain strength, direction and purpose from my deep Christian faith, my wonderful wife, Kate, and the fellowship and constant challenges I get from all the fine musicians I have the pleasure to work with.--------------------------Onwards and upwards God bless you Bassically yours Trefor Williams.

Sadly Trevor has passed away on the 5th September 2017



Back to top Index back to music/video index

Gerry Birch - Sousaphone / Double Bass

Born in Essex in 1953. At the age of 10, I joined my local Brass Band where I learnt to play Trombone. I soon realised that this wasn't the instrument for me and took up Tuba. I moved to Kent in 1972 and joined a local brass band. One evening, on the way home from band practice, I called into a pub for a pint and heard my first LIVE jazz band and the rest is history. I bought a Sousaphone and started listening seriously to records. My first playing experience was with the Expedient Brass Band from Sussex, which led on to a regular Friday night gig with the New Orleans Echoes, which at that time was run by trombonist Mark Bradley. The next 10 years or so was spent playing with many of the Kent an Sussex bands. I left Kent in 1988 and had 15 years in East Anglia, before moving back to Kent in 2003. Over the years I have played with many semi pro bands up and down the country . Although I have always been busy in the Summer, I found that Sousaphone was not always popular during the winter ,when the Summer Fetes had finished, so I took up string bass. At the time of writing I am running a local Jazz Club and have just formed my own band ; The Stour Valley Jazzmen.

Back to top Index back to music/video index




Arthur Bird - Double Bass
Born Canning Town, 1932 spent most of his life in Essex, has been living in Kent for the past six years. After National Service with the Military Police, Nato, Paris, joined the "Whytebridge Jazz Band" as roadie in 1956 being one of the few people with a car and a driving licence. The band didn't have a bass player, when they decided they needed one he made his first bass and became a member, at that time being more interested in making the instrument than playing it. Later joined Eric Silk's "Southern Jazz Band" and was a member of the house band, "Alan Littlejohn's Jazzers" at the 100 Club, backing many well known British and American musicians including Yank Lawson, Al Casey and Kenny Devern.
Joined Ken Colyer in 1975 and for the next eight years toured UK, Europe and the Middle East. After Ken died worked with the "Colyer Trust Band" and joined Ken Sims "Dixie Kings", spent some time touring Canada with Hugh Rainey's "Hottest Band in Town" and went on to play in the "Hugh Rainey Jazz Band".


This is Arthur in the Colyer Band taken around the early 80's, and interview with Ken but it is
in German - but non the less great footage of the Ken Colyer band in the early 80's,
band members :
Ken Colyer tpt, Tony Pyke clt, Johnny Beecham tmb, Ray Smith piano, Bill Stotesbury bnj,
Arthur Bird bass and Paul Rosenberg drms. guest trumpet player is Gerhard Vohwinkel.
who started his career with Papa"s Bue's Viking Jazz Band in Denmark, in 1956, later played
with the Old Merrytale Jazzband and also had his own band, the Allotria Jazzband. info from
Gerard Bielderman Netherland Publisher of jazz discographies. - thank you Burtie

playing Winter Wonderland and Tell me your Dreams so click here or on the picture to activate.

Back to top Index back to music/video index





Alan Kennington - bass Alan playing 'Little Coquette' with the Canterbury Jazz Pilgrims on
the CD Reigning Supreme issued 25th Feb 1999, other members of
the band are: Bill Phelan tpt, Jim Searson sop, John Finch tmb, Burt
Butler bnj and Robin Beames drums.
In 1955 he "got the bug" for jazz whilst at school - much to the annoyance of the music master who forbad jazz records being played during the end of term "bring your favourite records" sessions. In 1957 the New City Jazzmen were formed in Crawley and Alan attended the first session in the basement of the El Salvador coffee bar - his first live music. In 1958, after two years as Number One fan, drum carrier and beer fetcher, the then bass player left suddenly. No replacement could be found so Alan was persuaded that this position was MADE for him, in spite of the fact that he wanted to be a trumpet player! Within a couple of weeks he had a bass and was playing in the band. He still is, forty-two years on. During that time he has been lucky enough to play with many internationally renowned musicians through his residencies with other very well-respected bands, such as Mike Collier's Fourteen Foot Jazz Band and the Benny Simpkins Band, backing such stars as Wingy Manone, Billy Butterfield, Yank Lawson, Ruby Braff, Bill Coleman, Humphrey Lyttelton, Bud Freeman, Peanuts Hucko, Danny Moss, Ronnie Ross, Jimmy Skidmore, Sandy Brown, Ralph Sutton, and many others. He also managed to record with Danny Moss and Billy Butterfield, as well as putting out records with the New City Jazzmen and the Benny Simpkins Band.

Back to top Index back to music/video index


Paul Ferdinand - bass Here is Paul playing Red Roses for a Blue Lady with the Vocalion Jazz band this was
recorded at the Jolly Knight, High Street Rochester, Kent. 12th September 2007.
band members are : Dennis Jenkins tpt, Jan Bryce tnb, Burtie Butler bnj, Paul Ferdinand bass
and Mark Alexander drums

an interview on radio Kent with John Warnett and Julia George 23rd June 2009 - change of life style phone in click here

Jazz satisfies my love of melody, those evergreen songs which defy the passage of time and which I appreciate more as each day passes. My background is not by the usual route to Trad, indeed I often feel anachronistic compared to my colleagues. In childhood there was always a guitar lying around to play. At seventeen I took up electric bass and gigged locally. Little did I realise then, that thirty years on I would still be at it but this time playing the Double bass. My musical genres touched Rock (both Contemporary and Indulgent), Country, Blues, Ballads etc in an assortment of incarnations. But now I play Jazz. Why Jazz ? It's definitely not the money or the gentle kind of folk I am privileged to play with. It's not even those most wonderful of wonderful melodies. It is the inclusiveness. Since joining the Syncopators I have never gigged with so many different musicians, each with their own unique contribution to give. And still, it never ceases to make me smile when my fellow conspirators shake hands for the first time before playing together, where else could you find such generosity? Only in Jazz, long may it continue.

Back to top Index back to music/video index



Jim Belcher - Sousaphone - Trombone - Bass
Born in Edinburgh before the war, I studied violin at school, gave it up to play cowboy music ( Tex Ritter, Burl Ives ) on guitar. Caught the jazz bug on hearing " Music Music Music", by Teresa Brewer and took up the trumpet with the ODJB ( Orpington Dixieland Jazz Band ) . Then switched to Trombone during the " Trad " days, formed the Northdown Stompers with Jack Gilbert, Brian Fairbanks, Eric Webster and George Berry to name a few. Sank in to the General Dance / Rock and Country scene, during the 70's playing bass guitar. Saved by Ken Atkinson in the 80's to play with the" Thameside Stompers ", I then went out and bought a Sousaphone and havn't looked back. Now lives a triple life, playing trombone, bass and sousaphone in various semi pro bands around London and the Home Counties

Back to top Index back to music/video index





John Bayne - Bass Sax and Double Bass
When I was twelve I heard jazz for the first time- the Gerry Mulligan Quartet on the Light Programme! At that time (1952) I played in the Boys' Brigade Pipe Band (bagpipes), but things were about to change. Skiffle ( washboard, guitar ) and rock and roll ( alto, baritone) came along but jazz was beckoning in St. Andrews, however, there wasn't any except for (occasionally) the Clyde Valley Stompers - the most exciting sound I ever heard. When I qualified as an industrial chemist (1961) I got a job in Surrey and entered the jazz scene playing in small modern bands ( alto, baritone, double bass) and big bands. I moved to Luton (1966) and started in traditional jazz (clarinet) and developed a great interest in gaining a 'working knowledge'of muscical instruments- about twenty : woodwind, brass and strings.I used my multi-track tape recorder for 'one man bands'and was thrilled to appear on a Roy Castle television programme playing nine intruments in 'my' jazzband. As well as free- lancing I played in a dance band (20 years) , the T J 4 (Traditional Jazz Four) (11 years), Stackyard Stompers (6years) and I'm now in my sixteenth year with Bob Dwyer's Hot Seven.