Burt Butlers
Jazz Pilgrims Bands from the past and present
The Pete Rose Jazz Band Story 1978 - 1984
Pete Rose, an ex Royal Marine musician, started his band in 1978 with some of his fellow musicians from the
Royal Marines Band, Deal, Kent. The band progressed to a very entertaining seven piece - and due to heavy
business commitments, Pete had to retire from running the band, and it became the Bill Barnacle Jazz Band in 1984.
The original band personnel are:
Jan Zawada trumpet, Dick Waterer trombone, Bob Simmonds piano, Neil Boxall bass and Jim Beechey drums.
other band members that followed are:
Cornet Bill Barnacle
Baritone sax / clarinet Dave Corsby
Trombone Ken Pyrke, Phil Barnes
Banjo Dave Bashford, Burt Butler, Chris Marney
Bass Colin Hodges
Drums Graham Lennard , Jimmy Tagford
The band had two popular resident gigs - Wednesday eve at "The Foresters" on the Deal Sea front and
Friday eve at "The White Horse" at Finglesham, Kent - the band has toured Germany and appeared live
in "No 73" a children's show in 1982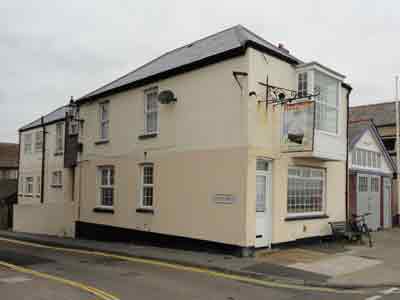 'The Foresters' The Marina, Deal, Kent - every Wednesday in the early 80's a great venue

taken at the Foresters 1982 Foresters 1983
Kenny Pyrke tmb, Burtie Butler bnj and Colin Hodges bass Chris Marney bnj, Colin Hodges bass
and the edge of Mike Fuller alto sax


The ' White Horse' Finglesham, Kent. (burnt down in the late 80's) another great venue for the
Pete Rose JB - every Friday in the early 80's - they made their only recording there in 1981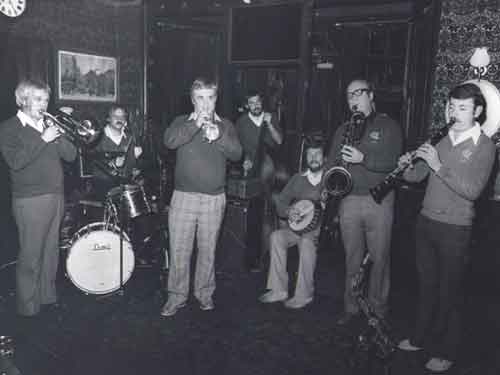 picture taken on the evening of their recording on 2nd May 1981

back row :
Dave Bashford bnj, Graham Lennard drs, Pete Rose clt, Colin Hodges bass
front row:
Dave Corsby the saxes, Bill Barnacle cornet, Kenny Pyrke tmb

The Pete Rose Jazz Band rec at the "White Horse"
public House, Finglesham, Kent. 2nd May 1981

The band made an excellent LP the front cover was designed by Jason Pyrke and Eric Souster
and produced by David Aylott and Desmond Carrington - on Foldback Records FBJ 1849
band members:
Bill Barnacle cornet, Kenny Pyrke trombone, Pete Rose clarinet, Dave Corsby sax/ clarinet
Dave Bashford gtr/banjo, Colin Hodges bass and Graham Lennard drums
Side One
Stevedore Stomp Too Busy The Fishsellar La Mooch Blues My Naughty Sweetie Honeysuckle Rose
Side two
Hiawatha Rag Robbin's Nest The Sheikh of Araby Creole Love Call Mama Don't Allow
& signing off Rose Room
click on to above titles to get the full flavour of the lads
Mama Don't Allow shows the total entertainment value of the lads
Burtie B

Continental Hotel, Folkestone, Kent. 1982
Graham Lennard drs, Bill Barnacle cnt, Burtie Butler bnj, (Bunny),
Colin Hodges bas and Pete Rose clt.

The Pete Rose Jazz band with guest George Chisholm at the Whitstable Playhouse 1983
Band members L/R
Kenny Pyrke tmb, Graham Lennard drns, Bill Barnacle crnt, Colin Hodges bass,
George Chisholm tmb, Dave Bashford gtr/bnj and Pete Rose clarinet.

Video's of The Pete Rose Band in Rheda, Germany 1982
click on Pictures/titles to play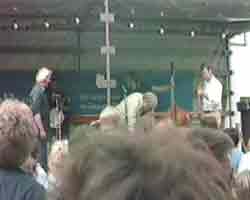 Mama Dont Allow Down By The Riverside Ice Cream

Shine Sleepy Time Down South Sheik Of Araby
Shiek of Araby on Youtube




Auf Weidersehn
Pete Rose Band in Rheda Germany 1982 video's great stuff with the Germans showing great appreciation

Band Members:
Bill Barnacle cornet, Kenny Pryke tmb, Pete Rose clt/ldr, Burt Butler bnj, Colin Hodges bass and Graham Lennard drms
Video of The Pete Rose Band on 'Coast To Coast', Dover, Kent. 1982

Coast To Coast, Southern Television 1982
Band Members:
Bill Barnacle cornet, Kenny Pryke tmb, Pete Rose clt/ldr, Burt Butler bnj, Colin Hodges bass and Jimmy Tagford drms
Video's of The Pete Rose Band in Folkestone High Street, Kent. 1982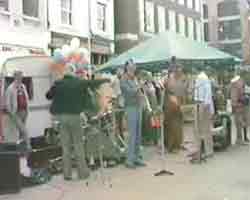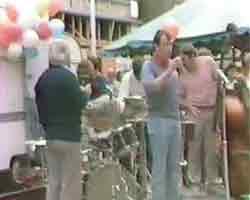 Beale Street Blues Bei Mir Bist Du Schön Limehouse Blues

Weary Blues Silver Dollar

Silver Dollar on Youtube

Great video of the lads playing in Folkestone High Street, Folkestone, Kent - click on picture or titles to watch
Band Members:
Tom Brady trumpet, Kenny Pryke tmb, Pete Rose clt/ldr, Burt Butler bnj, Colin Hodges bass and Graham Lennard drms
Top of page index of musicians home page