Burt Butlers
Jazz Pilgrims Bands from the past and present
The New Orleans Echoes History
Webb site to book this band: New Orleans Echoes
The first ten years of the history of the New Orleans Echoes were, as you will see, fairly complicated personnel wise! Come to think of it, so was a lot of the rest of it! All along the line, the dates are a bit hazy too! In 1974, Brian Craig and the late Mark Bradley, who became the leader at the time, formed the band, which was a spin-off from sessions run at the Black Horse, Stansted, Kent, by Owen Bryce, who left to take up a new life on a narrow boat I am told that, at the initial meeting at Mark's house, someone noticed an LP called 'Echoes of New Orleans' and suggested the name 'New Orleans Echoes' for the band. I imagine that this was one of the two records mentioned in Crump and Stagg Included in the line-up of that first band were Mark Bradley (trombone), Brian Craig (trumpet), Sam Rowton (clarinet), Brian Fairbanks (drums), who replaced Pete Reynolds, who had played drums for Owen, Roger Mullen (banjo), Dave Gray (bass), Lynn Trent (vocal), and, shortly afterwards, Phil Dearie (piano), who replaced Malcolm Walton, who had played piano with Owen. Mark recently passed away in Scotland and Brian Craig now lives in Hastings and, though he no longer plays the trumpet, is learning to play banjo. Sam Rowton I never met. I am told that he was more a dance band style of player and perhaps had no interest in continuing with the band. Brian Fairbanks, who stayed with the band also passed away a year or two ago though I spoke to him before then at the Sidcup Jazz Club where he supplied the name Sam Rowton - the spelling of which he was uncertain about. Roger Mullen gave up playing due to ill health a few years ago, retired first to Whitby, and now lives in Tynemouth, his home county! I saw Dave Gray in Bristol a year or two where he has lived ever since he left the band many years ago. I know nothing of the whereabouts of Lynn Trent (her stage name), but I think I heard that Phil Dearie unfortunately died not so long ago A recording made at the Black Horse exists, from shortly after the start of the band, where the line-up has no banjo; the late Norman Halliday is on clarinet, with Colin Martin on piano Another recording made not long after at the same venue includes Ken Colyer on trumpet, the session being a preamble to a concert given, with Ken, somewhere in Sittingbourne, Kent.

When I joined the band it was as the banjo player, the piano was dispensed with, and eventually Brian Green took over on the drums for several years during which time he recorded the band at his country studio. At that time we started a residency of several years at The Elephant's Head, Hook Green, just outside Tunbridge Wells - the first of three residencies there over the years During that time - I think in 1978 - Brian Craig had to have an operation on his throat to remedy an injury caused by trumpet playing, and Malcolm Walton took over on trumpet for a while. Brian Green left us and Pete Lay took over on the drums for a period of time, followed by Jerry Card. At that time, Patti Clarke and Lynn Trent often sang with the band. We did a series of concerts at the Oast Theatre, Tonbridge, around then, with Lynn singing for us. During this time I had changed from banjo to clarinet when Norman Halliday left the band When we lost the Elephant's Head the first time we played for a while at the Anchor at Yalding and started our residency at the Chafford Arms, Fordcombe. It was then that Mark Bradley decided to leave the band, and Brian Craig and I took over running things for a while After Mark left the band, Sid Bailey played trombone for us, to be followed by Tony Cardwell and then Alex Gardiner, who still plays for us at our current country residency, the Haywaggon at Hartfield. Pete Lay was still our drummer, Bill Stotesbury our banjo player, with Eric Webster depping occasionally, and 'Tubby' Spicer, and sometimes the late Ian Scriven, played double bass. Our featured vocalist at that time was Dawn Leppard, the wife of the publican of the Chafford Arms. When Brian gave up playing, this time for a much longer period of time, to rest his throat, the band devolved on me, and his place was taken by Bob (boots and braces) Jones, the cornet-playing greengrocer My leaning at that time was towards what one might call latter day New Orleans-style (though I didn't want to play anything as 'latter' as bands such as the Dirty Dozen did), so I started to work with material which I considered appropriate to that style. I had, of course, to tilt some way towards Bob Scobey, Bob Jones' idol, for a while

Some years later, in 1982, when Brian had returned to the scene, he, with Pete Lay and Doug Allsop, who played banjo and guitar with us for a while, was instrumental in organising our German tour that year. Brian once again played with us on the tour, though he did not actually re-join the band. The tour was arranged through the Savoy Jazz Band from Germany. Gunter Barfuss was their leader/bass player and he came to listen to us. On that tour we took John Boyett as our bass player and Sid Bailey on trombone. We toured mainly in the Cologne area, playing such venues as the Bielefeldt Jazz Club, Papa Joe's Jazzlokal {who, until quite recently, still had a reference to our visit on their website) and the Farmhouse Jazz Club, where I left my loud-speaker, never to be seen again, in our rush to get to the ferry home!When Bob Jones left us in 1985,1 found myself playing a session at the Louis Armstrong, Dover, where the cornet player was Roger Ely. I invited him to join the band, which he did, and was with us for many years after that on cornet and trumpet. At that time we were resident at a soon to be defunct French restaurant in Tunbridge Wells, and briefly at the Hare and Hounds, Flimwell (wearing overcoats and heavy sweaters and with condensation streaming down the wall behind the curtain at the back of the stage). Brian Craig has a recording of a fine session there when he depped for Roger Ely We had been working as a six-piece band for some years but, when Jon Vinten came along to sit-in one evening, I quickly decided to ask him to join us. He stayed with us until George Melly summoned him from on high! Poor old Tubby' Spicer died and John 'JR' Roberts joined us on bass. Now we had the line-up which remained for a considerable time; Roger Ely (cornet/trumpet), myself (reeds), Alex Gardiner (trombone), Jerry Card (drums), Andy Maynard (banjo), John Roberts (bass) and Jon Vinten (piano). Together we recorded our cassette 'Everybody's Doin' It Now' (now re-issued on CD) in 1988. When Jon Vinten eventually left us, John Collinson, who is still with us today, occupied the piano stool. John told me recently that he resigned from other bands when he joined the Echoes, a fact of which I was unaware at the time and which we must take as a great compliment to the band On the commercial side of things we branched out by forming a strolling unit, the New Orleans Echoes Southern Strollers,
Pete Curtis


New Orleans Echoes Southern Strollers,
band members:
Andy Maynard bjo, Roger Ely tpt, Pete Curtis clt, Ian Scrivens snare dr and 'Mole' Benn sou
playing: Honky Tonk Town click here to listen
and, when requested to by the Tunbridge Wells Borough Council, I formed, for the first time, a parade band which became known as the New Orleans Echoes Brass Band.


New Orleans Echoes Brass Band.
band members:
Paul Munnery (tbn) Dave Mercer (tpt), Geoff Cole (tbn), John Collinson (bass drm), Terry McGrath (tbn), Dennis Armstrong (crnt)
Pete Curtis (Eb clt/alto sax), Norman Field (tnr sax), Jerry Card (snare drm),
and the lovely Sheila Fawkes (Grand Marshall)
playing : Lady Be Good click here to Listen

With these two set-ups we have played all over the South of England at county shows, corporate functions, and the like. For the last ten years, for instance, we have appeared every year at the Test Match at Edgbaston and hope to do so again this year. Eventually we were again without a home, and Alex Gardiner introduced us to cramped conditions in The Hatch Inn at Coleman's Hatch, on Ashdown Forest, which was to become one of our longest residences. While we were there we also played for a while at The Galipot, just along the road, and were briefly resident twice more under different publicans at The Elephant's Head. It was during that time that we met Penny Payne, who has been a member of the band for more than ten years now. Together we have worked out many arrangements of songs for her, and her emphatic singing and rapport with the audience has become an integral part of what we do. She can be heard on our most recent CD which was recorded live at our current long-running venue, The Haywaggon, Hartfield - also found for us by Alex, who prefers playing in pubs close to home! Our repertoire has changed, of course, to accommodate Penny, who likes to sing Bessie Smith numbers and the like, but the overall band policy remains much the same - well, the day may not be quite so 'latter' as it was Also around that time we played for a couple of years at The Chequers, Lamberhurst - very cramped once again, in the bar. It was there that we had the first of our Christmas parties for the band and friends, which continue to this day, though we now hold them at Philpot's Manor, Hildenborough. Round about then we also played, as a five-piece with Penny singing, for the Sunday lunchtime diners at the High Rocks Inn, Tunbridge Wells. There, we often used the late Chris Gibb on double bass when JR was not available Through the years we have had two more residencies at The Elephant's Head, Hook Green, each under a new publican, of course. The first time, the pub had already been largely converted from its original 'spit-and-sawdust', barn-like image that we remembered, into a modern restaurant set-up. A mini-grand piano took up most of our playing space, and we (the full band including Penny) were crammed together in front of the french windows, which were not there in the old days. Nice to have a good piano, but very cramped just the same. It lasted for a while, but then the publican moved on, as they do. Much the same happened a number of years later when we were asked to play there again.
Pete Curtis

New Orleans Echoes Jazz Band
band members:
Jerry Card (drms), Alex Gardiner (tmb), Andy Maynard (bnj) Penny Payne (vocals),
John Roberts (bass), Pete Curtis (sax), John Collinson (piano) and Roger Ely (tpt)
playing: Somebody Stole my Gal click here to Listen
St Louis Blues click here to Listen


New Orleans Echoes trio
band members:
Pete Curtis (clt), John Collinson (piano) and Jerry Card (drms)
This time, though, the piano was gone (with it's owner, the previous publican, I presume) and we were only a four- or five-piece band with guests. Less cramped and quite successful while it lasted Eventually, for various reasons, Roger Ely decided to give up playing for a period of time and asked 'Mole' Benn to take over from him. My old friend Andy Maynard played banjo for us for quite a number of years until he gave up playing altogether for a time to renovate his house (I think it's finished now), and at one time, briefly, because of carpal tunnel problems. Then, for a while, Eric Webster occupied the banjo seat. Eventually Andy returned and stayed with us until, a while back, he joined the Delta Jazz Band. Recently, Phil Durell was our banjo player then Brian Masters and Tony Cardwell was back with us for for a while the Jazz Club circuit So, over these many years we have mostly played our local venues and concentrated on commercial work, weddings, fetes, corporate entertainment, etc, making only infrequent club appearances at such places as The Woodman, The 1066 Club, Farnborough, and The Tunbridge Wells Jazz Club. There, we had the distinction of playing with Bruce Turner, who expressed his well-known dislike of banjos until he heard Andy Maynard play. Then as a result of our appearance at the Bexhill Jazz. Festival, we were invited to play at Colchester Jazz Club and I decided on a change of policy toward more jazz club playing. Since then we have appeared at many of the clubs in the South East.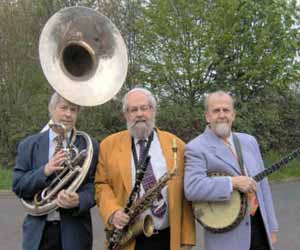 New Orleans Echoes Strolling trio
Tim Curtis (Sousa) Pete Curtis (reeds) Andy Ford (banjo)
playing: Margie click here to Listen
Papa Joe's All Stars 1985 - 2009
Here are the Papa Joe's All Stars at the Louis Armstrong, Dover, Kent. in July 2008

band personnel:
Jim Searson reeds, Ken Simms tpt, Geoff Cole tmb, Trevor Williams bass, Geoff Over banjo
and Jerry Card drms/leader who sadly passed away this October 2009
the lads gave him a wonderful New Orleans style funeral click on the above picture to view funeral procession on Utube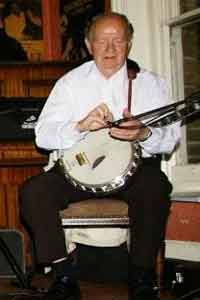 Trevor Williams bass Geoff Over banjo

Jerry ran the 'Papa Joe's' pizzeria in Rye that his enterprising father had started - Another thing from Tony Pink –
did you ever get to hear our recording from Papa Joe's of Mrs Mills (I named her) playing the piano in our interval. Not one
right note anywhere? She was in the audience came up to sing "I can't give you anything" and then asked if she might tickle the
ivories while we ate our pizzas. Mick Durell persuaded the guy with the recording gear to turn the recorder on! It is a real gem:
this is really worth listening to: click here to listen
back to top home index musicians