Burt Butlers
Jazz Pilgrims Bands from the past and present
Click on below for
Appreciation Letters/Photos Weddings and Venues etc Dave Stradwick trip to Brittany 2014 Alans 80th at the Marine Hotel
This page is Burties "Blog page" of diff band gigs and photos etc


Broadstairs Bandstand 25th Aug 2012 - a rather gusty session - winds up to 30 / 40 mph
Band members :
Dave Stone clt / sop, Tom Brady tpt, John Finch tmb, Chris Thompson double bass, Laurie Palmer drms and Burtie bnj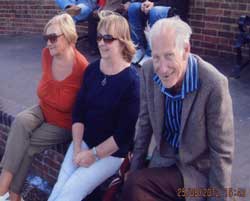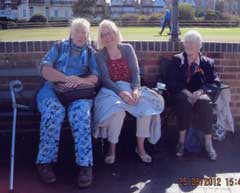 Barbara , Eileen and Len Betty, Helen and Judy
photos with the complements of TJ
back to top home index musicians
______________________
One Superb Wedding / Blessing held at the Romney & Hythe and Dymchurch Light Railway
Saturday 1st September 2012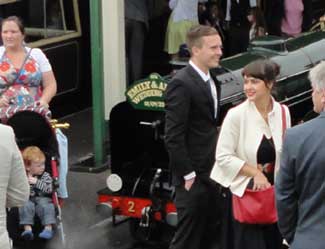 The Loco and Wedding Crowd The couples name on the train Emily and Adam
a nice touch I thought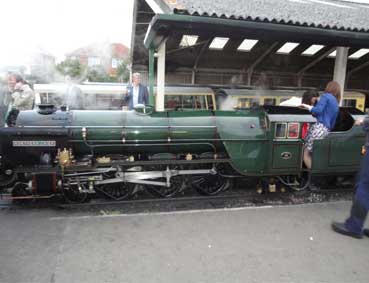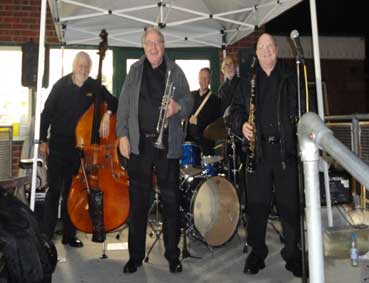 The Northern Chief one superb Loco The Harbour Side Five:
Trevor 'fingers' William double bass, John Sheppard tpt,
Dave Robinson drums, Burtie Butler bnjo and Geoff Foster clarinet / leader

Click here or on Picture
for a video of the Bride and Groom and guests arriving by train playing Bugle Boy March
back to top home index musicians
____________________________
Photo's and Letters of appreciation from different Weddings and Venues
The Wedding the Jazz Pilgrims played at, and what a superb venue:
Lynn & John Fitzpatrick wedding
27th May 2012
Oakwood House
Oakwood Park,
Maidstone, Kent. ME16 8AE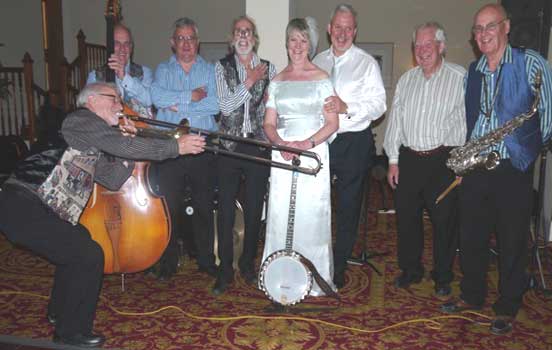 LR: Don York tmb,Chris Thompson bass, Dave Ware tpt, Burtie bnj Lynn & John Fitzpatrick Laurie Palmer drms and Dave Corsby sax
Hi Burtie
Sorry about the delay in thanking you for making our day so special. The music you and the pilgrims provided was truly exceptional and had
everybody's toes tapping. Many of our guests wanted us to pass on their appreciation of your performance it certainly made for a memorable evening.
We would highly recommend the Jazz Pilgrims for anyone considering live music at an event. With best wishes John & Lynn Fitzpatrick

back to top home index musicians
__________________
Wedding the Jazz Pilgrims played at, at the brides home:
Rachel & Paul Kelly wedding
11th June 2011
Chainhurst Oast
Chainhurst, Kent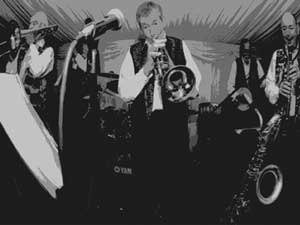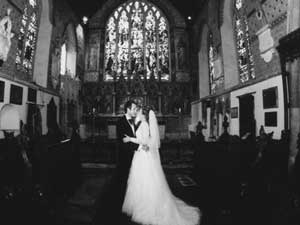 Don York tmb, Tom Brady tpt, Pete Rose clt Rachel & Paul at the church
Chris Thompson bass, Laurie Palmer dms
and Burtie Butler bnj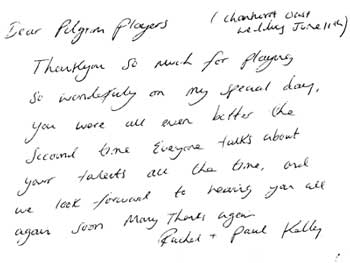 and a wonderful thank you note
back to top home index musicians
__________________
My self and Pete Rose on clarinet had a minstrels gig ( a 70th house party in Canterbury ) on Friday 19th Oct -
a first for me - and it went well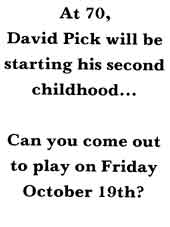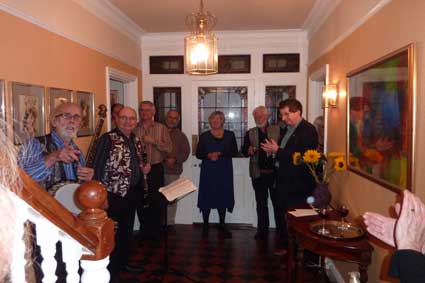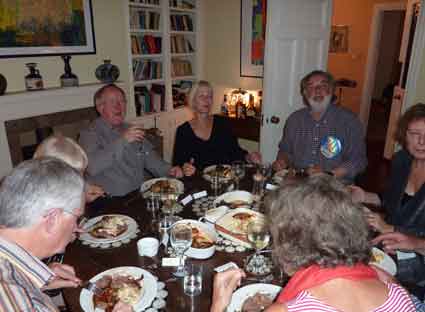 Where we played in the hallway to the guests ----------------------------- and mine host David sporting the I'm 70 badge
----- Original Message -----
Sent: Sunday, October 21, 2012 1:11 PM
Subject: Minstrels
Dear Burtie
Thank you so much for the music on Friday night. You and Pete cheered up the evening in a big way and all our guests thought you were terrific. I hope you managed to enjoy yourselves in spite of the crowded situation.
All the very best to both of you.
David
__________________
Some of the wonderful e-mails that I receive, this from the Saratoga Seven
Brunswick / Germany
and visit their website
Hallo dear Burtie Butler,
my english is not so perfect. Accidental i have seen your Web-Site...I like this site.
We are a Dixieland-Jazzband in Brunswick / Germany. We have a great pleasure to make
Oldtime-Jazz. Our Band has in the next year the 40. Band-anniversary. We are all old Musicians
of 70 - 75 years, only three younger musicians. But our music is good for our health...!
Your "Unreal Book" with Chords of Dixieland-Titels is brillant. Thank you very much for this
diligence-work...? Some chords we want to change, but that is no problem.
We wish you and your other musicians good health and many fun with the best hobby of
greetings for your friends of the the Jazz-Pilgrims
back to top home index musicians
Our trip to San Diego Jazz Festival Nov 21st - 25th 2012
On arising at 4am on Tuesday Morning me and the wife arrived at the Town and Country Resort in San Diego
at 8pm local time, hopefully after a couple of beers in Kelly's Bar ( 30 second walk from our lodge ) and a good
nights sleep we both should be in good shape for catching up with old friends Sally and Cork Billings, whom
I might add, are mighty fine drinking partners, and their friends John and Claudia. Cork is a great cornet player.
The Jazz Festival features some of the best American and Canadian bands. Also I am in the San Fernando Valley
Banjo Band run by George and Mary Yellich, very good friends of ours of whom we met on a Jazz Sea cruise with fellow
banjo player and wife John and Shirley Leone. I also did a lot of playing with Dick Williams Jazz Sea Jams. We have been
good friends with Dick and his wife Kathy over the last five years.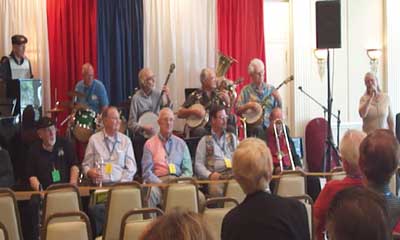 Playing Big Butter and Egg Man playing Nobody's Sweetheart Now
click on the above pictures to get a feel of the sound and fun of the Jam sessions
Here I am with Dick Williams Jammers and its great fun, and my mate Cork Billings from Boulder, Colorado on cornet,
and with musicians that have been playing their instruments for under 4/5 years and others that have been classically trained,
but have never improvised with jazz tunes, and others that have been playing professionally all their lives, so all in all
quite a mixed bunch. In the left hand set we have Katrina Rivett on clarinet and Isaac Ungerwiess on banjo from the
Mission Bay High School which has always been the home of great young musical talent.
This has to be my favourite band the 'Yerba Buena Stompers' with their two lead trumpets Leon Oakley (ex Turk Murphy),
Duke Heitger, Orange Kellin clt, Tom Bartlett tnb, Conal Fowlkes piano, Clint Baker tuba, Kevin Dorn drums and last but
not least my favourite banjo player of all times, of whom I first met in Cajuns (a jazz bar in New York now closed - so sad)
John Gill banjo / leader (ex Turk Murphy) one great singer and player.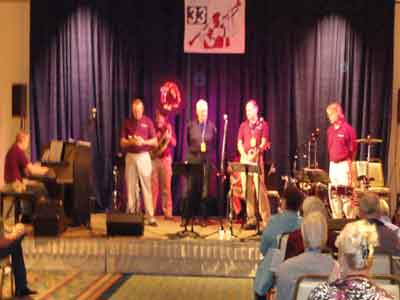 South Burgundy St Jazz Band playing 'Panama'
Here's another great band, with my mate Dick Williams making up the two trumpet lead and what a great
sound they made - The 'South Burgundy St. Jazz Band' playing 'Panama' - click on the picture for the video.
Band members: Mike Olson reeds/ldr, Corey Gemme cornet, Robert Butler tmb, Randy Woltz piano,
Dick Serocki bnj, C.J.Sams tuba and guesting on trumpet Dick Williams.
This interview gives a great feeling of what the San Diego Jazz festival is about, and I am in it !!

The 'San Fernando Valley Banjo Band' is the banjo band I play in when at the San Diego JF, unfortunately
the photos and videos we took, have disappeared into thin air, but John Leone emailed me this photo.
This was taken on the Friday night session at the On Monday afternoon George took us back to their home.
Festival. Band members above are: What a lovely house, looking out over the Pacific,
John Leone George Yellich Fred Dodd and here we are playing 'Carolina in Morning'
click here or picture to watch on YouTube

L/R Me, Fred Dodd and George our host.
Click here to listen to John singing
Its Hard To Be Humble last year 2011 Also playing Swannee with the verse click here


back to top home index musicians
__________________

We had a superb gig last Saturday 2nd Nov 2013 celebrating Maureen's 80th birthday surprise party - with the hard work of her
two daughters Sue and Jane - here is the thankyou email's and pics from Sue and Jane: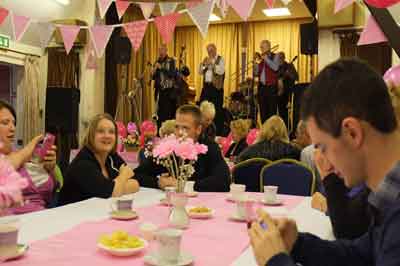 - ---- Original Message -----
Sent: Monday, November 04, 2013 10:51 AM
Subject: Mums Birthday Party
Hello Burtie,


I just wanted to say a "BIG THANK YOU" for the absolutely wonderful music and entertainment you and the rest of your band provided us with on saturday
You might not have observed that, given most of the age group, there was'nt much activity above waist level but there was certainly a lot of toe tapping going on under the tables!!!!!
Many remarked what a fantastic band you were, the best they had heard and wanted to know where I had found you!!! Although our own children are not into Jazz,
they remarked also what a brilliant band you were!
More importantly, the "Birthday Girl" herself was absolutely thrilled with your music and now wants to plan another party so she can book you again!!!!
have promised to take her to Whitstable to listen to you at the Harbour Cafe or at some of you other venues.
I'm sorry I did'nt get to speak to you properly before you left, it was such a busy evening for Jane and I. I hope the ladies in the kitchen kept you all well fed and watered.
If you want me to leave feedback for you anywhere let me know.
Finally, please convey our thanks to the rest of the band.
You truly are wonderful musicians and entertainers.
Thank you
Kindest regards
Sue

----- Original Message -----
Sent: Tuesday, November 05, 2013 10:12 PM
Subject: thankyou
Hello Burtie & your band
I also want to say thankyou so much for making a special evening an extra special one! Everyone said what a brilliant band you are. My regret was that as we were so busy & overwhelmed
we forgot to have photos taken of Mum with you all. I intend to rectify that one day!
Regards
Jane
____________________
Friday 30th May 2014
Band members:
John Finch tmb, John Sheppard tpt, Burtie Butler bnj, Pete Rose clt,
Laurie Palmer (drms but only one kit a join in two photos), Mike Porter - Ward double bass.
Friday 30th May 2014 at the United Masonic Club Sheerness our yearly session
here, organised by Colin and Mavis Corder whom I have known since our Sheerness Tech days
and always a full house -
_________________________________________________________________________________________
__________________________________________________________________________________________

Fame at Last - our local paper - 9th August 2014 - Whitstable Harbour Day
KM Whitstable Gazette August 14th
Band members:
Burtie Butler bnj, Sean Maple tmb, Laurie Palmer drms, Peter Leonard tpt,
Mike Porter - Ward double bass and Pete Rose Alto/clt
A GREAT DAY HAD BY ALL
______________________________
______________________________
Jazz On Brittany's "Breton Riviera"
with the Dave Stradwick's Sussex Jazz Kings
5th Oct - 10th Oct 2014
What a cracking time - a coach full of dedicated jazzers and the Sussex Jazz Kings led by

Dave Stradwick, a legend in his own right - band members are:
Dave Stradwick crnt / ldr, Bernard Stutt clt, Len Baldwin tmb, Peter Clancy string bass and sousaphone
Burtie Butler bnj and Bill Traxler drms.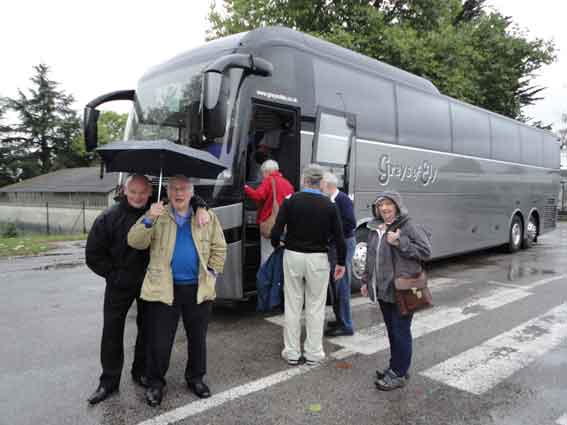 A leg-stretching stop at Josselin, on the way to Concarneau, where we stay for three nights in the
Hotel de L'Océan - Under the brolly are Paul our driver and Bernard and the missus Eileen
Our first night at the Hotel playing 'Bugle Boy March' click on pic or title to watch
'Baby Wont You Please Come Home' with Gaye Thompson on vocals

click on pic or title to watch

On Wednesday the day trip to 'Ville de Vannes'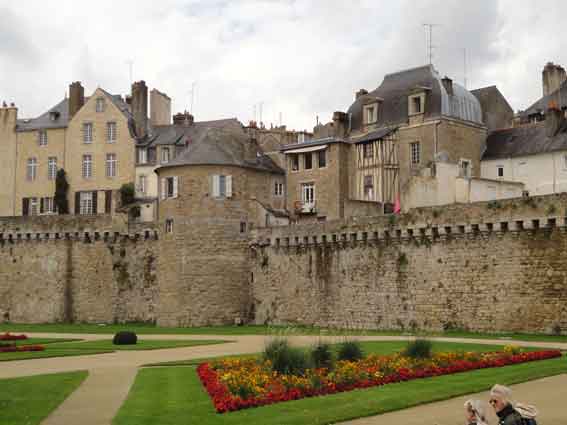 Ville de Vannes - the wonderful gardens and buildings
This painting of Louis on the outside wall of an Art Shop took us all by surprise
L/R Dave Stradwick Bernard Stutt Peter Clancy Burtie Butler
On the Ferry back home from St Malo to Portsmouth, a little on the rolling side
L/R Len Baldwin, Peter Clancy, Dave Stradwick, Bernard Stutt, Bill Traxler and Burtie Butler
playing 'Over The Waves' - click on picture or title to watch
Every year Dave and the lads do a six-day trip to Spain in May,
and Brittany in October - click on to Dave's website to book
your place Dave Stradwick's Sussex Jazz Kings
_______________________
_______________________
Alan Turners surprise 80th at the Marine Hotel, Tankerton
Saturday 31st January 2015

Alan's wife Ann made his 80th party at the Marine Hotel a complete surprise,
inviting friends and family from the far corners of the UK, without Alan having
an inkling of what was happening - a great evening and top marks to Ann.
band members:
Sean Maple tmb, Lisa Pentacost bass, Dave Ware tpt, Laurie Palmer drms, Pete Rose clarinet,
Burtie Butler banjo and one of the family friends Christelle Aldridge on alto sax and very competent.

_________________________________
_________________________________
Some wonderful letters of appreciation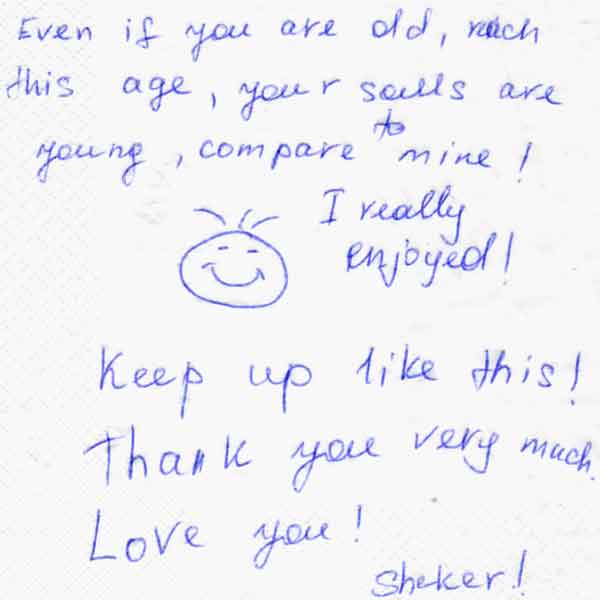 This was passed to us on our Thursday Harbour gig in June 2015 by a very attractive young lady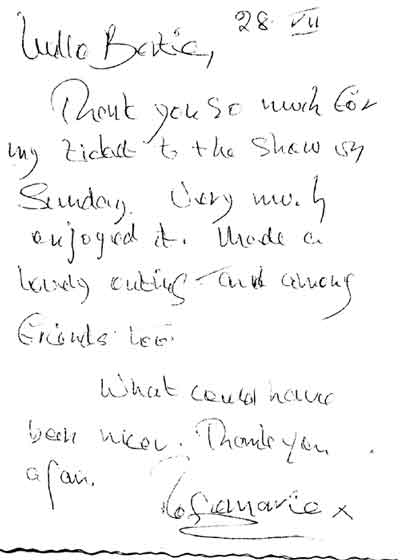 An appreciation letter from one of our young-at-heart fans, Rosemarie, for
our concert at the Whitstable Playhouse 26th July 2015
_______________________________________________________________
________________________________________________________________