Séan Maple - trombone Séan is heard here playing Sarratoga Swing, recorded live at the Theatre Royal
Margate, Kent, UK, 11th February 2006 with the Bill Barnacle Jazz Band , fellow
musicians are: Bill Barnacle cornet, Chris Rumsey reeds, Dave Bashford guitar,
Colin Hodges double bass and Mike Marsh drums.

My first venture into interactive music was at age ten with Birchington Silver Band. My career as a third cornettist was cut short, however, when I resigned with toothache. Some ten years later, in 1956, a friend started the Apex Jazz Men and I was invited to be his trombonist. "Ah, I thought, must be easier than the cornet. Eight notes in the scale, eight slide positions - piece of cake." I began to realise what I'd let myself in for when I arrived home, having purchased a trombone for £36 and a tutor for 3/6d, only to discover that the trombone has seven slide positions and all the exercises were in something called bass clef! Somehow, out of all this bewilderment, tunes began to emerge and the band, heavily influenced by Louis Armstrong and his All Starts but sounding significantly different, soon had a repertoire in single figures - mostly twelve bars in Bb major. Then Mo Hovery loaned me an LP called "Bixieland", Eddie Condon and all those wonderful players - I'd heard nothing like it - inspirational. That record was the switch on and now, whenever I hesitate when choosing something to listen to, that's the one I play - mine not Mo's

Barry Weston - Trombone
I first started playing in 1954/55 and my first teacher, a Salvation Army man, gave up on me when he found that I was
not going to wear the red and black hat and join the Sally A. The first band I joined was the Martinique Jazz Band which, I might add, was truly dreadful, but the highlight in my career in Yorkshire was in the Bob Barclay's Yorkshire Jazz Band from which I got the well earned sack, as they say, and that is when I moved south and joined the Faversham based Creek City Jazz Band. This eventually evolved to the John Defferary Jazz Band. I then became very poorly and gave up playing for seven years. Then resumed my playing with the Eagle Jazz Band, but a difference of ambitions in the band led to the formation of the Seven Aces. I then had the offer of my life and joined the French Band "Les Haricots Rouge" between 1973 / 1976 but the wife did not care for living in Paris , which I could not understand as most women would love to live in Paris, so leaving and coming back to dear old blighty, I joined the Gambit Jazzmen and the Papa Joe's All Stars ---- and I have enjoyed every second of it, including the bad bits and, I might add, I even enjoyed those.

Don York - trombone and vocals Don is here playing and vocalising on New Orleans ,this was
recorded on the 11th June 2005 at the St Peters Hall in Whitstable
Kent, the rest of the band are : Bill Barnacle crnt, Roy Mason clt,
Burtie Butler bnj, Colin Hodges bass and John Cottis drums.

Born in 1936, I started to play trombone at about 18. I was self-taught, playing along to records with Dave Carpenter, Derek Guiver, Frank and Charlie Webster in a basement underneath Bannisters workshops in Chatham. Early influences were Jim Robinson and Kid Ory. After a while, I joined the Crescent City Stompers. We played all over, including the Modern Music Club in Soho, where we were billed as "a threat to the best". This band progressed to the Crescent City Jazzmen and then to Fred Cogger's Jazzmen. I then left this band and joined the George Wooding Band. Influences changed to Jack Teagarden and Vic Dickinson. I then went to Singapore from 1967 to 1970. Returned to the UK and joined Tony Pink's Jazz Band. After about five years, I joined the Thameside Stompers and stayed with them until 1983 when I went to Scotland. Returned to Medway in 1987 and since then have been free-lance trombone, working with Geoff Hatton, Jake Hill, the Tuxedo Jazz Band, Dr Jazz and the Invicta Jazz Band, and I also presented a jazz record programme for Medway FM. My memorable moments include: (1) whilst with the Thameside Stompers, I was invited up to play a number with Ruby Braff; (2) a trombone trio with Roy Williams and Kenny Pyrke; and (3) playing alongside Acker Bilk with the Invicta Jazz Band. After my early influences, I came to realise that the biggest influence on my life in jazz is the genius, Louis Armstrong.

Chris Hunt - Trombone
My Favourite trombonists:- Miff Mole, Tommy Dorsey, Jack Teagarden. Earliest musical memory:- Listening to father playing his old dance band records.At the age of five borrowed elder brother's mouthorgan and learned to play "Jingle Bells." Was given piano lessons at eight but gave up after two terms - couldn't stand the practising. Pity really ! With sufficiant perseverance and a personality transplant I could have been a second Liberace! Played little apart from the gramophone for the next twenty years untill a chap at work persuaded me to buy his old trombone for five pounds with the promise that he would form a jazzband. This actually happened and the pianist, who was a brass instrument teacher, gave me lessons. I subsequently joined Roy Martin's parade band, the Expedient Brass Band, soon graduating to his Jazz Caverners and later, the Blue Rhythm Kings. Currently, I play with the Expedient Brass Band, Jazz Caverners, Blue Rhythm Kings, Spencer's Nighthawks and just about anyone else who rings me up! Incidentally, my 'phone number is..................
top of page back to index page back to music/video index

Jan Bryce - Trombone and vocals
Jan is playing and vocalising on I Thank You Mr Moon, this was recorded at The Jolly Knight pub
with The Vocalion Jazz Band, 12th September 2007 - other members of the band are: Dennis Jenkins tpt,
Ivan Gandon clt, Burtie Butler bnj, Paul Ferdinand bass and Mark Alexander drums.
I have been playing trombone from a very young age. Being the son of Owen Bryce of George Webb Dixielanders, jazz was the only music allowed in the house, so I gained an extensive knowledge of all the old standards. At the age of 8 I would catch the bus on my own after school and travel 25 miles to Lewisham night school for Jazz classes, fortunately there was a lift home. During secondary school I joined the brass band and gained some experience reading music, something I have never regretted. From 1975 to 1982 I played with Elise and Her Jazzmen with 2 residences at Longfield and Charlton, taking the band to Holland on 3 occasions. This was hard work playing 3 nights on the trot each for 5 hours. From the mid 80's I have been playing with the Southfields Stompers. For a few years we had a residency at Meopham then Chatham and later Borough Green.
Jan's Parents - Owen and Iris Bryce
wedding mentioned in the Radio Times 2-8th May 2020
VE DAY remembered
top of page back to index page back to music/video index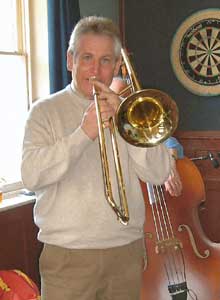 Tony Richards - Trombone, Flugal Bone, Trumpet, Tuba and vocals - sadly passed away 23rd Feb 2018
I started my musical career having piano lessons when I was at boarding school. I then started my catering career in Zurich, Switzerland, my first job in the local brewery and from here I switched to guitar and played at venues in and around the Zurich area with friends. Getting the yearn to move back home, I moved back to Faversham with my parents who ran the Chimney Boy in Preston Street. I then decided to take up the trumpet, taking lessons with Geoff Miller and the late Dave Link. Then moving on I went to the Kent Music School to learn the trombone. Getting back to the catering side of life, I took on the tenancy of the White Lion at Selling, which gave me the opportunity to widen my first love of life, jazz, so we started having music on a Sunday night at the White Lion. From the White Lion I then moved to the George at Newnham, the jazz night switched to Monday night, and finally I bought the Freehold of the Chapter Arms at Chartham Hatch, and live music every Monday night at the Chapter with the 'The Chapter Rhythmn Boys' is still in full swing.....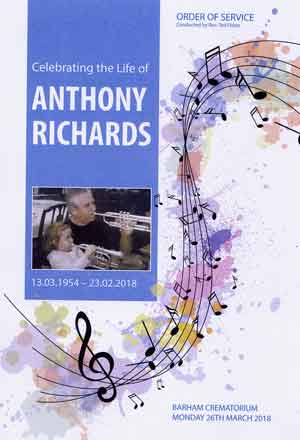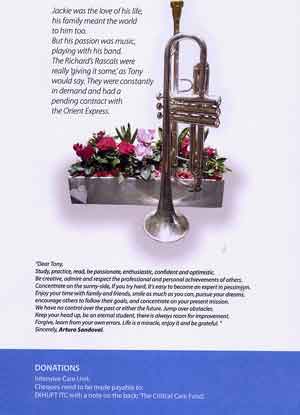 Tony's Order of Service Monday 26th March 2018
top of page back to index page back to music/video index


Al Webber - Trombone Al is an old friend of mine, whom I met in Cork, Ireland when I was playing with the Invicta Jazz Band,
at the Stripes Rhythm Bar in the Guinness Cork Jazz Festival way back in the mid 80's. The photo is of
Al with his ' current mob' as he puts it, on his 80th birthday in Purcellville, Washington DC. A small story
of Al: after I purchased a LP of Bob Havens and his New Orleans All - Stars on Southland LP243 the write-
up on the back was by Al - as Joe Mares Southlands No One said of Al -" Mr Alan C Webber is a well - known
Philadelphia record collector and jazz authority "
Here is Al with his band ' The Federal Jazz Commission' back in 1978 at the Bratwursthouse in Arlington,
Virginia, U.S.A.
The Commissioners:
Al Webber trombone/leader, Marty Frankel cornet, Fred Starr clarinet, Gary Wilkenson piano,
Jerry Addicot banjo, Jay Converse tuba and Dick Stimson drums. so click on the titles to hear:
Snake Rag Chimes Blues Fidgety Feet
Al plays every Tuesday night at the Kings Court Tavern with the Arcadian's in
Leesburg, Virginia, USA. click here to go to their website
Sadly Al has passed away on Wed 13th April with trombone in his hand

Alan Crawford Webber, 85, Normandy Veteran and Band Leader - a tribute to Al
14th June 1925 - 13th April 2011 85years


Al Webber had three great passions - four if one includes his brief engagement to the daughter of a French count.
His first marriage blessed him with children, his second with a love for the ages. But his enduring obsession,
Dixieland Jazz, had a hold on him from youth. In the end she broke his heart.

On April 12th Webber was practising his trombone for his regular Tuesday evening gig at Kings Court Tavern
in Leesburg VA, when he collapsed with a ruptured aorta. Even as he fell, he clutched his trombone protectively
to his chest. By his bedside at Inova Fairfax Trauma Centre the next day daughter Jeni played recordings of his
music, the last notes of the traditional gospel hymn 'Just a Closer Walk With Thee' fading even as her father slipped
away. Its like some O'Henry story, wife Mariana said of his final hours. Family and friends recalled his boyish nature
and zest for life, his playful laugh and bawdy sense of humour, and an old England accent that channeled no one more
than actor Sean Connery. Webber lived fully, loved deeply and leaves an unfillable void.

Born June 14th, 1925 in Waterbury, Conn., Al always considered himself a dyed-in-the-wool Connecticut Yankee. He was
confirmed at Watertown's Christ Church and attended the prestigious Taft School. Entering Army service at the age of 18,
he shipped to England with C Company, 358th Regiment, 90th Infantry Division ("Tough 'Ombres"). Webber landed
at Normandy on D-Day +5 and was wounded three days later on June 14th, 1944 - his 19th birthday. "The Nazis gave
me a rather nasty present," he often quipped of the German mortar shell that ended his war and very nearly his life.
Webber spent a year recuperating at a field hospital on Lord Bath's Longleat Estate in England. Left deaf in one ear,
the Purple Heart recipient was discharged in March 1946. He took advantage of the G.I. Bill to earn a history degree
from Massachusetts' Amherst College, and he returned to England for studies at Oxford University. Britain lured Al
overseas again in the late 1980s, when he and Marianna lived in Cork, Ireland.

In a journalism career that spanned more than half a century, Webber rose from reporter on a small-town Connecticut
newspaper to become managing editor of the NRA journal 'American Rifleman' in Fairfax, Va. At the time of his death
he was the long time senior (pun intended) copy editor for the Wieder History Group of magazines in Leesburg.
But most will remember Webber for his life long devotion to Dixieland jazz, as both bandleader and trombonist. Starting
at Amherst, Al founded some half a dozen ensembles over the years, including Philadelphia's Good Time Six, the popular
D.C.-area Federal Jazz Commission and for the past 15 years Leesburg's own Arcadians. Webber was also co-founder of
the non profit Potomac River Jazz Club, dedicated to the preservation of Dixieland jazz. Also on the Southland LP 243
'Bob Havens and His New Orleans All-Stars' , Al wrote the notes on the sleeve. As quoted by Southlands: "Mr Alan C.
Webber is a well-known Philadelphia record collector and jazz authority". And his music will live on: on the day Al died
Inova Fairfax requested his recordings for use in its music therapy program.

Dixieland devotee Al Webber is to be cremated, his ashes placed in his beloved valve trombone for internment by his
parents' side in Woodbury, Conn. The family will hold a memorial service for him at 11am on Saturday April 30th, at
St Peter's Episcopal Church in Purcellville VA.
Preceding Webber in death are first wife Joyce Raines Webber and brother Hugh Simms Webber. Surviving him are wife
Marianna Wilcox Webber of Pucellville; sister Sydney Eddison of Newtown, Conn. ; son Russell R. Webber of Scotsdale,
Ariz.; daughter Jennifer M. Webber of Berkeley, Calif.; and stepsons Kenneth, Bruce and Kevin Taylor, all of Maryland.
"Grumps" also claimed seven grandchildren and one great grandson.

Here is Al playing and singing "Down in Jungle Town" with The Arcadians
at his Tuesday evening gig in "Kings Court Tavern" in Leesburg VA, 24th November 2009
band members:
Ryan Mayo bass, Al Webber tmb, Mike Ritter tpt, Rich Gerbich drms,
Bob Carrier gtr, Jimmy Hamilton clt and guest from UK Burtie Butler bnj.


A great interview of Al by his old mate Kelvin Holland
click on picture to watch
and a tribute site to Al that has an hour of interview plus pictures


Kenny Pyrke - trombone and vocals Kenny sadly no longer with us, is playing here Please don't talk about me it is one of my
favourites, that reminds me of him, this was recorded at the Whitstable Playhouse Theatre,
Whitstable, Kent. on the 23rd July 1988. A concert with the Invicta Jazz Band with Cy Laurie
as the guest artist, the band members on this track are Dave Link tpt, Randy Colville clt,
Burtie Butler bnj, Mike Porter-Ward bass and John Cottis drms. So click on to Kenny's name
and hear what a fine trombone player he was.

Here is Kenny playing 'Flight of the Foo Birds' by Neil Hefti another video of Kenny at the same venue
with Dave Corsby's swing Band ,

band personnel:
Dave Corsby - alto sax Lindsey Bennett - trumpet
Kenny Pyrke - trombone Geoff Corner - tenor sax
Dave Jones - piano Lawrence Tuck - bass
and Phil Laslett drums

at a Garden party in 1984, so click on picture to watch video
This is a personal recollection of Kenny
by Dave Corsby taken from the September issue (no77) 2004 of the
u s t
a z z
Over a period of more than thirty years I played with Kenny in various big bands, traditional bands and modern jazz
groups on gigs that took us to Scarborough, Cheltenham, Rheda in Germany, St Omer and the Dunkerque Jazzopale
in France, as well as on radio and television sessions. I often stayed with him when I had gigs in the Medway area,
and sometimes he stayed with me when he did a season in Margate with Betty Smith. I first met Kenny in the early seventies
when he co-led a big band which had two drummers and two baritone saxes. Before I knew him, he played with Bob
Miller, Joe Daniels and Roy Castle. He was often annoyed that jazz fans did not support local musicians and when his local
jazz record club held a blindfold test, he took along a big band recording of local musicians playing The Subterraneans
(by yours truly). They thought it was a Mingus big band with with Charles Mingus on bass, Elvin Jones on drums and
Pepper Adams on Baritone sax. They could not identify the trombone soloist with a distinctive tone, which was Kenny.
In the eighties, Kenny played in my seven-piece band at the ship in Margate, Kent on Sunday nights. We used
that band at the Dunkerque Jazzopale and for Thames Television, where we recorded a comedy arrangement for the
Judith Chalmers " Wish you were here " programme. As members of the Pete Rose Band we played together at an open
air concert in Rheda, in Germany, where the baritone sax player risked a riot by quoting phrases from 'The Dambusters'
In the nineties we both joined the John Burch Octet, playing along side our heroes Hank Shaw, Dick Morrissey
and Don Rendell. This band had several broadcasts on BBC Jazz Notes and an Arts Council sponsored tour. We were often
featured in small group format playing Gerry Mulligan tunes - Apple Core and Bernie's Tune. This developed into a small
band which played the Gerry Mulligan repertoire, with Kenny playing valve as well as slide trombone. Kenny featured
in many dixieland bands. Together with trumpeter Dave Link we formed a regular front-line that played for prestige
corporate functions including ICI, P&O, Eurotunnel and the Duke of Westminster Estate, Kenny never lost his enthusiasm
for big bands, recently playing with the Harry Barrett, Don Barcott and Mission Impossible big bands.
Self-styled as a vinyl dinosaur, Kenny had a massive collection of LPs, much of it in the laid-back West Coast,
cool school of jazz that he loved and played so well, I shall miss playing the Gerry Mulligan arrangements together, Kenny
was a good mate and a superbly subtle trombonist.
Dave Corsby
Click on picture for Kenny's funeral - Dave Link tpt, Dave Corsby clt, Dave Bashford bnj and Roger Link sousa
playing Just a Close Walk with Thee :