David George Bashford - Guitar and Banjo playing Jazz me Blues recorded at the Theatre Royal,Margate,Kent,UK
11thFeb 2006 with the Bill Barnacle Jazz Band playing Jazz me Blues,rest of
the band: Bill Barnacle crnt, Sean Maple tmb, Chris Rumsey clt
Colin Hodges bass, Mike Marsh drms and Dave

Sadly no longer with us, a great and well loved guy
17th May 1939 - 5th May 2006
I started playing music while still at school (about 15years old) when I aquired a ukelele banjo for half-a-crown (12.5p) I learned to play from the song sheets of the day where the chords are shown in little diagrams, tunes like Swannee River, when I'm Cleaning Windows etc. My mother was not a great music lover and I used to practise in a nearby field where my first groupies were a herd of cows who used to form a circle around me and sway to the rhythms of the uke! One day there was a knock on the door and the visitor said he had heard that I was a banjo player and would I like to join his jazz band. At the time I thought jazz was Ted Heath! That band was known as the Tishomingo Stompers and eventually became reasonable proficient and popular in the East Kent area particularly at the Bear and Key, Whitstable, Kent where we ran our own club. I then went to college to study chemistry continuing to play including a stint with the college band. I moved up to London, sold my banjo until approached to join a band managed by Harold Davidson to cash in on the Trad boom (about 1960). I was auditioned on my only instrument at the time, a classical Spanish guitar where I had to play Sruttin with Some Barbeque. I got the job, bought another banjo and away we went, where being the only driver in the band I got £5 a week extra for driving . That band folded and I gave up playing jazz, got married, pursued a career etc. Years later (1975) the Mo Hovery Jazzmen needed a guitarist for a job on a boat. I did the gig, joined the band and away we go again. Since then I've played in a lot of Kentish bands - Invicta, Preservation Stompers ,Pete Rose Jazz Band, Bill Barnacle Jazz, Dave Link's Band culminating with several years touring the highways and byways of Europe with Max Collie until forced to give up the heavy duty travelling due to ill health. Now taking it easy with local bands and also Bob Dwyer's Hot Seven band.


Dave had a wonderful send off, here are some of the photos at the church and at the golf club, his favourite watering hole: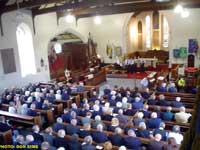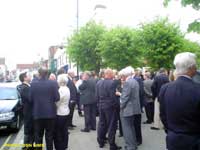 Click on to above picture/writing
to see video of Church
The funeral took place at St Alphege Church, High Street, Whitstable, Kent. It was estimated about L to R Dave Bone, Mo Hovery
600 friends and family wished him a great farewell, Dave would have loved it.16th May 2006 Sean Maple and Bill Barnacle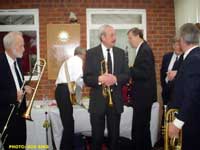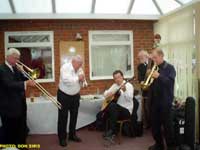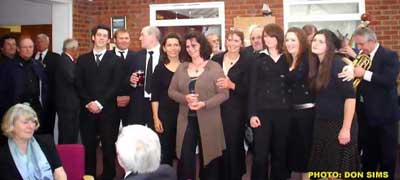 Dave's family and friends with the band behind

On the 30th November Mel had a thank you, combined birthday party, for her friends who have been so kind to her
since the loss of her husband David. Here are a few photos and a video of the Bill Barnacle Band playing etc: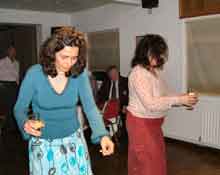 The packed dancing area Vanessa and Samantha Samantha Vanessa
David's daughters

Dave Corsby, Pete Rose and Dave Bone
Video of The Bill Barnacle Band Bill's band playing Beale Street Blues
playing Tuxedo Junction with Colin Hodges on vocal
click on the title to watch click on title to hear
Back to top back to music/video index
Eric Webster banjo and guitar
Eric Webster with the Blue Rhythm Kings - born in Sidcup 1942 and first played around S.E. London,
married in 1967 and moved to Ashford, than to Maidstone in 1969 for 30 years, after a divorce he moved
to Gillingham, Halstead , Essex and than to Germany 2009
Also I did gigs with Pete Turner Jazz Band. I was a member of Sonny Morris Delta Jazz Band for a few years,
plus a member of the Ginger Pig jazz band and did tours with Sammy Rimington.
Bands Eric played in are : Northdown Stompers, Jim Mannings Crescent City Stompers,
Original Superior Paragon Brass Band (on bass drum), Dixie Cats, Medway Delta, Doctor Jazz and The
Monday Night Jazz Band at the Sun, Bredgar - plus whoever rings him.
Eric with The Sonny Morris & The Delta Jazz Band on Guitar with Pat Halcox You Took Advantage of Me

and Panama on banjo band members: Sonny Morris tpt, Pat Halcox tpt, Bob Ward tbn, Terry Giles clt, John Clarke piano,
Eric Webster bnj/gtr, John Sirett bass and Colin Bowden drms. Recorded at Farnham Maltings 27th November 1996 Lake Records
To receive more information on Lake Records send a SAE to: Lake Records Production, Workington, Cumbria, CA14 3EW U.K.
You Took Advantage of Me Panama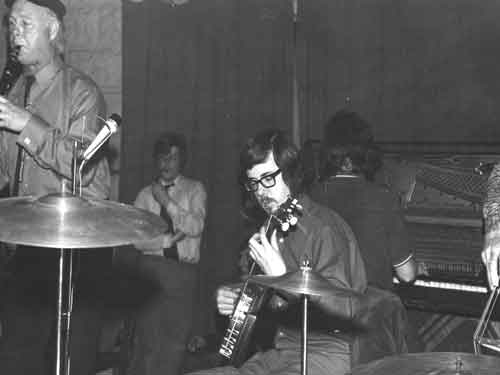 Eric with Norman Halliday with Alan Robinson sitting in the back ( with Pipe )
unknown pianist and bass player
At the Sidcup Jazz Club musicians L/R: Sammy Rimington clt, Bill Brunskill tpt,
Geoff Cole tbn, Gerry Card drms and an unknown Bass playere.
in Rochester with Barry Cole soprano and Don York tbn
this is in Belgium with Ian Turner clt and Dave Stradwick tpt
trumpets : Jim Holmes, Mick Stansell and Brian 'B' Minter and yours truly on bass drm.
Eric with Ken Colyer and Barry Weston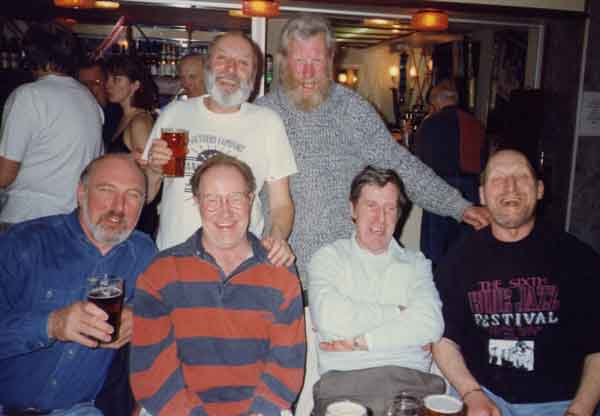 Maidstone Mafia always at the Jazz festivals etc
Aldermaston C.N.D. March at Easter which ended in Trafalgar Square
Eric bass drum, John Defferary alt, Bill Cole sousa, Mike Pointon tmb.

Bill Cole sousa, Mike Pointon tbn, John Defferary alt, Roy Maskell tmb

↑
Jim Holmes tmb ↑
Barry Martin side drm ↑
↑ Mike Pointon tbn
John Defferary alt ↑
↑ Bill Cole sousa
Mick Murphy clt
↑
Eric Webster bass drm
The Greenwich Thursday lunchtime - Band members:
EW bnj, George Bridges bass, Sammy Rimmington sax, Chris Marchant drms,
'B' Minter tpt, and Jim Gunton tbn.
with young Sammy Rimmington and Sammy also Trevor 'Fingers' Williams bass
and 'B' Minter tpt.
taken at 'The Woodman' Blackfen band members:
Sammy Rimmington, The Minter bros, trombonists Roy Maskell and Jim Manning.
Back to top back to music/video index
George Webb, jazz pianist and bandleader, was born on October 8, 1917. He died on March 11, 2010, aged 92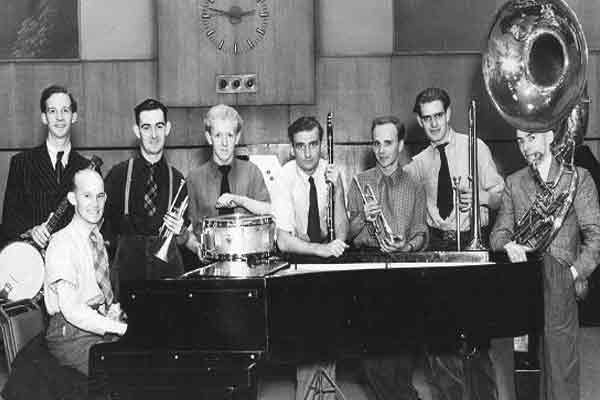 Great Pic of George Webbs Dixielanders 1943 - 1948 and the lads L/R
Buddy Vallis bnj, George Webb piano, Owen Brice tpt, Roy Wykes drs, Wally Fawkes clt,
Reg Rigden, Eddie Harvey tmb and Art Streetfield sousa.
The movement Webb created, which grew steadily in the late 1940s, led directly to the "trad boom" of the late 1950s and early 1960s in which he also played a leading part, first as pianist and bandleader and later as agent and promoter.
George Horace Webb was born in Camberwell, south London, on October 8 1917, the son of a music hall artiste. His earliest memories were of his father and uncle (the "Brothers Webb") rehearsing their act at home. The family later moved to Belvedere, Kent, and Webb took a job at the Vickers Armstrong armaments factory in nearby Dartford.
When war broke out in 1939, he was already a skilled machine-gun fitter and thus exempt from the call-up. A keen jazz enthusiast and self-taught amateur pianist, Webb helped organise entertainment in the factory canteen and, in 1940, began assembling a group of like-minded young jazz lovers with the aim of forming a band. The intention was to play in the style of the early jazz masters, whose music they knew well from records
In 1941, the band acquired a name: "George Webb's Dixielanders", and a regular place to play – the downstairs bar of the Red Barn pub in nearby Barnehurst. Modelled on King Oliver's Creole Jazz Band of 1922 to 1924, their music sounded alien, even barbaric, to ears brought up on crooners and English dance bands.
Webb was fond of recalling the band's first appearance at the Red Barn: "By the time we had finished the first number we were playing to about ten people, the other 50 having fled to the saloon bar upstairs." A sometimes pugnacious character, he once defended the band's honour from a mocking onlooker by striding off-stage mid-performance, landing a heavy blow, then returning to the keyboard.
But the word gradually spread, and over the next six years jazz devotees converged upon their unlikely suburban stage to enjoy the unique experience of hearing jazz in the classic style played live.
One such visitor was Humphrey Lyttelton, newly demobbed Grenadier Guards officer, first-year art student and aspiring jazz trumpeter. He sat in with the Dixielanders and was soon invited to become a permanent member.
As the style took off in the postwar years, a growing network of venues, along the lines of the Red Barn, became established around Britain. There were features in the music press, occasional radio broadcasts, and even recordings.
In 1948, with its members scattering in search of employment, the Dixielanders folded and Webb joined Lyttelton's newly-formed band as pianist. Partly as a result of Webb's pioneering work, Lyttelton quickly found a new audience among the growing student population. In place of the beer-sipping aficionados of the Red Barn, his band played for crowds of youthful dancers at venues in central London, and later around the country. It also recorded prolifically, with Webb's effervescent piano often featured. He was a small man, with tiny hands, which Lyttelton said reminded him of a pair of kittens, scampering up and down the keyboard.
In 1951, observing the growing popularity of revivalist jazz, Webb thought it a good moment to branch out into promoting jazz events. The most successful of these were the Sunday night sessions at the Shakespeare Hotel, Woolwich, which played to packed houses until the early 1960s. In 1955, Webb joined the staff of Jazzshows Promotions, booking bands and singers for the ever-expanding club and concert circuit. Leaving Jazzshows after 10 years, he set up his own management and agency business, numbering rhythm and blues groups as well as jazz bands among his clients.
Webb barely touched the piano during these years, but returned to playing in the early 1970s. He toured Europe as accompanist to the singer Jo Starr and, in 1973, briefly formed a new version of the Dixielanders. In 1974 he took the tenancy of a pub at Stansted, Essex, a move which enabled him combine all his various activities. He ran the bar, booked the entertainment and sat in with visiting bands whenever he felt like it.
In 1985 Webb gave up his tenancy and moved back to Belvedere, close to the scene of his early triumphs. On July 4 of that year he was guest of honour at the unveiling of a plaque at the Red Barn, commemorating his contribution to British jazz. Although officially retired, he resumed playing with gusto. He appeared as guest artist with many bands, formed several temporary outfits of his own, and was always the first to volunteer to perform at a charity event.
In 1998 he took a prominent role in the celebrations of Humphrey Lyttelton's half-century as a bandleader. He continued to play occasionally until the end of his long life and was due to appear, in May, at a show to celebrate the 70th anniversary of his first venture in band leading.

George Webb's wife predeceased him. He is survived by his daughter. Dave Gelly
Friends and George reminiscing of the war years click here
The Jazz World Says Goodbye to Geoege Webb on You Tube by John Petters click here
Here are some rarely heard tunes from the Dixielanders given to me via a friend and from George:
South Smokey Mokes Come Back Sweet Papa Keystone Blues Black Bottom Stomp

the above five tunes were recorded 1944 / 46 and band members are:
Owen Brice / Reg Rigden tps, Eddie Harvey tmb, Wally Fawkes clt,
Buddy Vallis bnj, Art Streatfield tuba, Roy Wykes drms and George piano
Original Jelly Roll Blues - this is with Humphrey Lyttleton tpt,replacing Owen Brice and Reg Rigden
and Harry Brown tmb replacing Eddie Harvey

Riverboat Shuffle - this was recorded in 1976 with Dennis Fields tpt, Terry Pitts tmb,
Sammy Rimington clt, Roy James bnj/gtr, Laurie Chescoe drms and George on piano

___________________________
___________________________