Burt Butlers
Jazz Pilgrims Bands from the past and present

The Freddie Carter Band The Colrose 5 + 1 The Expedient Brass band Creole Jazz Muskrat Ramblers
George's Regis Jazz Band Sams First and Last Jazz Club Band
The Muskrat Ramblers
How it began.......
A Toolmaker, badge maker, instrument maker, saddler, chef, train driver and a military man got together in a Sussex pub early
in 2006. This was no retirement party but a serious discussion about forming a new band that could play good swinging jazz. All
of them had spent most of their lives working hard to raise families and pay mortgages, and in their spare time playing in various
jazz bands.
In fact they had become very good jazzers and were keen to work together in a new band. Rehearsals started immediately
and resulted in a really exciting and enthusiastic band. This was the beginning of the Muskrat Ramblers.
They now play regularly on the jazz club circuit and are resident at the Hassocks Hotel, Sussex on the second Tuesday of
the month.
The Muskrat Ramblers follow the tradition of the New Orleans bands playing the music of the people, by the people and for
the people and have kept the tradition in mind on this CD.
On a cold damp evening in March 2008 they turned Clair Hall in Haywards Heath, into a recording studio with cables,
microphones, chord books and pints of beer all over the place. The result was this CD, hope byou enjoy it.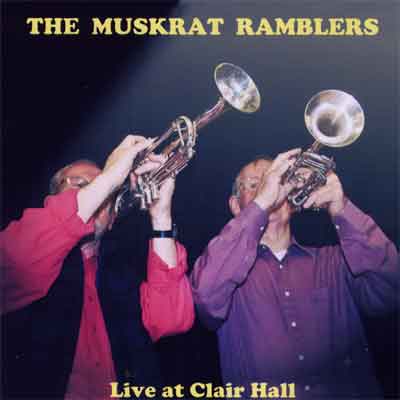 1 Canal Street Blues
2 I Get The Blues When It Rains
3 Just A Closer Walk With Thee
4 Wild Cat Blues
5 Wolverine Blues
6 Old Fashioned Love
7 Maggie
8 Working Man Blues
9 When I Grow To Old To Dream
10 Bourbon Street Parade
11 Petite Fleur
12 Savoy Blues
13 Marching Through Georgia
14 Doctor Jazz
click on the blue titles to listen
Band members: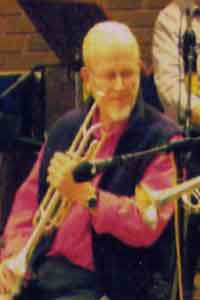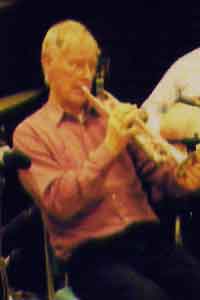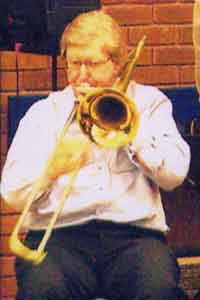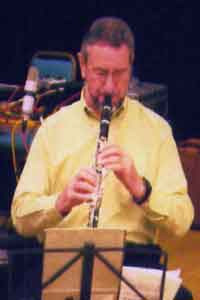 Bill Phelan - tpt /flugalbone Mike Mounter - trumpet Ron Westcott - trombone Alan Cresswell - clarinet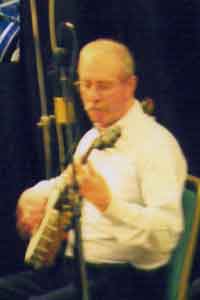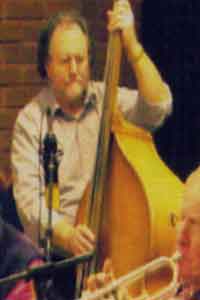 Jim Lewis - bnj / gtr / vcl John Frucht - bass Paul Norman - drums
and to book this band or buy the above CD contact:
Bill Phelan, Good Time Jazz Promotions, phone 01444 241603 email williamphelan@btinternet.com
George's Regis Jazz Band
The 'George's Regis Jazz Band' has now been active in the Chichester area for 20 years
and enjoying their 20th birthday this year!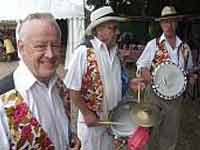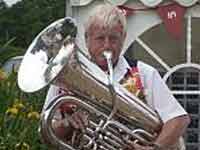 Band members are:
Peter Leonard tpt, Edwin 'Boots' Baker tmb, Eddie Brockwell clt, Jim Heath bnj, Eddie Cooper Bass and George Bennett drms / leader
here are four tracks from their recent CD
Im Beginning to See The Light When I Grow To Old To Dream At The Jazz Band Ball Go Down To New Orleans
Recorded Live at The Emsworth Community Centre, Nr Chichester, West Sussex
All enquires / bookings contact George on 01243 781430 or visit their website: www.georgesregisjazzband.com
Sams First and Last Jazz Club Band ( 1987 ish )

The First and Last, Herne, Kent. 2010
Sam took over the running of the First and Last Jazz Club after the Invicta Jazz Band left - these are recordings
from two sessions recorded in December 1987. Two slightly different line ups but excellent jazz
first set of recordings:
Please Dont Talk About Me When Ive Gone Travelling Blues Louisiana - I - a After Youve Gone Away
band:
Roy King tpt, Tony Cardwell tmb, Roy Mason clt, Dave Bashford bnj, Bernie Johnson bass and Graham Lennard drms
and Lyn Falvey on vocals - and some great scat singing with Roy and Lyn on After Youve Gone
second set recordings:
Everybody Loves My Baby Beale Street Blues Old Miss Rag
band:
Tom Brady tpt, Tony Cardwell tmb, Roy Mason clt, Pete Gresham piano, Bernie Johnson bass and Graham Lennard drms
and some excellent piano playing by Pete Gresham

The Freddie Carter Band (1959 - 1964)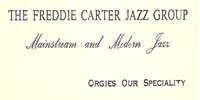 The Freddie Carter Band was formerly the 'Fred Cogger's Jazzmen' (1958 /1959) as Fred was trying to refresh the band's image.
so the name changed, here are details of the band from Clive Brooks 'Trad mad' book:
Roger Ely (tpt), Fred Cogger (alt/ten/ldr), Dave Chandler (tmb), Mick Durell (piano), Gus Warner (bass), Jim hall (drms)

Trombone; Dave Margaroni, Kenny Pyrke
Piano; Cedric Knight, Brian Jones; Steve Osborn
Bass; Mick Durell, Ray Manning
drums; Dick Gunner
Here are 12 photos of the band at the old Maidstone Jazz Club, which ran from 1963 to 1964 at the Royal Star Hotel from
Steve Osborn, resident pianist at the time: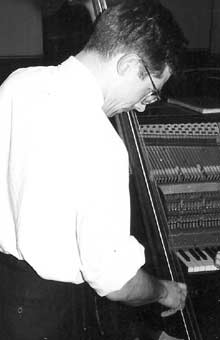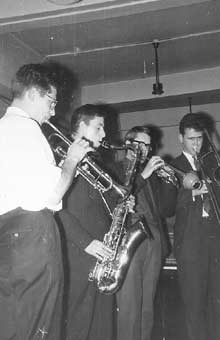 Chris Featherstone Dave Margaroni Dave Margaroni, Fred Cogger,
Roger Ely, Jim Hall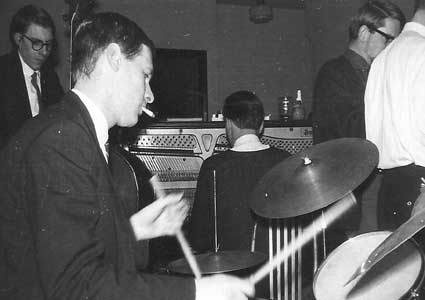 Jim Cogger Jim Cogger, Mike Betts, Steve Osborn, Roger Ely, Dave Margaroni.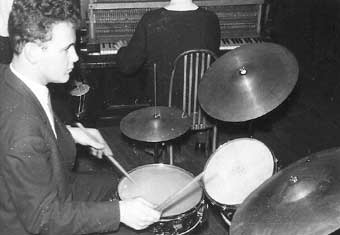 Jim Hall Jim Hall, Steve Osborn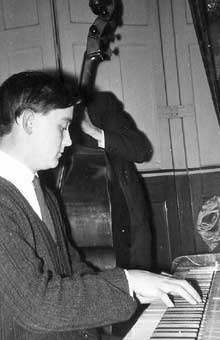 Mick Betts Steve Osborn Steve Osborn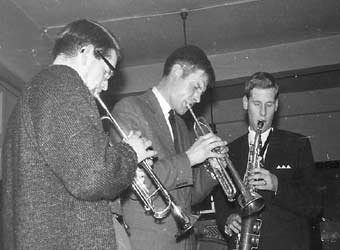 Roger Ely, Chris Featherstone, Mick Betts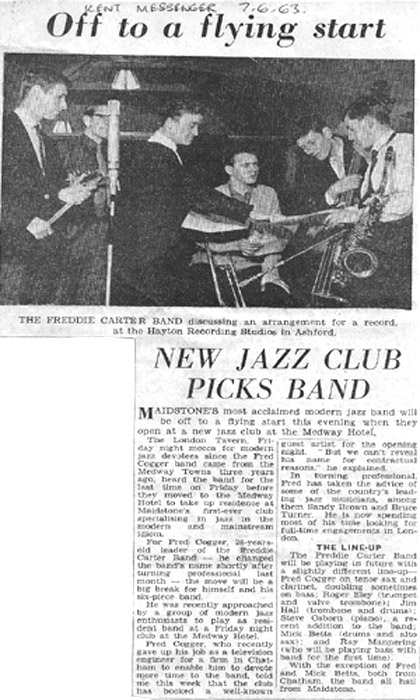 Kent Messenger 7th June 1963
press cutting and two photos of the Hayton Manor recording session. The date was 29th May 1963
Personnel were Roger Ely (tpt), Freddie Carter (Cogger) (ts), Jim Hall (tb), Steve Osborn (pno), Ray Mannering (bs), Mike Betts (dms).
all photos from the Steve Osborn Collection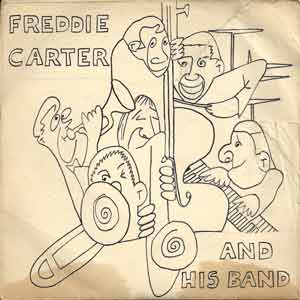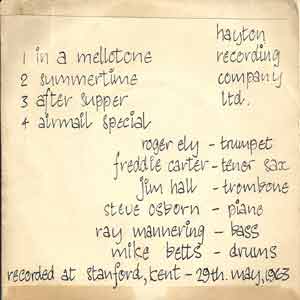 A great recording click on to the titles to listen to the tracks
1. In A Mellotone 2. Summertime 3. After Supper 4. Airmail Special
Jim Hall 1945 - 2012
Sadly Jim passed away, August 2012 - but the lads gave him a great send off on

Sunday 2nd Dec 2012 at the Linton Village Hall, Maidstone, Kent
click on the titles to watch the lads at his funeral bash

Dave Hill tpt, Fred Cogger saxes Jack Long piano, Clive Norris bass
Steve Osborn piano, Clive Norris bass and Vince Clarke drms
Dave Parker gtr and Vince Clarke drms
Cedric Knight piano, Fred Cogger saxes Dave Hill tpt, Fred Cogger saxes
Clive Norris bass, Dave Parker gtr Steve Osborn piano, Clive Norris bass
and Vince Clarke drms Dave Parker gtr and Vince Clarke drms
Creole Jazz
Band members L/R:
Tony Cardwell tmb, Roger Hooper sousa, Geoff Collins drms/ldr, Dave Link tpt,
Colin Martin piano and Terry Giles reeds

to contact this great outfit ring Geoff on: 01424 435844
email creolejazz2003@yahoo.com
The Oscar Theobald Quartet ( late 50's )
Ted Theobald (clt), Steve Osborn (pno), Jim Newell (gtr), and Pete Mousedale (dms).

Ted Theobald (clt), Steve Osborn (pno) Steve Osborn (pno), Jim Newell (gtr)
performing at the Chance Inn, Guston , Nr Dover Kent
all photos from the Steve Osborn Collection
The Colerose 5 + 1
playing at The Louis Armstrong, Dover, Kent. playing Foo Birds click to play
band personnel: Pete Rose clt/sax, Bill Jones tmb, George Reid saxs, Colin Hodges bass,
Ray Perkins piano, Jimmy Tagford drms
The Expedient Brass band
band members:
Roy Martin bass drum, Roger Hooper sousa, Chris Hunt cornet, Jim Pearce tpt
Roland Hopkins sax, Dave Hopkins drms, Josh Reynolds clt and Henry Law Sax