Burt Butlers
Jazz Pilgrims Bands from the past and present

The Imperial Jazz Band The Mister Jelly Roll Story The Canterbury Jazz Pilgrims Story The Beverley Big Band
The Imperial Jazz Band
In the early 80's Robin Beames formed the Imperial Jazz Band with some well known musicians, David Stone
on reeds, Malcolm Walton trumpet and musical director, Tony Cardwell trombone, Colin Hodges double bass
David Bashford banjo and guitar and himself on drums. The band had a successful Friday jazz club at the
Kings Arms , Headcorn, Kent, which ran for around 15 years and sadly with the untimely departure of Dave
Bashford Robin decided to wind up the band. Memories of the band and the sound, below in photo's and music

The Kings Arms Tenterden, Kent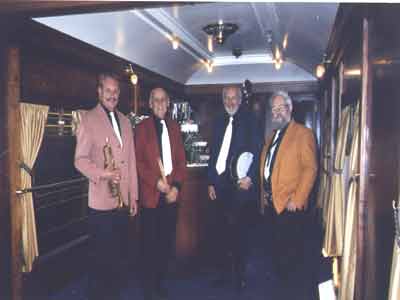 Inside the car at the Tenterden Light Railway Playing to the Passengers on Bodiam Station
Malcolm Walton tpt, Robin Beames drms Geoff Foster clarinet, Robin Beames drms,
Phil Durell banjo and Pete Curtis clarinet Colin Hodges bass and Dave Bashford banjo

The Greyhound, Maidstone - Sunday lunchtime gig
L/R Chris Thompson bass, Dave Stone clt, Robin Beames drns and Andy Maynard banjo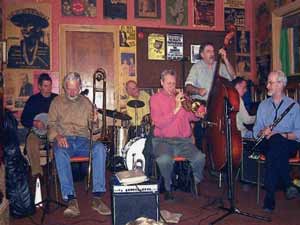 The Louis Armstrong, Dover - Sunday evening gig
Colin Hodges bass, Tony Cardwell tmb, Robin Beames drms, Dave Bashford bnj,Tony Cardwell tmb, Robin Beames drms,
Colin Martin piano, John Longley tpt, Ian Turner clt Colin Hodges bass,Malcolm Walton tpt, Dave Stone clt
unknown piano player
The tracks below were recorded at the Louis Armstrong, Dover. Sunday 27th June 2004
band personnel:
Malcolm Walton tpt, Dave Stone clt, Tony Cardwell tmb, Colin Martin piano
Phil Durell bnj, Colin Hodges bass and Robin Beames drms

Its a Sin To Tell a Lie Dinah Sleepy Time Gal
Stay on the right side of the road Marie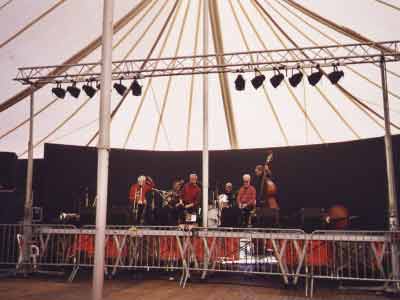 The IJB on Tour in Belgium at a beer festival, and a Jazz Club, April 2001
Sean maple tmb, Malcolm Walton tpt, Dave Stone clt, Dave Bashford bnj, Colin Hodges bass and Robin Beames drms

The Imperial Jazz Band - Play The Classics

This is a great CD recorded at Langley Studios, Rainham, Kent. 1999
band members:
Malcolm Walton tpt, David Stone reeds, Tony Cardwell tmb, David Bashford bnj/gtr,
Colin Hodges bass and Robin Beames drums
click on tracks below to listen:
Back In Your Own Backyard Meet Me Tonight In Dreamland Shimmy Sha Wobble
On The Sunny Side Of The Street Believe Me If All Those Endearing Young Charms
Melancholy Blues Sit Right Down And Write Myself A Letter Muddy Water
Let Me Call You Sweetheart Squeeze Me


The IJB at the Maidstone Jazz Festival in 2004
Dave Stone reeds, Gerry Birch sousa, Robin Beames drms, Roger Ely tpt, Phil Durell bnj and Tony Cardwell tmb.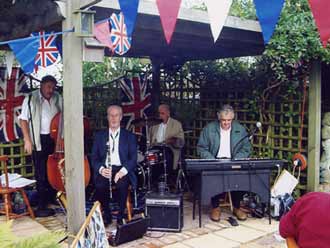 The IPJ play at various functions from a six piece to an intimate quartet, lavish weddings and small garden parties
Jeff Foster reeds, Colin Hodges bass, Robin Beames drms, Colin Hodges bass, Dave Stone reeds,
Malcolm Walton tpt, Dave Bashford bnj and Tony Cardwell tmb. Robin Beames drms and Ray Perkins piano.
To contact the Imperial Jazz Band for bookings etc. contact:
Robin Beames on 01622 861664
or email: robin.beames@virgin .net
The Mister Jelly Story 1985
The Mister Jelly line-up formed by:
Pianist Colin Martin and his vocalist wife Jill Martin with Trevor Whiting reeds, Nick Stevenson tpt,
Mick Durell bass and Roger Mullen gtr.


Jill Martin now Jill Grant taken at Pissarro's, Hastings.by Ray Boldon
my story - Jill

I came back to live in Kent with my parents in 1976, having been a student in Birmingham. It was in
Birmingham that I began singing in jazz bands,at a club called the Salutation which was then meeting
in a club owned by Ian Campbell of folk fame. A super venue – a cellar bar but bigger than Jerry's and
with black walls, ceilings (and probably floors!) a stage and spotlights. I joined the house band which
was called the Salutation Stompers, led by John Minnion who became a good friend. Alan Robinson
tells me John still remembers me!
When I came back to Kent I soon got involved with the local scene, firstly with Malcolm Walton's
New Jazz Bandits that used to play at the Sun Inn, Bredgar. At the time I joined, the lineup was Malcolm,
John Rangecroft on reeds, Rod Hayes on trombone, Humph Mays on bass, Brian Kemp on drums and
Mike Jefferson on piano. Later John was replaced by Alan Robinson, whom I had met while he was depping
for John earlier. We became fast friends and are to this day. I met Colin at Bredgar and he invited me to
go over to Ryarsh and sit in with Terry's band, the Terry Treagus Jazzsounds – I did and Terry asked me
to join on the spot! At the time, the band had a male singer too, called Barry Fisher. I got on very well with
Barry and we each had our feature numbers. He was also an ace jazz jiver and I loved to watch him dance
with my friend Maggie Stone, a keen follower of the local trad scene. I would have loved to join in, but I
have two left feet so was consigned to the role of spectator.
I had so much fun in that band. Terry got loads of really good function gigs, including posh venues
in London and he had a minibus (known as the Band Wagon) that he used to get us there. He'd come round
and pick each person up and I remember having a fluttery feeling of excitement when Terry tooted the horn
outside my house. Off to another fun gig! On the way back there was always a lot of mucking about, joke
telling and general silliness, most of it emanating from Barney Smith who was a riot on legs. The band was always well received and for some reason, one of my clearest memories is of Terry playing "Ciribiribin".
I sang with Terry's band from 1977 to its breakup (I can't now recall exactly when that was). Two bands
formed from the ashes of the Jazzsounds – the Seven Aces and Doctor Jazz. Incidentally, that band name
was my idea, and Keith Blundell designed the very clever band logo. I sang regularly with Doctor Jazz
and my own band, Mister Jelly, until the demands of my day job amongst other things prompted my temporary retirement from singing, except for the occasional guest spot
As most people know my marriage to Colin ended but we remained friends. I picked up the threads
of singing again and moved towards singing a broad repertoire of standards and contemporary jazz songs
by people like Dave Frishberg, but retaining my love of earlier jazz (after all, I grew up listening to it!). I
still pop over to the Duke at Ryarsh from time to time and have a sit in with my old friends. Check out my
website : www.grantidge.com Jill Grant
The Bourbon Street Ramblers 1983 - 1985
This band is the forerunner of 'The Original New Orleans Jazz Band' click on title for more info
The band members:
Alex Holt piano, Geoff Brown tpt, Ivan Gandon reeds, Sam Weller tmb, Paul Baker drms,
Pete Drage bass and Peter Bert bnj.
The Canterbury Jazz Pilgrims
1998 - 2001
The Canterbury Jazz Pilgrims were formed from the demise of Burt Butler's Jazz Hasslers - Burt wanted to make a CD
and he joined forces with Bill Phelan and between the pair of them the C.J.P. was formed and some superb CDs were
cut - four in all and you can click on below and listen.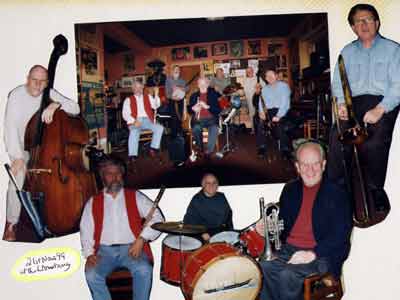 This picture was taken at the Louis Armstrong, Dover, Kent.
21st November 1999
Band members:
Bill Phelan cornet, Jim Searson clt, John Finch tmb,

Burtie Butler bnj, Alan Kennington bass and Robin Beames drums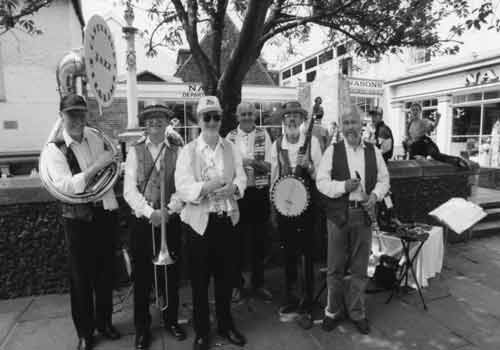 Busking in Canterbury outside Nasons - June 2000
7th July - 16th July 2000 the C.J.P. made their to the South of France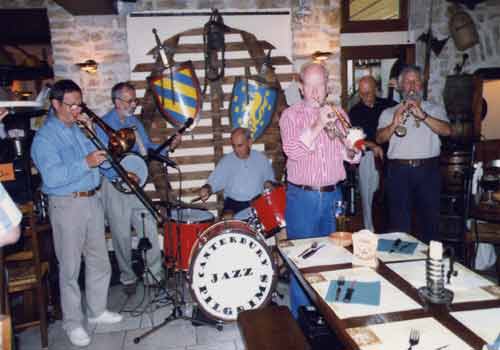 Friday night halfway 7th July playing in Beaune in Café L'Halleborde for free beer

playing on the front in Cannes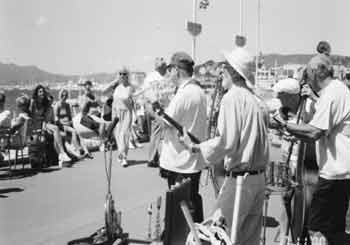 our view of the listening crowds in Cannes Sunday 9th giving Nice the sounds of Jazz

The lads playing homage to the Guvnor (Ken Colyer)
who sadly spent his dying days in Fréjus, France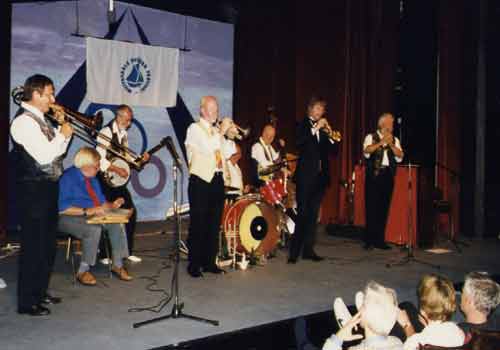 "Jazz on a Summers Night " at the Whitstable Playhouse, Whitstable, Kent. 23rd July 2000
with mine host Mike Scott on Washboard
and guest star Alan " Lord Arsenal" Bradley - piano and trumpet
The band cut four CD's - so enjoy - if you wish to purchase contact Burtie p&p @ £6
robinbutler1940@talktalk.net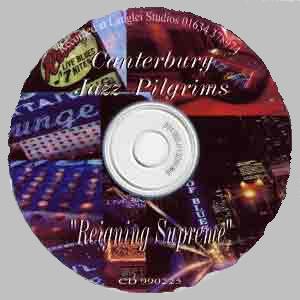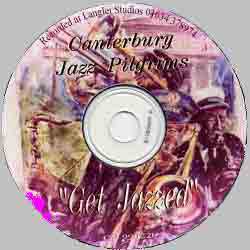 Reigning Supreme Get Jazzed
both recorded 25th Feb 1999 at Langlei Studios, Medway, Kent
Lady be Good Love Letters in the Sand Painting the clouds Curse of an Aching Heart

Lock my Heart Move the Body Over Nobodys Sweetheart Now Doctor Jazz

I get the Blues when it Rains Only a Bird in a Gilded Cage In the Sweet by and by New Orleans
Jazz me Blues Roll along prairie Moon Lead me Saviour Treasure Island
Coquette You and I were Young Maggie Closer Walk with Thee Porters Love Song to a Chambermaid
Let me call you Sweetheart Give You anything but love Ponchatrain Blues
both recorded 30th February 2000 at Langlei Studios, Medway, Kent
Raise the Spirits Call it Jazz
I double Dare You Paper Doll Dans La Rue d'Antibes Just a Gigolo
Out In The Cold Again Riverside Blues Linger a While South
Always Be In Love With You Let The Great big World Sunday Hold Me
Sweet Fields Please Dont Talk About Me Ja - Da The Glory Of Love
Too Busy Blueberry Hill Im Alone Because I Love You Write Myself a Letter
Canal Street Blues The Second Line Old Spinning Wheel Alice Blue Gown
Into Each Life Some Rain Must Fall Everywhere You Go Till We Meet Again

The Beverley Big Band Story - 1994 -
The Beverley Big Band was formed in the Autumn of 1994 by Jane Beverley and David Forbes to play the music of the 30's and 40's in the style of that era, such as Glenn Miller,
Tommy Dorsey, Benny Goodman, Count Basie and Duke Ellington.
Initially a Concert band of amateur and semi-professional musicians from Herne Bay and Whitstable, performances were often for charitable causes in village halls and churches
until, in 1998, the band began to play for dancing, which proved extremely popular as the opportunity to dance to a big band was a rarity!
The band expanded to 20 musicians plus singers Angie Wicks from Chatham and Colin Grainger from Herne Bay, and it was time to invest in new illuminated music stands,
portable sound amplification and uniforms. To fund this investment it was decided to hire Canterbury's Westgate Hall and promote a series of "Dance Parties". The combination
of live Big Band music and "American Supper" catering (guests bring their own food and drink) proved to be a winner, and very soon a database of over 300 dance fans was established.
Function bookings gradually materialised in larger venues such as Margate Winter Gardens, Canterbury University, Herne Bay King's Hall and Broom Park Country Club.
The band continues to impress, playing for the Lord Mayor's Charity Ball at Higham Park, Canterbury Cricket Ground, and Jarvis Great Danes Hotel, as well as concert dates
at Herne Bay Bandstand, Margate Theatre Royal and Whitstable Playhouse and recently for the delegates to the Lambeth Conference in the Shirley Hall, King's School, Canterbury.
We owe a great debt of gratitude to our founding manager Rod Mount who sadly passed away last autumn. He was inspirational in getting us known throughout Kent and made
sure we were in the right place at the right time.
The band repertoire has expanded greatly, encompassing a larger range of music to appeal to a wider dance audience, wedding functions and other celebrations (usually held in
large marquees), and a 15-track CD has been recorded for retail sale.
Young vocalist Paul has joined the band, and after nearly 20 years, the Beverley Big Band is now unquestionably the premier dance orchestra in the area, even teaming up with
East Kent Ballroom dance champions Ian Sharpe and Victoria Lawrence to provide an opportunity to dance to a Big Band and watch dance demonstrations at Folkestone's
Leas Cliff Hall.
This year, a new Musical Director has taken up the baton. John Myhill, from Ramsgate is an experienced musician, composer and conductor, and plays in his own Modern Jazz Trio.
The band continues to rehearse every Monday at the Royal British Legion in Herne Bay, where you are welcome to come along and listen to us rehearse – not always as good a
sound as we eventually produce – got to get the wrong notes out of the way first!
The Beverley Big Band in concert at Westgate Hall, Canterbury, Kent
personnel:
FRONT ROW from left:
Geoff Cane, Deryck Euden, Dave Bone, Tom Clarke, Jane Beverley, Alick Harwood, Tony Barry, Kate Williams
SECOND ROW :
Gary Pitt, Dave Cayley, Rod Mount, Terry Glanville, Tony Matthews, Chris Jeffreys, Jim Williams, Eddie Goodwin, Ruth Goodsell
BACK ROW:
Nick Capocci, Jimmy Tagforth, Harry Cook (far right - back to camera!)
Musical Director: John Myhill
To Book this Band simply contact us through the website: mandy@beverleybigband.co.uk This address can be used for enquiries
about the band, booking us for events etc. as well.
Alternatively you can Phone Dave Bone on 01304 830966 or email david.bone70@googlemail.com
up and coming events and website click here