To hear the band from their latest CD My Mama's in Town, and to purchase this CD or to book the band,
contact Pete or Jill Lay on 01737 822726 or e-mail: play@gambitjazzmen.freeserve.co.uk
or watch the video of them on U-Tube - click here
playing "There's a Rainbow Round my Shoulder" at the Enkhuizen Festival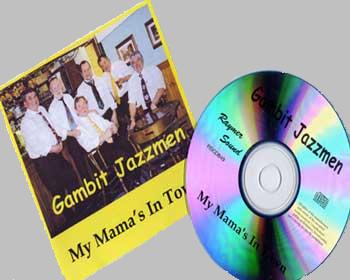 the lads: Dave Waskett crnt/voc, Johnny Rodgers reeds, Barry Weston tmb,
Chris Marney bnj/voc, Roger Link bass, Pete Lay drms/leader
click on to the titles below to hear the lads:

Left to Right ; Chris Marney bnj, Roger Link bass, Pete Lay drums/leader, Dave Waskett crnt,
Barry Weston tmb and Johnny Rodgers sax.
Here are the lads on a wonderful portrait by Lyn Horn of the 1066 club of Hastings
when the Gambit Jazzmen were voted the band of the year in 2004


The lads at the Bude Jazz Festival band members:
Barry Weston tbn, Pete Lay drms/ldr, Ben Cohen tpt, Annie Hawkins bass and Ian Turner clt
and Eric Webster out of site behind Barry.
Pete at the San Diego Jazz Festival 2007 with the 'Katie Cavera and Friends' sessions
click on to above for Katie's site
John Cocuzzi (vibes), Katie Cavera (guitar), Carl Sonny Leyland (piano)
Johnny D'Artenay (string bass), and Pete Lay (drums)
Playing 'Rose Room' click here to watch - great stuff
back to top Index back to music/video index
Resident every Tuesday at the Rose and Crown, East Peckham, Kent.
adm £5 ( couples £9 ) tel 01622 871202

The Rose and Crown, East Peckham, Kent.

Band Members: Pete Curtis clt, Malcolm Walton tpt, Tony Cardwell tmb, John Finch sousa,
Burtie Butler bnj and George Murray washboard.
23rd January 2007 in the bar



Malcolm and Tony in harmony

John , Pete and George the engine room - John, George and Burtie
so click on to the two video titles for the real flavour :

video 1 video 2
singing In the Sweet Bye and Bye The band in full swing with
with Joan our regular Sally Army Algiers Strut
all photos and videos taken at The Rose and Crown 23rd January 2007
back to top Index back to music/video index
The Savoy Jazzmen 1967 - 68
memories from Dave Styles of the Savoy Jazz Band
Tom Brady's first Jazz Band
This photo was taken by a Chatham Observer photographer in the upstairs room of "The Prince Albert" pub,
Canterbury Street, Gillingham, where we ran our one-band club for a few months with guests welcome.
We also played various other venues, those I remember are; The Britannia, Pier Rd., Gillingham, the canteen
at Novadel Ltd., Pier Rd., Gillingham, the Sergeant's Mess at Brompton Barracks and various weddings where
we tried to play waltzes, and other dance requests, another venue where we played and that was "The Crispin
and Crispianus" at Strood Hill, a lovely old grade II listed pub.
Various other musicians augmented the band at times, of whom a young Alan Robinson [clarinet] and
Rick Manktelow [guitar and bass guitar] spring to mind. Rick went on to make two LPs of progressive rock under
the name of Sindelfingen and became a record producer at a Medway Studio [PRS]. Rick and I often swapped
guitar and bass guitar roles. A drummer once sat-in with us who said that he had played with Humphrey Lyttelton,
cannot remember his name but he was good!
The members of the band are, from left to right;
Malcolm Ing [guitar], Bob Boorman [trombone], Roger Draper [drums], Tom Brady [trumpet], Ivan Wells [alto sax]
and myself Dave Styles [guitar] [seated].
photo from Dave Styles
The Village Green Stompers
1977 -
Chris Rowley and John Knock formed the TVGS on the Village Green in Leigh, Kent
for the Queens Silver Jubilee in 1977