Burt Butlers

Jazz Pilgrims archive page early 60's onwards Archive page Two




These tracks and photo's are archive Jazz in the Kent and Sussex
venues, in the early 60's and to this present time, some of the pubs no
longer exist , and many of the musicians are sadly no longer with us, so
come and enjoy the traditional jazz that we played, heard and grew up with

Burtie Butler

Grapes to the Louis Armstrong story Henry Bullock's 100th Birthday Vocalion Jazz Band



The story of The Louis Armstrong, Maison Dieu Road, Dover, Kent 1962 - present time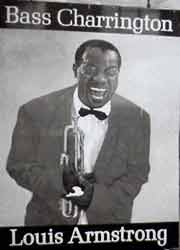 The Louis Armstrong, Maison Dieu Rd, Dover,Kent The Pub Sign

Bod's truck in the 1958 Dover Carnival - muso's on board: photo from the Steve Osborn collection
"Shun" Talbot (tpt), Ted Theobald (clt), Bod Bowles (tmb), Steve Osborn (pno),
Jim Newell (gtr), Barry Sheppard (tuba), Bevan Sheppard (bs), and Pete Mousedale (dms).

Outside Henley's Forecourt, Folkestone, Kent June 1977 Inside the Louis Armstrong before the relocation and renovations
Bod Bowles tmb, Arthur Collinson bnj, Colin Hodges bass, and the famous white enamelled jug that Bod filled up with Lager
Bill Barnacle crt, Jim Beechey drms and Ian Turner clarinet for the band and also put his whole hand in it and lubricated his
trombone slide !!!! - I can see him doing it now - Burtie
Bill Barnacle cornet, Peter Milton trmb and Colin Hodges bass
The Bod Bowles Jazz Band, The Grapes and finally the Louis Armstrong, Dover, Kent.
This is the story taken from the
u s t
a z z magazine issue no 116 Dec 2007, I personally
have such fond memories of what is a great jazz pub, run by Bod and Jackie Bowles. Back
in the late 60's or early 70's (can't really remember), I used to pick up Dave Link (tpt) and down
to the Grapes, as it was then, we alternated fortnightly - Dave for Bill Barnacle (crnt) and myself
for Pete Mercer (bnj). It was a great atmosphere, in the public bar you could not get another
punter in there it was so popular - great memories - anyway, here are the memories from
Trefor Williams and Jackie Bowles:
Burtie Butler

L/R Les Hanscombe, Roger Howlett, Barry Weston, Typical pub crowd
Chris Marchant, Jackie, Charlie Connor, Andrew Houstan and Ian Turner
Still Jazzin' after all these years!
by Trevor Williams:
Over the years I've been very lucky to have been kept busy touring all over the place ( handy
because it is difficult to hit a moving target ). Over the last 18 years I've been living in Kent
and when I get some time off at home, I try to support, together with my wife Kate, the local
jazz scene as a punter and as a performer. There are some fine bands and musicians in Kent.
Whenever the subject of jazz in Kent is mentioned, inevitably the name of the 'Louis
Armstrong' in Dover crops up. Its been a centre for traditional jazz since 1964, and hosts Bod
and Jackie Bowles have always been held close to the hearts of the Kent jazzers. It's a pub
full of character and 'olde worlde' charm, with the walls plastered with jazz posters dating
way back.
Sadly Bod passed away in 2000, but Jackie has continued to present jazz regularly
to help keep the jazz scene alive and kicking. It would be greatly diminished without the good
old Louis. Long may it's walls rock with good jazz!

Jackie and Bod - all spruced up !
and sadly Jackie passed away:
7th November 1939 - 15th March 2019
Here are some of Jackie's memories ...........
1962
Bod and I move into the Grapes as tenants of Charrington's on the 14th September.
1964
Bryn Lewis, a bandsman with the Staffordshire Regiment stationed in Dover, persuades us
to start a jazz-night on a Wednesday. Musicians from the regimental band kick-start the
evenings. The quality of the music was superb, although some of the band struggled with
improvising, after having read music all their musical lives.
1965
Interest spreads to the Marines in Deal, and the likes of Ian Shawcross, Jeff Miller and John
Yates start playing in the Grapes. Barry Cole, Ian Jury and Les Feast join the Wednesday
night jam, along with Dave Corsby and Barry Judge.
Bod decides to re-form his jazz band which would then play every Sunday night in the
public bar of the pub. Originally it included Pete Stevens on drums and Pete Mercer on banjo,
with their respective wives, Judy and Jean, helping me behind a very busy bar.

Signed by Bod to me - note his sense of humour
Volume two of the Bod Bowles Jazz Band
band personnel:
Bod Bowles tmb/ldr, Bill Barnacle tpt, Ian Turner clt/sax, Pete Mercer bnj, Dave Fairfoul bass and Pete Stevens drms
with special guest artiste Bruce Roberts clarinet
click on to the titles below for the atmosphere at the Louis and the flavour of Bods Band - great stuff
Curse of an Aching Heart Maryland Jazz Band Ball Shine
vocal Bill Barnacl bass solo Dave Fairfoul banjo solo Pete Mercer

1970/72
The brewery agrees that the name of the pub can be changed to the Louis Armstrong in
honour of Louis who had just died. A new sign was commissioned, the pub redecorated
with posters on the walls, and a grand re-opening night was organised, Chris Barber very
kindly agreed to unveil the new sign, to the music of Bod's band, together with Pat Halcox,
John Crocker, Johnny McCullam and many more.
Derry from the Three Horseshoes at Lower Hardres lent us a classic old Paris bus
for the night. The bus, with its open-backed platform, jazz band, Pernod tasting and punters
went twice around the town, whilst Chris Barber and most of his band, George Webb, and
Bod's band played in the pub. Much to my horror, later that night, I learned that the bus, with
my daughters Jan (8) and Sarah (6), on board with all the drunken Pernod tasters, had broken
down on Castle Hill, and everyone had to push start the vehicle. By the end of the evening
there were over twenty musicians playing at once,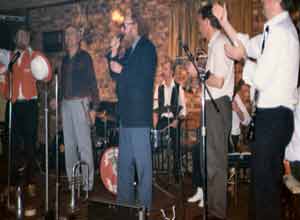 Spider 'Wellard' and John Shelley Bod and old friend of Pat Hallcox - singing 'Just a little While to Stay' at the
First and Last, Herne, Kent. 3rd November 1985 with the 'Invicta Jazz Band'
click on picture to hear or click here
you can hear what a great sense of humour Bod has in the chat up at the start of the number
not forgetting the legendary 'Spider' Wellard, for many years one of the great characters and solid
supporters of the Kent jazz scene. He was part of the furniture at the Louis until his passing on a few years ago.

Picture of the 'Spider Cake'
To digress slightly, here is Spider with Roy King's New Orleans Jazzmen, playing at a well known
yearly jazz garden party, put on by Roger and Wrennie Wisbey to raise money for local
charities. This was on the Sunday 19th August 1990.
Spider singing Honky Tonk Town Spider on the drums Tingaling Spider singing Rosetta
band members on videos are: Roy King tpt, Bill Barnacle crt, Tony Cardwell tmb, Dave Stone spr/clt, Bernie Johnson bass,
Robin Beames drms, Alan Bundy bnj and Lyn Falvey vocals
so click on the picture or tune title to watch video
back to the Louis Armstrong story

Having removed the door to accommodate the crowd, my abiding memory of the night
(at around 4am) was seeing a very drunk Bod, Barny Gleitzman and George Webb trying to
line-up the rising butts to replace the door!
Unfortunately, the evening ended with a very unpleasant altercation with the local Inspector
of Police, having found nothing wrong after rushing the pub, he returned the following day
to check every licence. A week later a phone call from the Police Station informed us that we
were operating without a music licence - a licence which at the time was unheard of to us,
solicitors and local councillors. This put an end to live jazz for a possible three months, when
the next magistrates sitting was scheduled. However, following concerted support from the
local musicians who threatened to boycott the Police Social Club, together with a withdrawal
of the Chief of Police's honorary membership of the Officers' Mess, a special sitting was
convened and a music licence issued within the week for a cost of 50p a year! (By 2005, this
had risen to £330.)
Bod's band went through several changes in the years leading up to 1980 when, through
lack of teeth and failing health, we saw the end of his band. Drums were played by Pete Stevens,
Jim Beechy and Paul 'the Pounder'. Dave Fairfoul featured for many years on double bass.
John Talbot. When Steve moved away from Dover, Ian took over on clarinet, Bill Barnacle joined
on cornet, and Mike Marsh (1973-6) was on drums. Arthur Collinson replaced Pete Mercer on banjo and
Bruce Roberts took over on clarinet, with the inimitable Colin Hodges on double bass.
The highlight each year was the annual Boxing Day (out of hours!) party. The big draw was
Pat Halcox, who spent most Christmases in Lydden. (Pat, generously, still supports the jazz
scene at the pub with a yearly appearance at the Louis around Christmas time). Inevitable,
the long day of music and ale often ended in tears, with, on one memorable occasion, a well-
known trombonist and Bod being ordered out of the pub.
1980
Bod and I were forced into buying the premises from the brewery. This brought about a big
change in our lives. The two-bar pub was completely gutted to turn it into an open-plan area,
and bring about a very different atmosphere.
With the break-up of the Bod Bowles Jazz Band, the Sunday nights concept changed, each
night featuring a different local band, Bill Barnacle's band was one of the first local bands to
play. The official Grand Opening was another night to remember. A very good friend and
amusing personality, Monty Sunshine, agreed to play for the evening, with his band. As a result
of knowing Monty, we were introduced to Alan Gresty, Ken Barton and the unforgettable Beryl
Bryden, all of whom have played in the pub.
1987
To celebrate 25 years at the pub, Chris Barber very kindly agreed to host the evening with his
band. We had a marquee erected in the garden, with straw bales as seating (a total fire hazard
by today's standards!), and outdoors amplification, which sadly would be disallowed these days.
How much we have moved on!!
1992
30 years at the pub saw another marquee and another fun night with Phil Mason's band. We
found a very genuine friend in Martin Bennett, who stayed the night with his family, and has
remained a loyal supporter of the pub ever since. As a result of contact with Phil Mason we had
the good fortune to meet Trefor Williams, a superb musician and more than a loyal friend, who
to this day is still playing on Sunday nights at the Louis. On the night in question (1992), Trefor
had a near miss in having his double-bass damaged, when two over-zealous pranksters decided
to climb to the top of the marquee and slide down the canvas roof, missing the neck of his
instrument by inches! Needless to say they were ejected from the venue with my forefingers
firmly buried in their backs! - never to return. It was on with the music and the hog roast.
During the intervening years from then to now, I have been delighted to welcome many a
band from Holland, the young and enthusiastic Hot Revival Stompers, the equally young and
talented Oriental Jazz Band, not to mention the multi-instrumentalist band Limehouse, under the
charming leadership of Robert Duis. We have also had the pleasure to hear the Belgian Dixie
Kings and the Uralski from Russia, Joe Harriot, a talented but difficult man, and Chris Tyle from New Orleans.
2000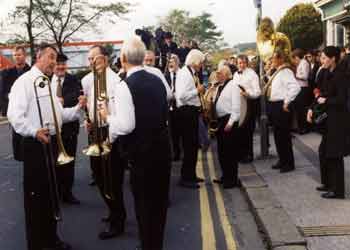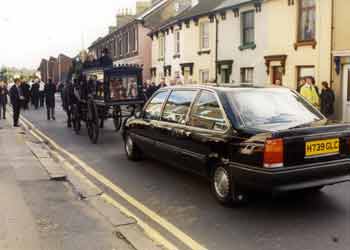 musicians in the band:
Barry Weston tmb, Don York tmb, Geoff Foster clt, Pete Rose clt, Dave Corsby clt, George Reid sax, Pete Stacy sax, Pete Lay snare,
Trefor Williams bass drm, Pat Halcox tpt, Dave Link tpt, Chris Marney bnj, Burt Butler bnj, John Finch sousa, Roger Link sousa and George Webb walking.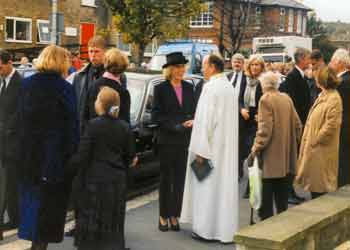 Above pictures from the Dave Sherriff collection

Radio Kent broadcast Bods funeral on the John Warnett morning program
with recollections of Bod from George Webb and Laurie Chescoe and Jackie
click here to listen to the Broadcast

In October, Bod sadly died, having suffered ill health for some time, I organised with the help of
so many musician friends, a truly memorable jazz funeral, a black horse-drawn hearse, 20 - 30
jazz players, and literally hundreds of friends and supporters walking from the pub to St. Paul's
church, with jazz playing outside and inside the church. We returned to the pub, manfully being
run by friends in the trade, to listen to Pat Halcox, George Webb and so many others paying their
own tribute to Bod. A day we as a family remember with very fond memories, and one I know Bod
would have loved. I'm sure he was listening.



Charlie Connor and Pat Halcox
In recent years I have had the privilege of meeting the legendary Charlie Connor, who has
given many good nights of jazz in the Louis, with Roger Howlett (banjo), Clive Fletcher (bass),
and Robin Beames on drums, Bod and I had the amazing coincidence of bumping into Roger and
Pat Howlett in New Orleans French Market, with eight other British musos - another beery day!

Band view of Jackie behind the bar Denny Ilett and Charlie Connor ( in his French disguise but did not fool Denny )
2007
Jazz still goes on in the Louis after 44 years, thanks to numerous loyal musicians and the support
of many long-term customers, and I thank them all. Please keep coming!!
2008
Tuesday 16th December - what a great evening. Pat Halcox on his yearly visit on Christmas week to
the Louis - what a line-up - Pat's old mate Charlie Connor on reeds, local legend of the Gambit band Barry Weston
on trombone and another legend from the Gambit band Chris Marney on banjo, and not forgetting our all-time
favourite on the double bass, ex Max Collie and now with the Phil Mason All Stars Trefor 'fingers' Williams, and driving
the lads along in the engine room,as Bill Barnacle would say, Chris Marchant on drums.

playing Sheik of Araby with Charlie Connor on vocal click here or picture
Pat Halcox tpt., Charlie Connor reeds, Barry Weston tmb., Chris Marney bnj., Trefor Williams bass and Chris Marchant drms.

group photo with the hostess with the mostess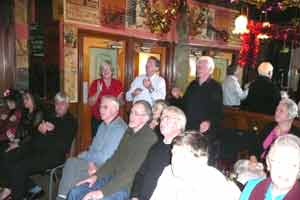 The regulars on the 16th Dec 08 a great turn-out
CONCLUSION
I'm sure a lot of jazzers will have amusing stories and anecdotes of fun times at the Louis, write
in with your memories - I'm sure they will be gratefully received and included in future issues of
'Just Jazz'

God bless you Jackie

Trefor
Jackie's 50 years celebration at the Louis Armstrong Sunday 16th September 2012

The regular crowd and musos that celebrated Jackie's Family and friends photo by Dave Sherriff
50yrs at the 'Louis Armstrong' click here or on pic for Jackie's speech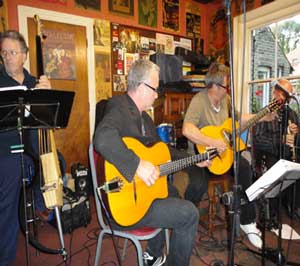 Clive Fletcher, Dave Robinson, John Finch, Colin Martin, Clive Fletcher, John Kennard, Steve Barnacle
Bill Barnacle and Pete Rose and Pete Rose playing their signature tune
playing Creole Love Call Swing Gitane
Well done Jackie - you have done a great job in keeping jazz alive
Burtie xx
back to top Index back to music/video index
Henry Bullock O.B.E. 100th Birthday Party
19th July 2009
I have known Henry for over 30 years and have became a great friend of his and we
have played at his 80th and 95th parties. He has never ceased to amaze me,
and the rest of the band members, I might add, especially when he let slip that he
once sat at the end of a piano with no less than Fats Waller at the keys in
the "Bag of Nails", Kingley Street, London.


Henry seated with his first great-granddaughter Florence Rose and family group

Here are a couple of videos at the party



Jazz Pilgrims playing:
Sit Right Down and Write Myself a Letter Henry The Eighth I Am

click on pictures to watch
band members:
Tom Brady tpt, Roy Mason reeds, Pete Rose reeds, Sean Maple tmb, Mike Porter-Ward bass, Barry Knight drms and Burtie Butler bnj.
Sadly Henry passed away at the grand old age of 104 in November 2013
Henry Bullock O.B.E. 1909 - 2013

back to top Index back to music/video index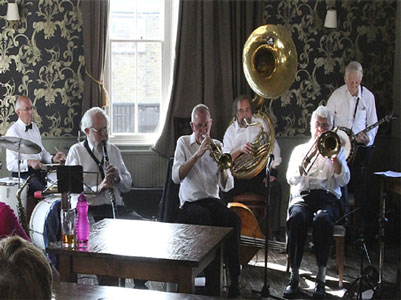 Vocalion Jazz Band at the 'Limes Hotel' Faversham 2018
Band members; Pete Curtis clt Dennis Jenkins tpt, Gerry Birch sou, Sam Weller tmb
Ken Saunderson bnj Pete Morgan drms.