The Dixiecats Jazz Band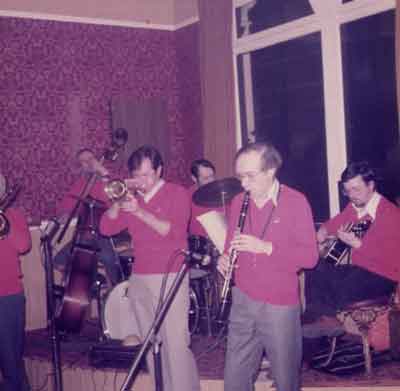 The Dixiecats playing at the Queen Charlotte, Rochester, Kent 1982
picture from the Eric Webster collection
band members:
Tom Brady tpt/ldr, Peter Godsiff clnt, Kenny Pyrke tmb, Micky Brookes drms
Bernie Johnson bass and Eric Webster banjo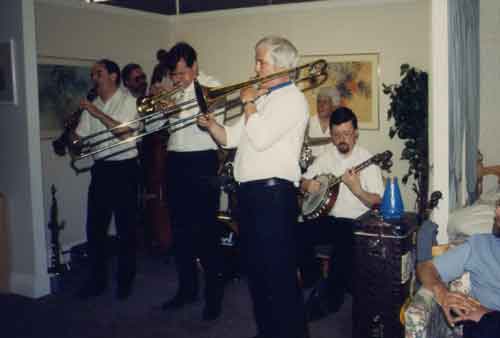 The Dixiecats at a private party circa mid eighties
band members:
Tom Brady tpt John Elmer clt, Kenny Pyrke tmb, Eric Webster bnj.
Jim Belcher bass and Miles Wilson drms.
The Dixiecats at The Malta Inn, Allington Lock, Sandling, Maidstone, Kent
taken in the 70's / 80's
band members:
Tom Bradt tpt, Roy Mason clt, John Finch tmb, Harry King Drms
Eric Webster bnj. and Mick Howell bass.

Red Hot and Blue
Peter Leonard trumpet - Chris Thompson bass - John Stuart banjo - Alan Cresswell clarinet
This great quartet has just been formed since 2013 - a great sound
and a great CD to buy - click on the four high lighted to listen
1 Streets of the City 8 Burgundy Street
2 Magnolias Wedding Day 9 Sweet Georgia Brown
3 Wabash Blues 10 At the Jazz Band Ball
4 Bad Penny Blues 11 When Your Hair Has Turned to Silver
5 Old Miss Rag 12 The Old Rugged Cross
6 Davenport Blues 13 Strutting with Some Butter and Egg Man
7 So Do I 14 Panama
Recorded live at the Ramsgate Seaside Shuffle in the Small Boat Owners Club 29th November 2014
to purchase CD and enquire about the Red Hot and Blue
phone Peter on 07427 726 228 or email: redhotandbluejazz@gmail.com
or visit www.facebook.com/redhotandbluejazz
Trad Fad (1972 - 1978)
information from Clive Brooks wonderful book 'Trad Mad' a concise history of the traditional jazz revival in Kent
The original line up of the Trad Fad as follows:
Jeff Hatton (tpt/ldr), Pete Godsiff (clt/ten), Kenny Pyrke (tmb),
Alex Holt (piano), John Atkinson (bjo/gtr), Sid Dale (tuba) and Derek Bailey (drms)
(tpt) Norman Haynes, Tom Brady
(bjo/gtr) Eric Webster
(bass) Bernie Johnson
(drms) Andy Grey, Micky Brooks
Band renamed 'The Dixie Cats' under the leadership of Kenny Pyrke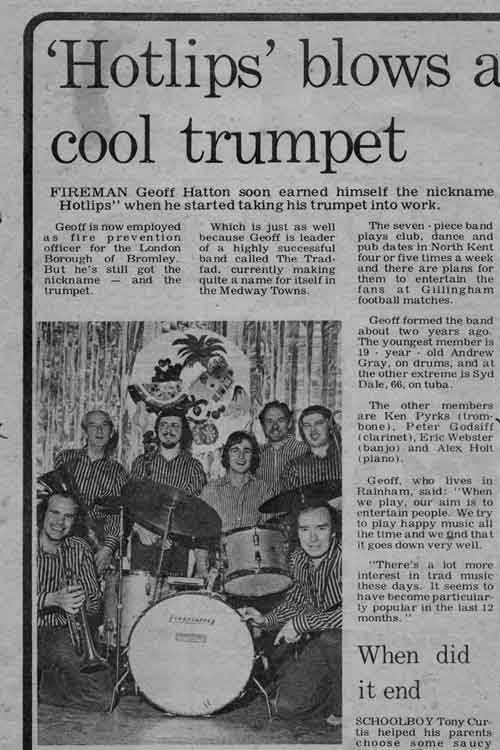 A newspaper cutting June 10th 1974, from Eric Webster's pics
band members:
Geoff Hatton tpt/ldr, Pete Godsiff clt, Kenny Pyrke tbn, Alex Holt piano,
Eric Webster bnj, Sid Dale tuba and the youngest member of the band Andrew Gray drms.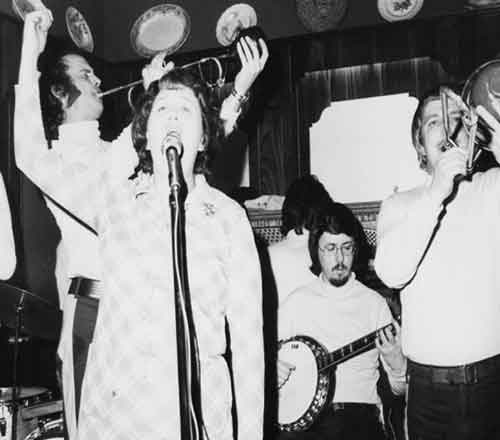 The lads with Patti Clarke


This recording is from the Tony Pink collection taken at the Laughing Water 15th October 1975
band members:
top row L/R Pete Godsiff , Beth (a fan), Norman Haynes, Bernie Johnson and Alex Holt
bot row L/R Eric Webster, Micky Brooks and Kenny Pyrke.
with guest: Randy Colville clt and Ray Smith tenor on 'St James Infirmary'

click on to titles to hear:

Avalon Back of Town Blues (Norman & Kenny voc) Battle Hymn of the Republic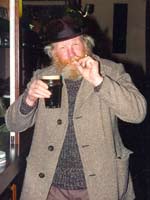 This is a great photo of Peter Baker supping of what he likes supping and if you click on to the
title St James Infirmary you can hear Peter vocalising with the accompaniment of Randy Colville on clarinet
and Ray Smith on Tenor - the great sounds we had in the seventies
St James Infirmary ( vocal Peter Baker)

back to top Index back to music/video index
The Northdown Stompers 1956
taken at the Orpington Jazz Club
from left to Right:
Bill Phillips tmb., Mick Jones bass, Davy Jones bnj., Jim Belcher tpt.,
Al Roscoe drms., Jack Gilbert clt and Pat Roscoe piano.
photo from the Jim Belcher collection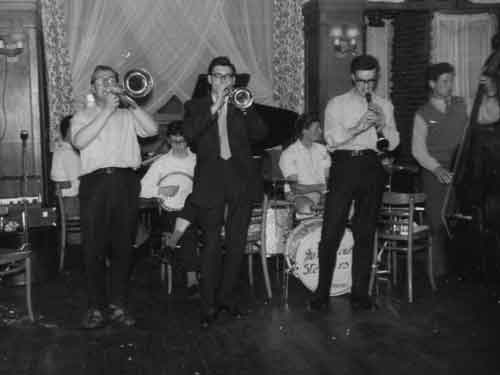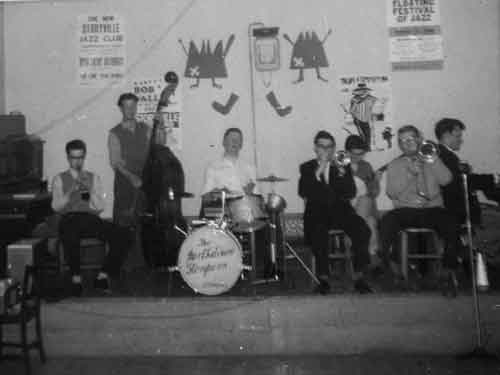 above four pics from the Eric Webster collection taken around 1959
Alan Roscoe tpt, George Berry clt, Jim Belcher tbn, Pat Roscoe piano, Mick Jones bass,
Brian Fairbanks drms and Eric Webster bnj
Note the transport. The bass player took his bass in the motorcycle chair, the leader
had the car, most of the others had motorcycles or scooters in those days,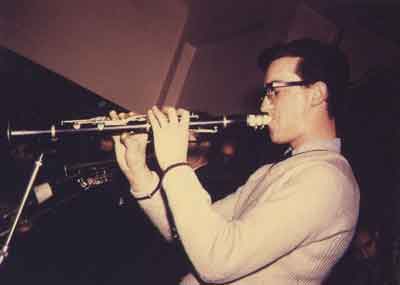 George Berry clarinet

trade card not many people
had phones in the late 50's

back to top Index back to music/video index
The Mainline Jazz Band
This band was run by Tony King, a trumpet player from Hull Yorkshire and having settled down in the Gravesend
area put together a jazz band made from various musicians from the Gravesend and Medway area. The band first
started a regular gig in the Railway Inn at Sole Street. The band took its name from the mainline train service to
London. The band started in the late 70ís and continued until the mid 1990ís with various personal changes over that time.
The Original line up:-

Tony King trp
Neil Highley trm
Jack Hughes cla and alto sax
Geoff Gilry guitar
Pete Drage bass.
Pete Turner drums. No photo available
Pam Tucker vocals
This band had a change when Pete Turner was replaced on the drums by Eddy Newport in about 1979. Pete Drage
was replaced by Alex Taylor, Neil Highly was replaced by Rod Hayes and Jack Hughes was replaced by Charles Sherwood.
During the 80ís the band shared a Sunday lunch time gig at the Toll Gate Inn on the A2 near Gravesend with the
Jubilee Jazz Band run by John Pollard a sax and clarinet player. This gig ran for about 6 years with great success.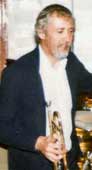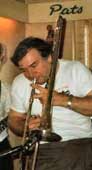 Tony King Neil Highly Charles Sherwood Jack Hughes Geoff Gilry
Trumpet Trombone Reeds Reeds Guitar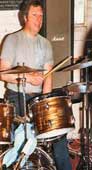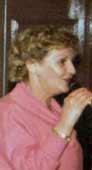 Eddy Newport Pam Tucker Bob Pluck Pete Drage
Drums Vocals Guitar double bass
The band played in the mainstream style rather than in the true traditional NO style. The repertoire covered many
jazz standards to boss novas and some pop numbers. The function of the band was to entertain as many people as
possible with a variety of styles of jazz music.
The band worked around Kent, Surry and London areas playing at many functions and WM clubs. Gravesend is
twined with Nurmunster in Germany and Cambria in France and over several years the band went and played at
concerts and festivals in these towns. The height of the bands fame was reached when Tony King got a booking
to perform at the Rochester Castle Gardens on the same bill as The Kenny Ballís Jazz Band. Playing to an audience
of 3000 was the pinnacle of the bands success.

In the mid 80ís to 90ís there were some changes.
Neil Highly was replaced by Rod Hayes on the trombone.
Geoff Gilry was replaced by Steve Morgans on keyboard.
Alex Taylor was replaced by Pete Thomas bass
Pam Tucker was replaces by Elaine Dyan on vocals
Charles Sherwood was replaced by Mark Southwell on clarinet and Saxes
Bob Pluck on guitar, Mike Brooks drums and Alan Boreman on alto sax did many deptís with the band..
The later line up produced a recording at Porcupine Studios in New Eltham under the direction of Ted Taylor. The band
had about 200 cassettes made and they were sold at various functions especially the foreign engagements. This helped
to cover the cost of the recording session.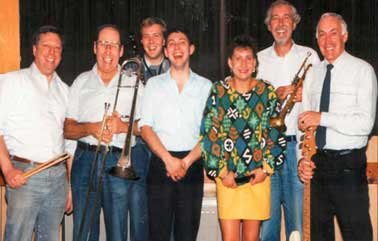 The band that went to Germany in 1986:
L/R Eddy Newport, Rod Hayes, Mark Southwell, Steve Morgans, Elaine Dyan, Tony King and Pete Thomas.
Here are four tracks from their cassette recording made in 1987 the line up is the above group musicians
Sweet Georgia Brown Mack the Knife Sweet Sue It dont mean a thing
vocal Elaine Dyan vocal Tony King vocal Steve Morgans vocal Rod Hayes (arranged by Tony King)
In 1991 Eddy Newport left the band and was replaced by Mick Brooks
The band ended itís days playing at the Three Daws Pub in Gravesend and finely at the Cricketers at Meopham
and many ĎStarsí were booked to play with the band. Kathy Stowbart, Hugh Leddigo, Roy Williams, Randy Colville
and others all made a Sunday lunch time gig a firm favourite.
Composed by Eddy Newport. August 2008.
back to top Index back to music/video index
The Thameside Stompers

This band is probably one of the longest running jazz bands in North Kent; itís first started up in the early 70ís. The band came
together by two guys who met at a folk club and found they had a love of jazz and thought it would be a good idea to try and form
a traditional jazz band. Those guys were Pete Drage playing bass and Alan Bundy plying banjo. Through work contacts Pete
met Dennis Lear a clarinet player and in turn Don York playing trombone formed the start of the band. Soon drummer Peter Turner
and trumpeter David Kedge made up the final line up. Cutting their musical teeth at various pubs they finally settled down to a regular
weekly gig at the pub ďThe Ladís of the VillageĒ in Stone near Gravesend. This gig ran without a break for nearly 25 years. Over
that time there were many changes to the line up. Harry King replaced Pete Turner, Fred Hoare bass replaced Pete Drange and
his brother Ronnie Hoare joined playing piano. Harry King died and was replaced by Colin Large and in the latter years Don York
was replaced by Rod Hayes and Dave Kedge was replaced by Ken Atkinson trumpet. Fred Oare died and was replaced by
Jim Belcher on bass and Ronnie Oare left the band. Finally the ďLadísĒ gig came to an end in the late 1990ís and found a new pub
to gig in called ďThe Rising SunĒ at Falkham Green near Longfield Kent. This gig was a once a month event and ran for about 5 years.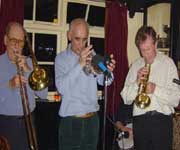 Tom Brady Colin Large Jim Belcher Dennis Lear Rod Hayes Ken Atkinson and Tom Brady
Taken at 'The Rising Sun' at Falkham Green, Nr Longfield, Kent

Since then the band has been doing various gigs around the county, but are few and far between. Since the Performing Rights laws,
whereby if a pub has more than two musicians playing, a music licence must be obtained and the cost can be too much for the landlord
to pay, so in effect this has killed live bands in a pub for ever.
Photos of the original line up are unobtainable. This group formed the mainstay of the band at the ďLadís of the VillageĒ and
ďThe Rising SunĒ pub gigs.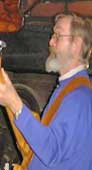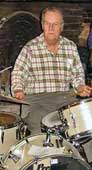 Ken Atkinson Dennis Lear Rod Hayes Alan Bundy Jim Belcher Colin Large
cornet clarinet trombone banjo bass guitar drums
here are the above lads playing at 'The Lads of the Village', Stone Crossing, Nr Gravesend, Kent. 27th August 1991
Savoy Blues Running Wild
vocal Rod Hayes

here are the boys at 'The Rising Sun' Faulkham Green, Kent. 5th September 1991 -
but Dave Link on trumpet and Fred Hoare on bass.
Baby wont you please come home Rosetta
vocal Colin Large
Known as the Al Boley of kent

here are the boys at 'The White Swan' 13th November 1991, but Eddy Newport on drums
Lonesome Road Christopher Columbus
here are the boys at 'The Jolly Knight' Rochester, Kent. 7th December 1993
but Tom Brady trumpet and John Ellmer drums
There'll be some changes Digger Digger Do
vocal Tom Brady

Over the years, several musicians have dept with the band and listed below are just few.
Tom Brady tpt Eddy Newport drums John Elma drums and clt Barny Smith bass and guitar Nobby Willett banjo
Ian Hamilton tpt Dave Kedge tpt Dave Link tpt Tony King tpt

The band style is a relaxed traditional jazz sound with a wide range of standard jazz tunes.

Composed by Eddy Newport
Sept 2008
back to top Index back to music/video index
The Shanghia Syncopated Orchestra
A great orchestra playing 20's and 30's arrangments led by trumpeter/ vocalist Robin Eve in his spare
moments from 1982 - 1989 after having found a pile of old 1920's dance music in a shop, and the Orchestra
are still playing now and one of their yearly highlights is at the Clore Ballroom, Royal Festival Hall (map)
Southbank Centre, Belvedere Road, London, United Kingdom SE1 8XX.



the lads from left to right:
Steven Botting tmb, Ron Rackley bass, Martyn Liston reeds, John Cottis drums, Bob Pluck banjo,
Robin Eve tpt/leader, Peter Flawn piano and Steve Hatfield violin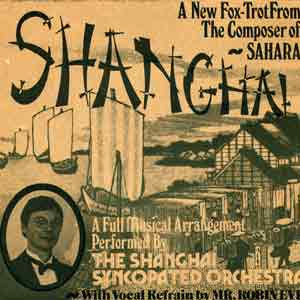 two tracks from this wonderful orchestra recorded 3rd October 1982
at the Oakwood International Studio, Canterbury, Kent.
Shanghai Vo - Do - Do - De - O - Blues
click on above titles to listen
back to top Index back to music/video index
The 'Les Herbert's Jazz Band
The Les Herberts Story:
Over a decade ago, two strangers met, one foggy winter night on the London train. As it struggled home to Thanet,
they exchanged reminiscences and discovered a mutual musical background which spanned the skiffle fad and the
trad jazz boom of the 1950's. One played the piano, the other played the banjo and there it stopped. However, as in
all good stories, the two players discussed their acquaintance elsewhere and the tiny seaside town of Broadstairs, Kent
produced five other musicians, all exactly right for a jazz band. Someone else found a 'gig' and with only one practice
and six tunes in the repertoire, the band set out on its road to minor fame. In its early days the band rarely played under
the same name twice running, which was just as well, but one night, after offering the name 'Les Herberts' as a French
pun, they found that an entrepreneur had billed them as ' Les Herbert and his Vaudeville Jazz Band'. The name stuck,
but the band often receive messages for Les from people who distinctly remember playing with him, knew him as a mate
in the army or claim he owes them money. Jazz has taken the Herberts into all kinds of places apart from night clubs
and pubs, and they have shared the bizarre experiences that are common to musicians everywhere. There was the
night when they played 'on ice' and the piano froze, the night when they unintentionally kept 200 pilgrims awake in
Canterbury and the afternoon on which they welcomed Father Christmas to a department store. The band has appeared
on stage on numerous occasions, in company with such eminent jazz figures as George Melly, Alex Welch and Chris
Barber, but most of all, they have played in Thanet and East Kent, turning out 'jazz' to appreciative audiences, especially
in Margate's own jazz pub, "The King's Head". During the Herbert's story, the personnel have changed from time to time,
but the band has played on through the swinging 60's and in and out of Punk Rock without faltering.
The music on this record is a good cross section of the bands repertoire. "Tight like that" is a popular favourite
everywhere the Herberts play, as are other old standards such as "Dr. Jazz" and "That's a plenty". However, this recording
has given them a chance to do some "studio" tunes, the old Jelly Roll Morton composition "Sidewalk Blues" being one
of these. Les Herbert's jazz has never been totally for the purist, but tunes like "Gatemouth" and "Buddy Bolden's Blues"
are authentic enough to satisfy those who want both nostalgia and entertainment.
This record is dedicated to the band's many followers and supporters and, who knows, may introduce a new
audience to some very old songs. During its making, the musicians consumed at least 40 bottles of a well known brown
ale, several pints of vicious home brew, 2 gallons of coffee, 4 lbs of cheese and a lot of biscuits. Three members of the
orchestra now have new neighbours and all of the band are now speaking to their wives once more. Wout Steenhuis
went quite pale at the 10th take of "Sidewalk" but looks all right now. Thanks Wout.
" The Herberts " March 1978
This Lp recorded in 1978 and produced on the Jelmer Label no 'JELMER STERIO JS 102/78' it
hales from the engineering stable in Broadstairs of local maestro Wout Steenhuis who, as well as being
a brilliant musician himself handled recordings of the Wedgwoods and organist Tony Savage's sing -
along shows at Margate's Lido.
Side 1 Side 2
1, Tight Like That voc John Walters 1, Gatemouth
2, Sidewalk Blues 2, I've Got What It Takes voc Betty Renz
3, You Took Advantage Of Me voc Bill Bowden 3, Sweet Georgia Brown voc Bill Bowden
4, Jazz Me Blues 4, Saratoga Swing
5, Buddy Bolden's Blues voc Bob Hilditch 5, Fidgety Feet
6, Louisiana voc Bill Bowden 6, Sweet Lorraine voc Bill Bowden
7, Blues My Naughty Sweetie Gives To Me voc Vernon Kennard 7, That's A Plenty
8, Doctor Jazz voc Dick Smith 8, Tight Like That
The Orchestra:
Bill Bowden Trumpet, Flugelhorn and vocals Dick Smith Clarinet and vocals
Martin Rawbone Trombone Robin Day Drums
Vernon Kennard Bass and vocals Bob Hilditch Guitar, Banjo and vocals
John Walters Piano and vocals
Guest Vocalist: Betty Renz on 'I've Got What It Takes' Klaxon, Whistles, Mumbling, Footsteps, Vocal Refrains: Les Herberts


This is a review in the June 1979 'Cresendo International' magazine of the album
back to top Index back to music/video index