Burt Butlers
Jazz Pilgrims Bands from the past and present
Doctor Jazz The Black Cat Jazz Band Don Barcott Bands
DOCTOR JAZZ AT THE DUKE OF WELLINGTON
BRIEF HISTORY
The Band, Doctor Jazz, was formed out of the original Terry Treagus Jazz Sounds. Terry's Band
originated in the 1950's at the Medway College of Art and three members of that first Band, Terry
Treagus, Keith Blundell and Bill Stotesbury, regrouped in 1972, joined by Alan Robinson, Colin
Martin and Ralph Hayward. Weekly sessions started at The New Ash Tree, Gillingham. In November
1973 the residency at The Duke of Wellington, Ryarsh started and in 2008 the Band celebrated a
35 year run, broken only by a 3 months period when one of the 'landlords' locked himself in (and
everyone else out) following a dispute over finances with the owners.
TERRY TREAGUS JAZZMEN (1954-1958)
The Jazzmen played at numerous College functions. From left to right are:

Tony Richards (clt), Terry Treagus (crt), Keith Blundell (tbn),
Dave Ross (dms), Mick Wallis (wshbd) and Bill Stotesbury (bjo).
The Terry Treagus Jazzmen played in several emerging Jazz Clubs in
Maidstone in the 1950's most notably at Highfield House where they were
the first resident Saturday evening Band.


Tony Richards, Terry Treagus and Keith Blundell at Highfield House.
In the years following 1958, after the break up of The Terry Treagus Jazzmen,
most of the band went their different ways, starting working careers, marrying
and starting families. Not many carried on playing.
THE TERRY TREAGUS JAZZ SOUNDS (1972-1978)
After 14 years 'layoff' Terry and Keith came together again through their work
as architects and the old jazz bug bit again when they contacted Bill with an idea
to form another band.
Two young musicians, Alan Robinson and Colin Martin, joined them and,
after a short period with Dave Straker on sousaphone, Ralph Hayward, who had
been playing string bass with Tony Pink, joined to make up the band. For some
time the band did not have a drummer, initially because of scarcity, later from choice.

THE LONG RESIDENCY
The Terry Treagus Jazz Sounds started with regular Wednesday evenings at
The Old Ash Tree, Gillingham. Bill Stotesbury used to work a milk round alongside
his Graphic Design Practice and in1973, while collecting milk money from the
landlord of The Duke of Wellington at Ryarsh, they discussed the band and the
landlord decided to give it a trial on Thursday evenings.
Alan Robinson (clarinet) Keith Blundell (trombone) Bill Stotesbury (banjo)
Colin Martin (piano) Terry Treagus (trumpet/leader) Ralph Hayward (bass)

Barry Fisher vocals and Jill Martin vocals
click here for the Jill Martin now Jill Grant story
Other jazz musicians who played as deps with the band during those
early years at the Duke of Wellington included:

Dave Straker and John Morphew on sousaphone
Robin Beams, Pete Lay on drums and George Murray on washboard
Eric Webster, Nobby Willett and Alan Bundy on banjo
Humph Mayes, Dave Gray and Barnie Smith on bass
Allan 'Lord Arsenal' Bradley on piano
The style of the Terry Treagus Jazz Sounds was fairly strictly 'New Orleans'.
Terry knew exactly what sound he wanted and the repertoire was very much
of that genre. Colin Martin still uses the original chord book which includes
programmes set out by Terry for some of the more notable gigs.
DOCTOR JAZZ (1978 - still going)

In 1978 Terry Treagus stopped playing and left the Band which was then
joined by Dave Kedge on trumpet, cornet and flugel horn. Dave had been
with The Thameside Stompers since 1975 and had been the regular dep
for Terry, he was the obvious replacement. The band needed a new name
and, following an ill-fated tour of Germany, where playing in a Dusseldorf
Jazz Club called Doctor Jazz kept our finances and spirits going, there was
the inspiration for the band name. It was at this time that the familiar logo also
came into use.

Doctor Jazz at the Rye Jazz Festival - Rye September 1979

Taken outside Papa Joes Restaurant 1979 - how young they all look The front cover of the programme for the festival
Dave Kedge tpt Jill Martin voc, Colin Martin piano, Alan Robinson clt,
John Morphew brass bass, Keith Blundell tmb and Eric Webster bnj (hidden)

The write up of 'Doctor Jazz' in the 1979 Rye Jazz festival programme
____________________________________
____________________________________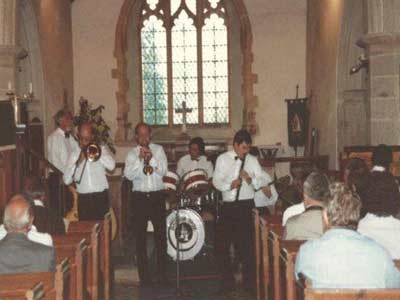 here are the lads in the first jazz in a church with bar - I might add -
Stone in Oxney - mid 80's - from the Bruce Bauer collection - band members are:

Dave Kedge cornet, Alan Robinson clarinet/vocal, Keith Blundell trombone, Colin Martin piano
Eric Webster banjo, Fred Hoare bass and Bert Logronio drums


Bill Stotesbury spent several years with Ken Colyer's Band and
Doctor Jazz was joined, firstly by Nobby Willett and then by Eric Webster on banjo
and Fred Hoare took over on string bass after Ralph Hayward moved away to
Devon. The band continued for some time without a permanent drummer until
Bert Logronio was introduced to us by his father-in-law. Bert had been a Rock
and Pop drummer in the nightclubs of Hong Kong and Singapore, had met and
married an English girl and came to England.

In the 1960's Graham Buttenshaw played clarinet and saxaphone
professionally for a couple of years with the Rod Foster Band from Northern
Ireland and toured the 'A' Circuit alongside the Barber, Ball, Bilk and Lightfoot
bands. Following the demise of many Jazz Clubs and Concert Tours the Rod
Foster Band returned to Ireland and Graham joined the Thames City Jazzmen
until he founded a London advertising agency in 1967, and played no more jazz
for 16 years. In 1983 he was persuaded to sit in with the band Jazz Music run by
Janet Francis, sister of Doctor Jazz's Colin Martin. In 1988 Alan Robinson left
Doctor Jazz to move north and Graham, after being 'dep' on a couple of gigs,
found himself the regular stand in on Thursday evenings at the Duke of Wellington.
Four years later, following a meeting of the band, Graham was told they would like
him to join them permanently.

Eric Webster left the band to take up a more professional role on
banjo and was replaced by Nobby Willett.. Following Ken's death Bill Stotesbury
ran the Ken Colyer Trust and the Trust Band for some time, but eventually returned
to Doctor Jazz where he continues to share the banjo role with Nobby Willett.

Fred Hoare's health was deteriorating and, when he decided to retire
in 1993, the band was joined by Terry Sullivan, a regular follower and occasional
singer with the band. Terry initially used Fred's old string bass, but later changed
over to electric bass.

Don York is a regular trombonist with the band, deputising for Keith
Blundell and, over the past 16 years, the pair have featured in trombone duets
during many Thursday evening sessions. Don was trombonist with the Crescent
City Jazzmen, Johnny Martin's Jazzmen and George Wooding's Jazzmen through
the 1950's, with Tony Pink's Jazzmen from 1957 to 1979 and the Thameside
Stompers from 1975 to 2000, where he played alongside Dave Kedge.

The regular singer with Doctor Jazz, especially on gigs, is Lyn Falvey,
who always brings a touch of class to the proceedings with her unique, powerful
style and wide ranging repertoire

Bert Logronio died tragically and suddenly in 2005. Alberto Encarnacion
Logronio's gravestone bears the inscription "Born a Filipino, Died an Englishman,
Drummed his way to Glory". The band was then joined by John Cottis on drums.

Cassette Art Work The Crown, Seal, Sevenoaks, Kent 2010

Doctor Jazz recorded two tapes in the 80's this is the first one recorded
at 'The Crown' Seal, Sevenoaks, Kent on the 25th October 1985
band personnel:
Dave Kedge cornet, Alan Robinson clarinet/vocal, Keith Blundell trombone, Colin Martin piano
Eric Webster banjo, Fred Hoare bass and Bert Logronio drums
Hiawatha Rag All The Girls Go Crazy Mabels Dream The Fish Seller
St Louis Blues Riverboat Shuffle
click onto above titles from the tracks on the tape to listen

Cassette Art Work The Village Hall, Shoreham, Kent. 2010
This is the Second one recorded at The Village hall, Shoreham, Kent on the 15th March 1986
band personnel:
Dave Kedge cornet, Alan Robinson clarinet/vocal, Keith Blundell trombone, Colin Martin piano
Eric Webster banjo, Fred Hoare bass and Bert Logronio drums

Travelling Blues Nobody's Sweetheart Now Sarratoga Swing Honeysuckle Rose
Burgundy Sreet Blues Bei Mir Bist Du Schon
The 'deps' list of Jazz Musicians who have helped Doctor Jazz over the past three
decades reads like a 'who's who' of Kent Jazzmen.
It is sincerely hoped that, in the following list, no-one has been missed.
Dave Link (cornet) Mick Stansell (trumpet) Tom Brady (trumpet/vocals)
Tony O'Sullivan (trumpet) Malcolm Walton (trumpet) and Roger Ely (trumpet)
Pete Curtis (clarinet) Dave Stone (clarinet/soprano sax)
Terry Giles (clarinet/saxophones) Dennis Lear (clarinet)
Eric Webster, Burt Butler, Alan Bundy and Andy Maynard (banjo)
Ian Rogers (bass) Chris Yelf (brass bass)
Ronnie Hoare, Mike Jefferson and Jonathan Vinton (piano)
Robin Beams, Graham Rogers, Miles Wilson, Laurie Palmer and John Elmer (drums)
Viv Rogers (singer) and Peter Baker (singer).
The Duke of Wellington Ryarsh
to contact the website of the Duke of Welligton click here
The present house was built in the reign of Henry VIII but the original, an old chapel,
dated back to the days of William the Conqueror. The beer house was originally named
the 'Cock and Coney', then between 1815 and 1818 the 'Wellington' to honour the Duke's
victory at Waterloo, and thereafter the present name.
It also featured in the Whitbread Innsigns, No 28 of the second series issued in 1950
as the picture below:

ATMOSPHERE
From a watercolour by visiting Australian artist Brian Harris, a relative of a friend
of Colin Martin's. He trained as an architect and went to Oz in 1966 where he is
a well established water colourist of marine subjects.
Below are movie clips of Dr Jazz's 19th Anniversary at the 'Duke of Wellington' Ryarsh
19th November 1992 - also a great feel of the atmosphere
The band:
Dave Kedge cornet Graham Buttonshaw clarinet/alto sax
Keith Blundell trombone Colin Martin piano
Nobby Willett banjo Bert Logronio drums
Fred Hoare electric bass
with guests: Ronnie Hoare on piano track 1 and Terry Sullivan vocalising on track 2
click on pictures to watch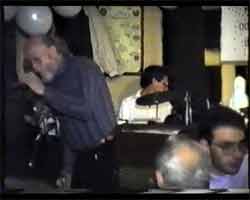 1 Running Wild 2 After Youv'e Gone
with Ronnie Hoare on Piano vocal : Terry Sullivan
vocal : Don York
THE CURRENT BAND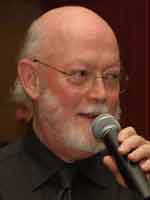 Dave Kedge Graham Buttenshaw Keith Blundell
Cornet and Flugelhorn Clarinet and Alto Sax Trombone
Colin Martin Bill Stotesbury Terry Sullivan
Piano Banjo Electric Bass


Don York Nobby Willett John Cottis
Trombone and Vocals Banjo Drums
Lynn Falvey
Vocals
Sadly Graham Buttonshaw has passed to the great Jazzband in the sky
22nd September 1940 - 16th October 2019
BOOKINGS
Doctor Jazz is available for any occasion or ailment, large or small.
The band size and composition is variable to suit all situations.
For a consultation, prescription or quotation please call
COLIN MARTIN Telephone 01622 746164.
E-mail martinc7@sky.com
RECORDINGS
There are audio recordings of the band on CDs and a rare film of a full
session at The Duke of Wellington is available on DVD.
"When I'm trouble-bound and mixed, he's the guy that gets me fixed"
DOCTOR JAZZ March 2009/KB
Doctor Jazz 40yrs at the Duke of Wellington 7th November 2013
Photos taken on the night

Lyn Falvey - Dave Kedge - Keith Blundell Barney Smith - Barbara Padbury - Jan Smith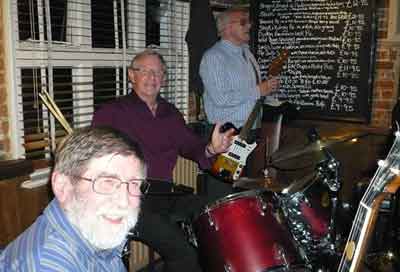 Don York - John Mason Bill Stotesbury - John Cottis - Terry Sullivan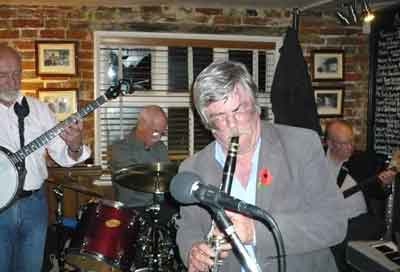 Phil Durell - Alan Robinson - Keith Blundell Phil Durell - Barry Knight - Alan Robinson - Mick Durell

apparently Phil and Mick are related back in the distant pass
around the early 14th century as rumours go !!!!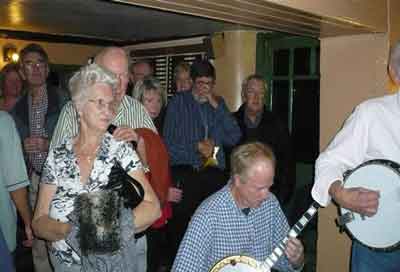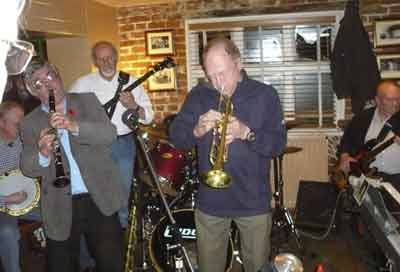 Dave 'Jaik' Hill trumpet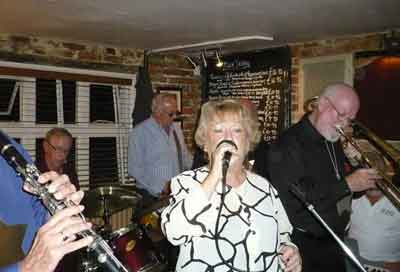 Ian Rodgers bass Jan Smith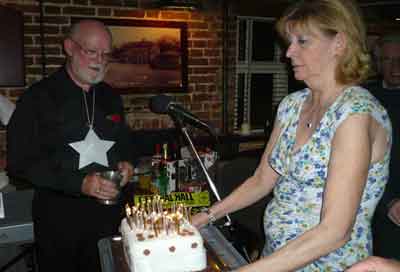 The Cake baked by Lyn Falvey Mick Durell - Colin Martin
The Black Cat Jazz Band
The Black Cat Jazz Band was formed by Ian Turner from 1997 - 2000, band members being
Malcolm Walton tpt, Ian Turner clt/leader, Tony Cardwell tmb, Andy Maynard bjo,
Roger Link double bass and Mick Lay drms.
Here are videos taken at St Margaret's Church, St Margaret's Bay, Kent
recorded Saturday 17th May 1997 - The Black Cat Jazz Band trio
Andy Maynard banjo Roger Link double bass Ian Turner clarinet
playing: click on to the titles below to watch
Old Rugged Cross Darkness On The Delta Curly Headed Baby
What A Friend We Have in Jesus Solace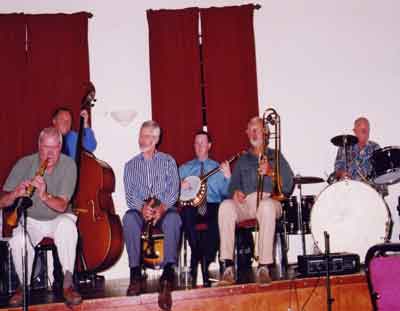 Band members:
Ian Turner clt/ldr, George Bridges bass, Tony O'Sullivan tpt, Eric Webster bnj,
Tony Cardwell tmb and Mick Lay drms
The Don Barcott Band story
to book this fine band or smaller combos give Don a ring on:
01634 405037
Dons story of his big band:

a great caricature of Don Don was 5 years touring with ' Wally Scott '

I have put together a fifteen-piece band of musicians that I have had the pleasure of playing with
over the years - an exciting prospect and a first for me.
I have played in various big bands but never one of my own. The musicians I am playing with are
all first class in their field of endeavour and, I must add, all nice guys - I feel a band of gentleman
that people will warm to.
The band is comprised of:
Five Saxophones, Three trumpets, Three trombones
Piano, Bass, Drums and Vocalist
A nice workable sized band to enhance any major function or concert. We will play music to suit
all tastes but our forte will be the Glenn Miller sound, Count Basie, Duke Ellington and arrangements
from what was once Britain's finest big band the late Ted Heath.

Don also runs 3 of a Kind (trio) , Five 5 Live and Sound of Seven



The big band look
here is the Big Band sound click on the titles to hear:
String of Pearls Brazil Moonlight Serenade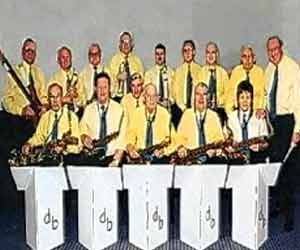 Video of Dons Big Band playing A String of Pearls


from left to right
Alan Boorman saxs, Donn Barcott drms, Dick Gunner vocals,
Charlie Swan piano and Tony Dee electric bass
here are three tracks from the above CD click on to the titles to listen rec at the Medway Little Theatre
It Dont Mean A Thing Sweet Georgia Brown Glenn Miller Set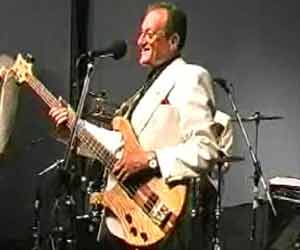 Three videos of the band at the Medway Little Theatre click on title / picture to watch
A Melody from Tony Dee The Man I Love voc Dick Gunner This I Dig of You
Don Barcott drums:
Formed a band after leaving the Royal Air Force (where he was a musician) in 1954 and it has been on
going ever since. Has played all the major venues in Kent and quite a number of quality venues in London,
ie, The Hilton Hotel, The Grosvenor Hotel and the Café Royal during 1990's to name but a few. Regularly
performs at the Woodville Halls, Gravesend, Kent backing the Artists appearing in their variety shows. Has
a wide experience of all types of venue and requirements. Don enjoys keeping his band 'together' in their
playing - entertaining - and giving enjoyment to the audience as well as themeselves.

Alan Boorman saxs:
First class musician - his expertise with all his instruments shows out at all performances. A true professional.
As a young man he played lead Alto sax with the famous Eric Winston Orchestra ( which included Michael Holiday
on vocals in the mid 50's) - one of the great big bands of their heyday. Alan is still in his prime and still remains a
true professional - his playing is truly outstanding and we all stand in wonderment.

Tony Dee Electric Bass:
Ex Army musician - therefore a disciplined technician. Served as a regular in the 1st Royal Dragoons now the
Blues and Royals, 2nd Battalion Parachute Regiment as a Bandsman. Was a member of Band 'Airborne' - the
band that won 'Opportunity Knocks' six times - that went on to tour the country, topping the bill at every venue -
Cabaret Room, Dance Hall and theatre throughout England. The only band of its kind to claim that fame. Tony
Dee, because of his outstanding talent, was a great instigator in putting them in that showbiz frame. He is a fine
solo artist and valued member of the Five 5 Live Band

Charlie Swan Piano:
One of Kent's finest in his field of endeavour - has played with the best of Jazz musicians - was a stalwart in the
piano-chair with the Brian Jenner Band while it reigned supreme at the renowned 'Pavilion' at Gillingham. We are
lucky to have him with us to enhance our endeavours and to enjoy his talent......And what a nice man.

Dick Gunner Singer and Piano:
A true musician in the show business flare. Has worked in the past with some of the well known Bands in Kent,
playing drums first, than as a singer and now has added the keyboard to his profession - in which he excels. First
class musician and entertainer in the true tradition of our craft . 'A great character to front our band - with a great
voice.