Humphrey Lyttelton with the Invicta Jazzband




The Invicta Jazzband with special guest Humphrey Lyttelton

These two tracks were recorded at the Playhouse Theatre, in Whitstable, Kent on the 27th July 1985
the first track being 'Snake Rag' with Nigel Pitt and Humph doing some great cornet and trumpet, the
second track 'At the Jazzband Ball' brings a bit of humour into the equation with the band not quite
getting the dog-leg right and Humph explaining it away in his usual of the cuff humour.
Band members from left to right in the photo: Lyn Falvey vocals
Phil Barnes trombone and introduction's
and sadly no longer with us
Burtie Butler banjo
Nigel Pitt cornet
Humphrey Lyttelton trumpet & clarinet
John Cottis drums
Pete Rose clarinet
Humphrey Mayes double bass
and sadly no longer with us
Jonathan Vinten piano,


to hear the tracks just click on to the required title that is underlined:

Snake Rag
At the Jazzband Ball


top of page back to index


1986 1st August
Pat Halcox and John Croker with the Invicta Jazzband

Continuing with the memorable guests, our next celebrity guests were Pat Halcox and
John Crocker at the Whitstable Playhouse on the Friday 1st August 1986 the 'Jazz on a

Summer Night', which coincided with Whitstable Oyster Week, and at the start of Bourbon
Street, Pat is heard to say "Where can you get a cuppa tea in Whitstable between 5.30pm
and 7pm?" - well if Pat came to Whitstable now in 2007, things have mightily changed . . .
so click on to the titles and go back a few years to relive the evening.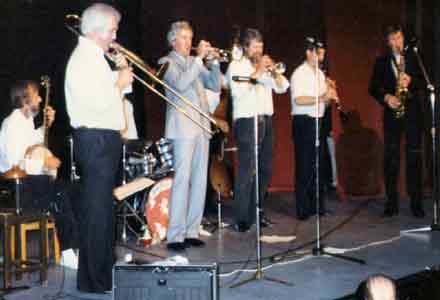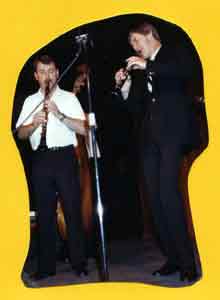 The Band Members: Pat and Dave Pete and John
Burtie Butler bnj, Kenny Pyrke tmb, John Cottis drms, Roger Link bass,
Dave Link tpt, Pete Rose clt and John Crocker clt.
Royal Garden Blues Bourbon Street Parade Sheik of Araby
introduction from Pete Rose Pat Halcox vocal and the whole Our final number
a bit lengthy but it shows Pete's band joining in - and the standing
sense of humour and the fun ovation.
on the night - just great
So click on to the above titles to hear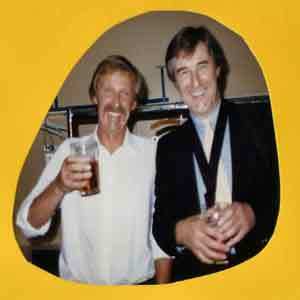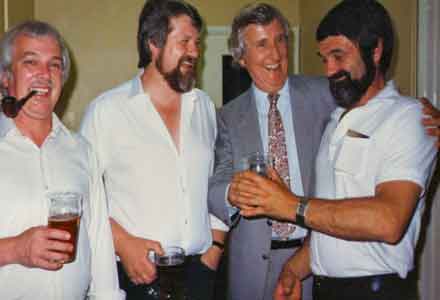 John and John Kenny Pyrke tmb, Dave Link tpt, Pat Halcox and Roger Link doublr bass

Dave Link and Kenny Pyrke are sadly no longer with us 2007
1989 29th July
Alan Elsdon with the Invicta Jazzband
our next celebrity guest is Alan Elsdon, who was our guest at our -
'Jazz on a Summer Night' at the Whitstable Playhouse - Saturday 29th July 1989
L/R: Burtie Butler bnj, Kenny Perke tmb, Roy Mason reeds, Alan Elsdon tpt, Dave Link tpt,
Mike Porter-Ward bass and John Cottis drums.
click on below to hear Alan chat and his superb playing:
China Boy Butter and Egg Man Margie That's a Plenty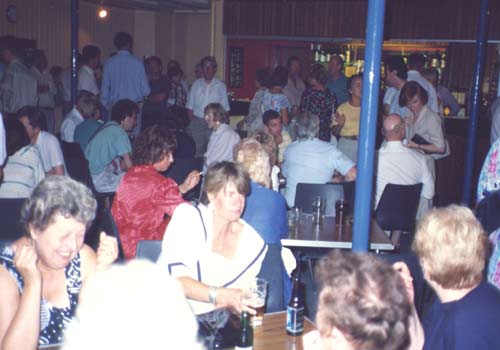 The Band on Stage and our lovely audience in the bar
I Want a Little Girl Marie Up The Lazy River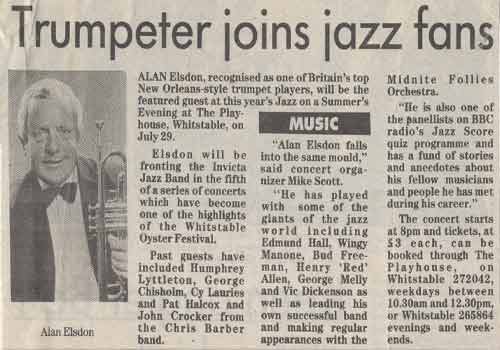 Mike Scott finishing of the evening with the chat etc and the last no
Sadly Mike is no longer with us passed away in February 2018
31st July 1993
Colin Bowden and Hugh Rainey with Burt Butlers Jazz Hazzlers

A great evening at the Playhouse with Hugh and Colin a full House and click on to the titles to hear the lads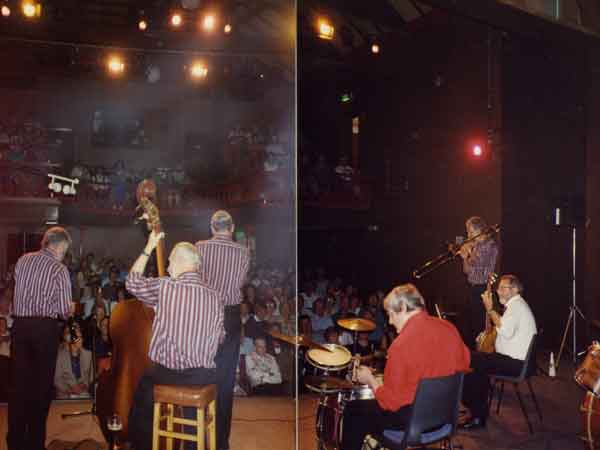 A normally unseen photo from the bands point of view and angle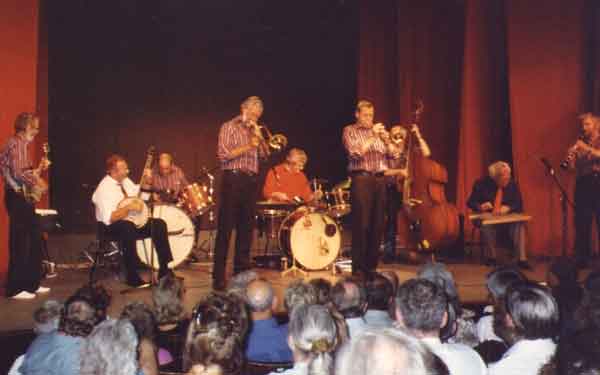 Musicians Lft / Rgt:
Burtie Butler bnj, Hugh Rainey bnj, Robin Beames drms, Tony Cardwell tmb, Colin Bowden drms,
Malcolm Walton tpt, Bernie Johnson bass, Mike Scott washboard and Jim Searson clt.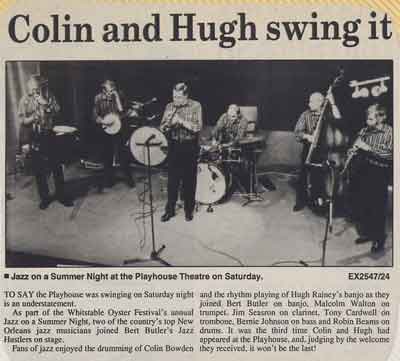 Write up in the Whitstable Times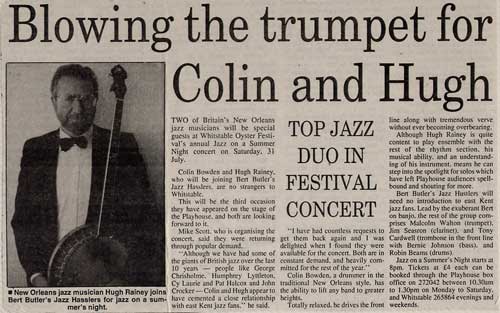 Write up in the Kent Messenger
I Wonder Who's Kissing her Now - vocal Jim Searson
Louisiana-I-a - vocal Jim Searson
Buddy's Habit with a bit of information of the tune from Malclom Walton and some additional infon from Jim Searson
George Gershwin melody from Hugh Rainey with Colin Bowden and Bernie Johnson
Shine with Burtie and Mike Scott joining the band
Thats A Plenty with Robin making the band into a nine piece orchestra with loads of drumming
so click on to the Tune titles for a great feel of the evening as all jazz concerts are - great fun and great jazz
____________________________________________
____________________________________________
21st July 1996
Terry Lightfoot with Burt Butlers Jazz Hasslers
The lads enjoying an interval drink at the Ship Centurion - Left / right
John Cottis, Roger Link, Malcolm Walton, Burtie Butler, Jim Searson, Terry Lightfoot and Tony Cardwell
Tony Cardwell tmb, Burtie Butler bnj, Jim Searson clt, Malcolm Walton tpt, John Cottis drms
Terry Lightfoot clt, Roger Link bass and mine host and organiser Mike Scott wash/brd

The program as signed by Terry

Whitstable Times
Maryland My Maryland I Cant Escape from You Old Fashioned Love
You Always Hurt The One You Love Terry Lightfoot voc Someday You'll be Sorry Jim Searson voc
Two Clarinet feature with Terry and Jim on I Cant escape from you
click on the above titles to here the lads at the concert